M A I N N E W S
First AI flight with 290 Indians lands in Delhi
2 AI Nearly 18,000 still stranded, slow pace of rescue irks Indians
Bhanu Lohumi & Ashok Tuteja
Tribune News Service
New Delhi/Karnal, Feb 26
Launching the evacuation of Indians from trouble-torn Libya, an Air India flight with 290 persons from Tripoli landed at the Indira Gandhi International Airport in New Delhi around midnight today even as 67 Indians crossed over to Egypt by road and were taken to Cairo on their way back home.

The Boeing carrying the Indians touched down at IGI Airport after a nearly eight-hour flight from the Libyan capital. The plane landed at the dysfunctional T2 international terminal where special arrangements were made for immigration and customs clearances of the passengers.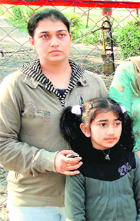 Neeru Khattar and her daughter who arrived via a private plane from Libya. — PTI/TNS

Minister of State for External Affairs E Ahmed said 290 Indians arrived by the first flight while another 250 were expected to reach by 3 am. He termed the evacuation exercise "Operation Safe Homecoming". There are an estimated 18,000 Indians in Libya.

Meanwhile, the slow pace of evacuation has upset Indians in Libya. Neeru Khattar, a teacher in Sirte University, who arrrived in Karnal earlier in the day with her six-year-old daughter Ridhima on a plane chartered by her husband's employers, DS Construction Company, said that if a private company could get a plane and permission , it should not be difficult for the government to do so.

On her way to Moga, she said that although 13 people including three children and four women were

flown out in the small chartered plane, there was an urgent need to evacuate the rest as the situation in Libya is dangerous and volatile.

The Khattar family has been residing in Libya for five years and everything seemed fine till all hell broke loose last week. Though foreigners have not been singled out yet, she said, "We don't know when trouble may erupt and what will happen tomorrow."

Neeru Khattar said that while all other countries were evacuating their citizens on a war footing, India had sent just two planes, that too on Saturday.

The permission for evacuation of foreign citizens, she claimed, was valid till March 7 and in case the pace of evacuation was not accelerated, thousands of Indians would be trapped.

She said, "I am aware of the grim situation in which Indians are living there and the panic among them. I would request the government to substantially increase the number of planes and frequency of flights to places like Benghazi, Sabha, Sirte, Al Bayda and Tripoli where Indians are residing."

However, a government spokesperson said that the Indian Embassy in Libya was in constant touch with Indians there. "We are making arrangements by land, sea and air to evacuate those willing to leave Libya," he said.

The spokesperson said the Indian Government was allowed to fly only two flights out of Tripoli every day. "The evacuation process is likely to continue for at least two weeks and flights could also begin to land at the Mumbai airport from tomorrow," he added.

Mohmmad Falli, an engineer living in Libya for 31 years, who arrived on the first AI flight said he felt like he was back from hell. "I am delighted to be back in India. The situation is very grim in Libya. All my belongings were looted by robbers," he said.

As the first AI plane left Tripoli, a group of 67 Indians, including 11 children and 2 infants, crossed over from Tabrouk in Libya to Salloum in Egypt by road where they were received by Indian Embassy officials who facilitated their immigration.

Emergency travel documents were issued to 11 Indians who reached Salloum by road without passports. All of them have been booked on a Gulf Air flight that will reach Mumbai at 0505 hours on Monday, an External Affairs Ministry statement said. Two Naval ships INS Jalashwa and INS Mysore also set sail from Mumbai this morning for Libya. The journey time is about 12 days to that country.