Towards a new architecture of integrity
In the context of increasing role of money power in elections, political parties must set up their own Lok Pals and Lok Ayuktas to check the malaise
By Gopalkrishna Gandhi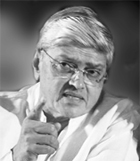 In the first few years since 1937, elections meant the chance to select, objectively, A over B. Today, it generally means the pitting of A's money against those of B. Elections have come to mean the infusing of candidature with cash. The fizz of money – white, black and grey – pervades the election air.
Not many would have heard of the highly respected Congressman of Bombay, Vaikunthlal Mehta. He was a candidate in elections held in 1946. He was a man of such probity that any individual or corporate house would have considered it a privilege to assist with his campaign. When he was contemplating to contest, Gandhiji wrote to him thus: "Bhai Vaikunth…Offer your name as a candidate for the Assembly on the condition that you will not have to spend a single pie and will not have to go begging for votes. It may not perhaps be possible to apply this rule in all cases, but it should be applied in yours."
Not spend a single pie? Is that possible? Vaikunthbhai could not quite follow that advice but he remained as close to it as was possible. He decided that his method of seeking votes would be stark: he would only send a postcard to each of his electors and do nothing more. He did not visit them, did not put out advertisements, did not organise processions, meetings or rallies. His postcards won him the seat and he became the first Finance Minister of Bombay State after Independence. No donor could have reminded the Finance Minister of his debt – for there was no donor and there was no debt. Vaikunthlal Mehta was unobligated, uncompromised and unfettered.


Sandeep Joshi

Today he would be unelectable. Why, for the matter, Gandhi, Nehru, Rajagopalachari and Shastri would all be unelectable unless they let party bosses run the campaign for them – something they would not dream of doing.

Company donations had been frowned upon in 1969, but permitted with some restrictions in 1976, came to be further liberalised in favour of donations in 1985. The new section 293A of the Companies Act restricted in 1985 the blanket ban against political contributions to government companies and those which have been in existence for less than three financial years. All other companies were left free to make political contributions not exceeding 5 per cent of their average net profits if a resolution authorising such contributions was passed at a meeting of their Boards.

And so, as the law stands at present, a political party may receive any amount by way of contributions under the Companies Act. By an independent encouragement for corporate funding, Section 77 of the Representation of the People Act excluded expenditure incurred by political parties from the computation of the ceiling on an Election Commission-prescribed candidate's election expenditure.

What were the consequences? First, candidates backed by political parties and corporate donations have come to enjoy a weightage over independent candidates. That is, all financially and politically unelectable individuals, the postcard types, are effectively made irrelevant. Second, before an election weighs votes on its balance, cash weighs itself on the same scale's trays.

Examples can be cited of clear, bonafide and transparent donations by business houses to political parties. Rajagopalachari himself approached industrial houses for open donations to the Swatantra Party. But a Board of Directors payment by means of a white cheque to a party is one thing, vast sums getting flung into an election both from within and outside of the provisions of the Companies Act as a result of the atmosphere created by the relaxation of the Act is quite another. This is where black money mingles with the white making the whole thing as grey as smog.

Beyond the action of grey money in elections lies the important question: Once elected with the help of another's money – be it an individual's or a company's – can the victorious candidate look the donor in the eye and say 'No' when that donor asks for an inappropriate concession? The power of wealth then becomes a tyranny, not only for the losing side but for the winning side as well. We in India are, of course, not alone in this plight.

The time has come for the laws in respect of the funding of our elections to be brought bravely and transparently under the public scanner once again focused on the working of Section 293A of the Companies Act. Hard and exemplary action needs to be taken by those who are empowered to do so, whenever and wherever funds in excess of permissible quanta are patently employed.

Simultaneously, government and political parties should disengage senior politicians, and certainly those who are in public office, from responsibilities in cash-rich sports federations. Their dual charge can only be to the detriment of either the sport or of the public office concerned.

The Chief Election Commissioner's determination to address the question of money in elections is, therefore, deeply satisfying and hope-giving. We need to redeem our elections from the vice-like grip over it of money, for elections are precious to us, as is money in its rightful place and role.

Political parties must set up their own internal Lok Ayuktas and Lok Pals, presided over by men and women with a background of the law, which receive and after a prima facie substantiation transparently go into complaints of corruption and misdemeanor against persons holding party offices and against elected representatives from their party, taking disciplinary action against those found guilty and, equally, against those who have been found to make complaints out of malice or malafide.

We should not, however, hasten to the conclusion that the politician is by definition today an untrustworthy person. That would be incorrect, apart from being cynical. And here our media which has become so good at scam-searching may like to do some soul-searching as well. There was a time when some newspapers were what could be called, in terms of their diet for scams, vegetarian; some non-vegetarian but vegetarian on certain days of the week, some wholly and vigorously carnivorous and some, particularly of the tabloid variety, fond only of varieties of the human flesh. Today a large and growing section of our media delights in frying one Kentucky chicken a day.

Not every person is guilty of what he or she has been accused of. The harm done to reputations is incalculable. But the harm done to what may be called our collective sense of fair play, balance and discrimination is worse. If only because guilt must be identified and booked, the accusations of guilt must not degenerate into a 24x7 scam-tainment.

If Jayaprakash Narayan's movement against corruption in 1973 became invincible it was because he had not made scam-hunting his full-time obsession. And so when he spoke, everyone listened. There is a danger today that with television, the print media and computer pop-ups making scams a never-ending serial, the people of India may begin to treat corruption as a daily thriller. And that would be tragic, for corruption in India is a real and serious disease.

Objectivity also requires that we acknowledge the fact that if India today has a formidable body of progressive legislation, both at the Union and State levels, covering a vast area of human endeavours, it is because elected representatives of the people have put them in place. Not just the Constituent Assembly but every Lok Sabha has pioneered important enactments of which we can be proud. In the conceiving and enacting of these pieces of legislation, our MPs and MLAs have shown idealism, imagination, legislative discrimination and wisdom. We have to grant that to Indian politics, to the political class.

But politics in India has become a field ploughed by flattery, seeded by intrigue, manured by violence, watered by corruption and harvested by ambition. On it grows a harvest of smirking pick-thanks and sniveling malcontents who have either spun money successfully or ended fuming in failure. And it is from out of that dubious 'winning field' or 'field of ruination' that the 'neta' emerges – smiling and showing the 'V' sign if victorious or sulking and vowing vengeance if he has floundered.

What can be expected of such a 'political leader'? He is already compromised. To all that and to all those before whom he has surrendered autonomy. And to interests vested, entrenched in their self-perpetuations. That political leader has, for the rest of his innings, to remain an agent. Can such a political leader be expected to try anything, anything at all, in the larger fields of nation-building? Or where he has to take decisions that must hurt those very vested interests, those entrenched stakes?

In all fairness, there are exceptions to this sweeping portrait. I and you know them and value them. But they are few, almost a handful. Some of them at the Centre and in the States, are in positions of pre-eminence, and thank God for that. But they are swamped by those around them who by their sheer numbers comprise the rule. The exceptions to the rule in politics are not alone. They are part of an endangered species in the wider arena of competitive living in India. Endangered, like Sonawane who was killed by the kerosene mafia.

So, is there hope? There better be! For we did not wage a battle against colonialism and then, for the last six decades, against poverty to come up a cropper in terms of our political stature.

The biggest challenge now lies, however, not in the attitude of the political class but in that of the voting mass. So soaked in the culture of pre-poll cash gifts, goodies and freebies has it become that I am genuinely concerned over whether it is sufficiently bothered about the ethics of it all. There is a real danger that voters, particularly poor rural voters, may begin to think that the rain of cash and of gifts at election time is part of the process, like posters and loudspeakers, and may not realise how its acceptance of these gifts undermines democracy. Difficult as it is going to be to arrest the spending of money, it is going to be far more difficult to stop the accepting of money during and around elections.

This is possible. If electorates seem to succumb all too easily to blandishments, they do not accept bullying. As the Election Commission knows, in every election, candidates and their representatives keep bringing to the authorities' notice attempts, large and small, violent or coercive in other ways, to bull and rig the process. And the media comes in here 24x7 highlighting the sequence. If independent election commissions make it clear to electorates that blandishments are also a form of bullying, a form of coercion, and that to accept them is both unethical and illegal, there will be a difference.

Can there not be some mechanism by which if not the Election Commission but a consortium of election-watching NGOs transparently and verifiably looks out for and rewards candidates, irrespective of whether they have won or not, for good electoral conduct, especially in the realm of electoral expenditure? The election authorities should also set up, with other agencies helping, a mechanism to watch election behaviour rigorously from the viewpoint of the physical environment and, in consultation with the Ministry of Environment and domain NGOs lay down and enforce stringently:

l Permissible levels of voice amplification (decibel pollution).

l Use of CNG-powered vehicles for campaigning alone (air pollution).

l Ban on the use of plastic-coated flags and plastic-using or vinyl using posters and hoardings.

In doing these, the Election Commission cannot and will not be alone. The Supreme Court of India and the High Courts, the Comptroller and Auditor-General of India, the Central Vigilance Commissioner, the Chief Information Commissioner, the National Human Rights Commission, the National Women's Commission, the Commission for Scheduled Castes and Tribes, the Minorities Commission and those bodies that parallel and mirror these in the States which also have their Lok Ayuktas, are often loosely described as constitutional authorities, and so they are. But I like to see them as institutions of conscience.

In the continuing independence and fair-mindedness of these institutions of conscience, in their being ever alert, ever-responsive, self-critical, self-examining and not self-justifying or self-exculpating, rest the self-correcting mechanisms of our state and, hence, the image and the reputation of our Republic.

All the institutions of conscience are essentially retrospective in their operations. They identify, rectify wrong doing. Conscience, however, is not retrospective alone. Its work is not post facto as much as it is in the present continuous. It has to be at work 24x7. I for one look up to our institutions of conscience to take the lead in making this happen. And to individuals and organisations catalysing the working of the nation's conscience. I would, however, urge them never to make individuals their chief targets. For then the drive deteriorates into a hunt. They should leave it to the courts and those authorised to identify and punish individuals who have defrauded the public exchequer or lifted funds they are meant to have protected.

I find a tendency on the part of some persons, groups and sections of the media to become hunters. That pastime can be exciting; but blood-letting is not the answer. What we need is a new architecture of integrity, not trophies of slain hyenas on existing walls. To borrow a metaphor from the world of medicine, what is needed is an ethical dialysis of the system, which cleanses it of the impurities brought on by the non-functioning of its internal checks amounting to a renal collapse.

The UPA governments I and II have brought in some pioneering pieces of legislation, of which I regard the Right to Information Act to be outstanding as an enactment of conscience. It has changed the narrative of accountability. I know it is often used flippantly, vexatiously, maliciously and to seek personal career-related redress. Those are misapplications. But in the main, it has empowered our people against the swagger of office and the disdain of authority.

One legislation which has remained on the anvil for too long — 40 years — is that pertaining to the activating of the institution of Lok Pal. Interestingly, no political party is over-anxious about it and yet no political party can be seen to oppose it. Its fate reminds me of the line from the Hindi film Mr India wherein Amrish Puri as Mogambo says: Mein tujhe jeene bhi nahin duunga aur marne bhii nahin duunga.

But what does the refusal of the Lok Pal Bill to wither away show? It shows that image counts, reputation matters and whatever the sway of money and rough-handling, we the people of India know that politics is a sludge, a mire, a poisoned field. But we also know that we have had a hand, if only that of passivity, in its creation. But we are not buffalos to want to wallow in it. We would like to see the same sludge, the same mire to throw up a new leadership, not just in terms of new faces but new purposes. We would like to see the same landfill of political ambition create its own exceptions, with the guts to speak bitter truths, not honeyed words, at a time when we need to forget the emotive, forgive the hurtful and forego the greedily coveted in the nation's larger interest.

A distinguished administrator and diplomat, the writer is a former

Governor of West Bengal. This

article is excerpted from his inaugural address at the Seventh National Conference on Electoral and Political Reforms held at IIT, Chennai, on February 12, 2011