| | | |
| --- | --- | --- |
| | OPED WOMAN | |
Asian-Women

Religion and culture in an alien land
Asian women bear the brunt of standing apart in countries of their immigration for wearing distinct symbols of religio- cultural identity. As torch bearers of culture, they are pressurised by their community to carry these symbols. Caught between these extremes — women drag the issues of cultural- identity to courts of law.
Kishwar Desai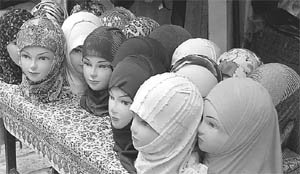 A market place in a European city capitalises on the traditional Khimar (headscarf) of Muslim women.
Recently David Cameron, the Prime Minister of UK created shockwaves when he said that he thought the policy of multi-culturism has not worked in the UK. Instead of encouraging people of different cultures to live in mutual respect, by allowing each community to maintain its identity, he said, it had led to further segregation. The fact that he made the speech in Germany did not help (as Germany has already admitted to collapse of multi-culturism)— nor was it a particularly good idea to deliver it when right- wing groups were staging their own protests in the UK. But, did he have a point ? And how difficult is it to integrate into the western mode of life, for those who are concerned about their own culture or religion? In this context, do Asian women have a particularly difficult time with issues of integration?
Usually, Asian women and girls living abroad have to maintain a fine balance between tradition and modernity; no matter how hard they try, it leads to misconceptions due to the weight of conservative values placed upon them. I recently saw a news item about speed dating amongst UK based Muslims (mostly Pakistani). Nice concept, I thought, at least this way they will be able to meet youngsters from opposite sex of their own age. To my shock (and horror!) I later found that most of the boys were looking for 'simple' girls who wanted nothing more in life than getting married and producing children. The girls were, on the other hand, were not only looking for interesting men, but having been exposed to a British life, had ambitions beyond being domestic goddesses. Therefore the report concluded, many of the boys would go back to Pakistan and find girls who would fit the bill. And many of the girls would end up with compromised dreams.
The flip side of the coin is another fact — recently a spate of allegations has broken out in the UK accusing young married Pakistani men of grooming underage British girls for sex. The alleged reason for this phenomenon has been provided by a Muslim member of the House of Lords who maintains that this is the alarming effect of forced or incompatible marriages; men brought up in the UK go back home and marry women whom they think will make good 'housewives' but cannot relate to. Finally, they end up in extra-marital affairs or grooming young white girls. I am not sure if this is meant to make us feel sorry for the men. But if I juxtapose the two stories, one can only sympathise deeply with Muslim Pakistani women who seem to be caught between the two worlds, excoriated by the fact that they have to live in an 'alien culture' (even though they are British born and bred) hanging, like Trishanku, between the two worlds.
But wouldn't this be true for all Asian women living away from their home country? In fact, women are usually the most affected by displacement, migration and identity loss, while little is said about their turmoil except to romanticise it in novels and films.
Yet, they are seen as the home-makers and the torchbearers for the next generation. Therefore they have to nurture their culture and religion and keep all the symbols of faith and identity alive. It is a tough battle, especially when they may have hopes, dreams and aspirations which might not fit into the strait-jacket they are required to wear by their families. For instance, while many men are able to deal with the physical and outward signs of migration by wearing Western clothes, Asian women, and now even girls, are often still seen in their salwar kameez, sarees, veils, hijaabs and burkhas — making them an obvious and easy target of discrimination. Yet, these very symbols are seen as being important and worthy of being protected and at times, as in the case of UK schoolgirl Shabina Begum, who went to court, but lost, the right to wear her jilbab in school (see box) fighting a very public legal battle for.
Perhaps most people cannot comprehend how difficult it is to wear cultural or religious symbols in a country where none are encouraged. And especially where these symbols are often looked down upon, as the UK Prime Minister pointed out, as a sign of separation.
In a more relaxed society, such as India, different linguistic and religious communities carry on with the business of living with their own symbols and rituals –and indeed , even within their own ghettoes. Should there be uniformity –or should we allow a thousand flowers to bloom? At the same time, should we also be careful that it is all being done out of choice and is not (as was suspected in the Shabina Begum case) an imposition ?
Some years ago, in the UK there was a striking example of a young Sikh Welsh girl who fought a legal battle against her school for the right to wear the kara. Fourteen year old Sarika Singh was told by the Aberdare Girl's School that she could not wear her kara because the school had a 'no jewellery' rule. The case was fought for her by the human rights organization , Liberty. A petition was handed over to the then Prime Minister, Gordon Brown, which was backed by 150 gurudwaras, 200 Sikh organizations, and even 70 non-Sikh bodies. This is one of the very few cases where an Asian girl has fought and won her right to wear a religious symbol. As Sarika's lawyer pointed out, 25 years earlier the right to wear their turbans was conceded to the Sikh men by the law lords in the UK. She also pointed out that it was as important for Sarika to wear her kara as it was for Monty Panesar, the cricketer, to wear his. A rather curious comparison.
However, for a woman or a young girl to assert her right to a cultural identity is equally difficult. Cultural symbols could be considered as important as religious symbols are for an immigrant community, and the case of Sunali Pillay of Johannesburg comes to mind. She had taken the Durban Girl's High School to court because she was prevented from wearing her tiny gold nose ring to school. The case went all the way up to the highest court in South Africa, the Constitutional Court, and the final ruling was in her favour saying 'no child should be prohibited from displaying cultural symbols of choice.'
But, there are still some who would argue that David Cameron has a point. Each community, when it migrates to an alien land should integrate into the new country, even if it means giving up cultural and religious symbols as is encouraged in France. In this war over identity and culture, more and more women, their bodies, their attire, their behavior and their intellect are now becoming the battleground.
London based Kishwar Desai is the author of Witness the Night, winner of the Costa First Novel