Al Jazeera, the Qatari news channel, independently covers events that the Middle-East's state-run broadcasters often ignore. In the wake of protests and uprisings in the region, it had gained credibility and is seen as a powerful agent of change.
Middle-East's news revolution
Regan E. Doherty
A journalist throws open the wide front door of Al Jazeera's Doha headquarters, cell phone pressed against his ear. "They were arrested last night," he bellows into his phone. "We can't get through to the producers. All the material was confiscated, and some of the equipment was destroyed."
Inside the newsroom, the atmosphere is alive with energy. Journalists sit transfixed to their monitors, which show live feeds from central Cairo — where hundreds of thousands of protesters are on the brink of pushing another strongman from power and where Al Jazeera crews have faced repeated police harassment and detentions. Tapes are piled high in a corner, labelled in scrawling Arabic.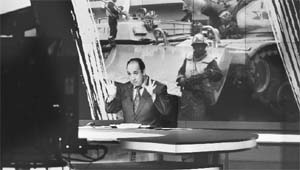 Announcer Abdul Samad Nasser is seen in the studio of the Arabic Al Jazeera satellite news channel in Doha.
"This is our story," says one Al Jazeera English journalist, who asks not to be identified because he is not authorized to talk to the media. "This is the story that proves to the naysayers of the world what we can do. We took the lead and everyone followed. In spite of harassment, having our tapes stolen, people being beaten up. If you want to know about Egypt, you're watching Al Jazeera."
Over the past few weeks, much has been made of the power of Al Jazeera, the Qatari news channel launched 15 years ago by the Gulf Arab state's Emir Sheikh Hamad bin Khalifa al-Thani with the goal of providing the sort of independent news that the region's state-run broadcasters had long ignored.
It was Al Jazeera that first grasped the enormity of the Tunisia uprising and its implications for the region, and Al Jazeera which latched onto — critics would say fuelled — subsequent rumblings in Egypt. And audiences around the world responded: the network's global audience has rocketed. During the first two days of the Egyptian protests, live stream viewers watching the channel over the internet increased by 2,500 per cent to 4 million, 1.6 million of them in the United States, according to Al Anstey, managing director of Al Jazeera's English-language channel.
"This is a real turning point for us, in terms of recognition of the integrity of the product we're producing, and showing that there is a true demand for our content and information," Anstey said.
Al Jazeera, Arabic for "the island", has earned the resentment of leaders in the Arab world — as well as the admiration of many ordinary Arabs — almost from the day it launched in 1996.
The first Arab network to put Israeli officials on the air, the channel has also hosted guests as varied as Saudi dissidents, feminist activists and Islamist clerics. "When Israelis first appeared on our screens, people thought we were funded by the Mossad," one employee said.
In his final weeks in office, Mubarak made little secret of his anger with Al Jazeera's broadcasts of the protests against his government. The network broadcast live from Cairo's Tahrir Square throughout the 18 days of protest, despite its office being closed, journalists beaten and detained, and tapes and equipment confiscated and destroyed.
In phone calls with western leaders during the uprising, Mubarak complained about Al Jazeera's — and Qatar's — role in fomenting unrest, according to senior political sources in Europe. Mubarak told them he believed the emir was focusing attention on the unrest in Egypt at the behest of Iran. It's a complaint that has been made before over the years. Executives of the station dismiss the charge and say they are solely interested in good journalism.
Critics point to instances where Al Jazeera has pulled its punches as evidence of the political role it can play. Initially, the channel's coverage of Saudi Arabia — the Arab world's leading political and economic power — was extensive, but in 2002 the kingdom withdrew its ambassador to Doha partly in protest over Al Jazeera shows on Saudi politics. Relations between the two states were restored six years later, and observers say Al Jazeera toned down its Saudi coverage.
A July 2009 diplomatic cable from the U.S. embassy in Qatar published by WikiLeaks puts it this way: "Al Jazeera, the most watched satellite television station in the Middle East, is heavily subsidized by the Qatari government and has proved itself a useful tool for the station's political masters. The station's coverage of events in the Middle East is relatively free and open, though it refrains from criticizing Qatar and its government. Al Jazeera's ability to influence public opinion throughout the region is a substantial source of leverage for Qatar, one which it is unlikely to relinquish. Moreover, the network can also be used as a chip to improve relations."
Some experts suggest that Al Jazeera, like media organizations in many parts of the world, has probably already learned to exercise a degree of restraint rooted in self-preservation. "I think Al Jazeera itself conducts self-censorship to ensure no red lines are crossed," said David Roberts, researcher at Durham University in Britain. "But in general, the Qatari government is not cherry-picking stories or censoring. They let them run with any story they want, up to a certain point."
While Arab viewers dismiss the far-fetched notion that the channel is in bed with al Qaeda, many say Al Jazeera can appear sympathetic to extremist groups such as Hamas, which defeated the more secular Fatah in Palestinian elections in 2006. Tensions within the Arabic-language channel were highlighted last year when several female anchors resigned over its conservative dress code.
For a region whose authoritarian governments are usually able to squash stories they don't want published, Al Jazeera represents a sharp cultural shift, and, many believe, a positive one. Launched with a startup budget of $137 million and a target of generating revenue within five years, the network was able to draw talent from the just-folded BBC Arabic.
"They started with the right kind of culture," says Mohamed Zayani, professor at Georgetown University in Qatar and author of a book on Al Jazeera. "In terms of the way things were run, the structure was looser, less bureaucratic and red-tape laden. That was good, because it meant they could get things done. It's something very important in the business of news, where time is of the essence."
Its main backer has said in the past that he would like the channel to become self-funding. So far, though, advertising revenues have been decidedly hard to come by.
Whether or not Egypt proves a money-spinner for Al Jazeera, it has certainly earned the network a bigger share of Arab leaders' attention. "Perhaps, after garnering such plaudits for their role in Tunisia and Egypt — and particularly after they found so many ways around attempts to censor them — they will be accorded more fearful respect by other states," Durham University's Roberts said. "Now states might realize that they cannot simply turn off Al Jazeera. — Reuters