There's no stopping bhaang lovers
Tribune News Service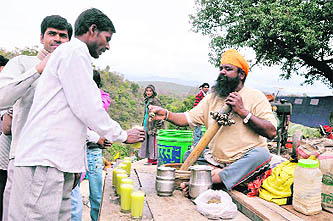 Drinks laced with bhaang being sold on Maha Shivratri near Tapkeshwar Mahadev temple in Dehradun on Wednesday. A Tribune photograph

Dehradun, March 2
Devotees, who had come from adjoining and far-flung areas to worship Lord Shiva at the historic Tapkeshwar temple, couldn't resist savouring bhaang, the products of which were being sold at a number of stalls at the mela near the temple today.
Be it bhaang pakoras or the drinks, people preferred to take it in the form of prasad. It seemed to be a flourishing business in the name of the Lord as the vendors were selling huge quantities of the bhaang drinks and pakoras.
People of all age groups, including children, were seen relishing the bhaang products. They were of the view that this is the only day when they could actually take the bhaang products as it is considered auspicious as Lord Shiva himself enjoyed it.
A glass of bhaang drink was priced at Rs 10, Rs 15 and Rs 20, according to the flavours and the quantity. The most wanted flavours included badam (almond), elaichi (cardamom) and magaz kheera (melon seeds).
"The bhaang ghotta is the one thing I wait for the whole year as I never take the drink otherwise," stated Vikas Mohan, a student of DAV College. "I have heard that it takes over the mind and body, but when I tried I remained in my senses and enjoyed it a lot," he added.
A group of friends, who had come from Mussoorie, were seen enjoying the bhaang pakoras and chanting "Bum Bum Bhole" and "Jai Jai Shiv Shankar", etc.
"We have come here specially to enjoy the bhaang products as they are not as delicious back home. It has been the fourth consecutive year that we all are taking part in the mela," said Sameer Raheja.
His friend Aman Malhotra stated, "What is theharm if we take this once a while? We stay away from intoxicants, but this day even our parents don't stop us from taking bhaang as long as we are within our limits".
The vendors did a brisk business. "I have done a sale of Rs 1,000 till now," stated one of the vendors while grinding the bhaang leaves and seeds.
While the bhaang products kept the youngsters busy, it was rides and food stalls that captivated the little ones and their parents. Long queues were witnessed at the ticket counters of Columbus, roller coaster, giant wheel, merry-go-round, juggling and magic show stalls. The stalls of snacks and beverages also did good business.