Right Choice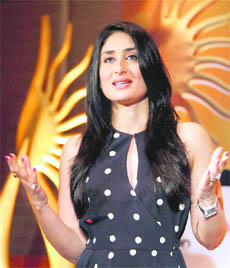 Actor Kareena Kapoor speaks to the media after casting her vote for IIFA awards in Mumbai on Friday. — PTI
No woman, no party
The man at the door assesses you from head to toe. After he is through with the scanning, he looks to your left and right. Then comes the question that can nip your excitement in the bud. "Are you all by yourself? No partner. Sorry, no stags allowed at this party." End of the story… Didn't you read that before--Club Rules Apply, Couples Only!
So, you wanna sing? …let KJ Subz help you
Who does not enjoy a few minutes of limelight? And, if it comes from making your bathroom singing talent public, it's an achievement. "It isn't, trust me," says KJ Subz, popular Karaoke Jockey.
Weaves from UP on display
Here is your chance to take your pick from chikan work, zari borders and patchwork embroidery. "Our motive is to promote the work of artisans and weavers," says Javed Aalam, secretary of the Awadh Hathkarga Hastshilp Evam Gramodyog Samiti, at the UP Handloom Exhibition at Panchayat Bhawan-18.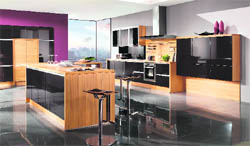 A recipe for perfection
Stylish, functional and timeless designs always exemplify the beauty of a home and when these aesthetics are incorporated in designing the heart of your house—your kitchen, there's not much left to ask for. To lend your kitchen a striking new look along with the style and comfort, Johnson Kitchens has launched a new range of modular kitchens, `Small is Wow!'.  
The bird race
Imagine a complete day of watching the birds as they race! The amateur bird watchers of Chandigarh and North India are organising the Chandigarh Bird Race on Sunday at Sukhna Lake.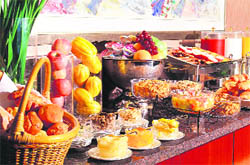 A BRUNCH worth bragging about
You've waited for this day all week. No alarms ringing, no early morning meetings and no rushing through breakfast and zipping across city lanes to reach office on time. It's a Sunday. And the day is about relaxing and having a sumptuous meal. Little wonder that the brunch scenario in the city is heating up. But like everything else, brunch too has moved on from allo puri and lassi to a lavish spread of five-course meal.
An apple a day adds to your life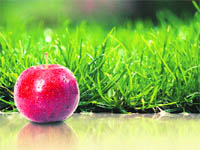 An apple a day keeps the doctor away' is an old proverb. Now, researchers from the Chinese University of Hong Kong have reported the first evidence that the antioxidants abundant in the fruit could help extend the average lifespan by at least 10 per cent.The new results, obtained with fruit flies - stand-ins for humans in hundreds of research projects each year - bolster similar findings on apple antioxidants in other animal tests.
Check out Cheesecake!
Rich, decadent, over the top, ultra creamy....when you dig into a wedge of cheesecake, it will never fail to delight you, provided it's a true-blue cheesecake, made with the best ingredients, perfectly balanced and rounded in flavour.
$1,380 bill for one meal gives man the shock of life
A man in Australia met with a rude shock after he walked into a cafe for a $60 meal but walked out with a $1,380 bill and a sour taste in his mouth.


Idol worship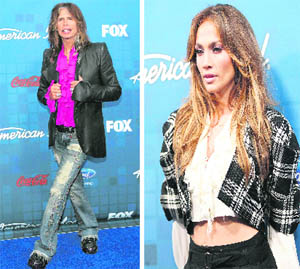 L-R: American Idol judges Steven Tyler and Jennifer Lopez pose at the party for the finalists of the television show American Idol in Los Angeles. — Reuters
Hurley lands a cameo in Wonder Woman
Elizabeth Hurley is all set to play a negative role in NBC's Wonder Woman pilot.The actor is starring in a guest role in David E Kelley's reboot of the comic book character.
Kate has a body double
Prince William's bride Kate Middleton has a body double who has shot scenes for a new movie on the British royal couple.
Lindsay not welcome
Lindsay Lohan was reportedly turned away by the doormen when she arrived to attend a private post-Oscars party hosted by Madonna and Demi Moore at the weekend.
Kruger's fear of
unknownGerman beauty Daine Kruger feels that the negative portrayal of European countries in Hollywood movies may discourage American tourists from visiting these places.
INIFD students gear up for the Lakme Fashion Week
Get ready for fashion extravaganza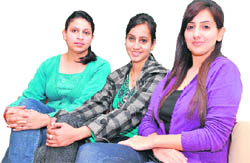 Anybody who's somebody in the fashion industry or in the style fraternity would be there, every designer's collection is going to be 'inspired' and they would be working on a theme "they are so passionate about." Obviously, everybody else around is going to be "equally thrilled." Sponsors, designers, media people and buyers are all eagerly awaiting the five-day fashion extravaganza — The Lakme Fashion Week.

L-R:Arushi, Shivani and Simran will be part of the Lakme Fashion Week Photo: Parvesh Chauhan

Who blabbers more?
The women populace needs to thank Prof Geoffrey Beattie, head of psychological science at Manchester University, who has busted the biggest myth of all times. In a study conducted by him, he concluded, "Chaps are bigger chatterboxes.
Mariah feels embarrassed
Pop singer Mariah Carey has revealed that she's feeling 'horrible and embarrassed' after being paid one million dollars to sing for the son of Libyan dictator Colonel Muammar al-Gaddafi.
Arbaaz will direct Dabangg sequel
Bollywood actor-producer Arbaaz Khan, who has been on a high ever since his debut production Dabangg turned out to be a blockbuster, will now take the reigns as the director for the sequel of the masala action movie.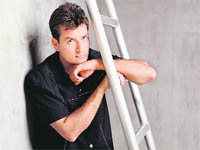 Sheen forced to surrender kids' custody
Charlie Sheen has been forced to surrender the custody of his kids after the actor's estranged wife Brooke Mueller obtained a restraining order against him.A Los Angeles Superior Court judge granted Mueller restraining order based on recent allegations that Sheen was physically and verbally abusive to Mueller. "I am very concerned that (Sheen) is currently insane.
Vir Das in Delhi Belly
Stand-up comedian and Badmaash Company actor Vir Das has shot a special music-video with choreographer Farah Khan for Delhi Belly.The film is being produced by Aamir Khan and it stars Imran Khan in the lead role.
Saif puts Sudhir's next film on hold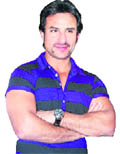 Sudhir Mishra's period film The Nawab The Nautch Girl & The John's Company, starring Saif Ali Khan in the lead, is indefinitely on hold. he actor, who turned producer with Love Aaj Kal had not only given is nod to play the Nawab in the 19th century period drama but had also expressed an interest in producing it but as things stand today, the film may take a while to go on floors.The Nawab The Nautch Girl & The John's Company isn't happening as of now. It is a bigger film when compared to the other films that I have made and required a certain amount of budget, commitment and concentration," said Mishra.
Sienna to play belly dancer
Actor Sienna Miller is all set to star as a comedic belly dancing housewife in Oscar-winning director Rachid Bouchareb's new movie Just Like a Woman. The 29-year-old actress, who is about to start a stint in London's West End in Flare Path, signed on the project even before reading the script as she was keen to work with Bouchareb.
One-stop décor solution
The four-day Inside Outside Mega Show, inaugurated by Praveen Kumar Saini, (IAS), DC Mohali, brings impeccable designs in home décor. "It's for the 14th consecutive year that we have organised this exhibition. It can be called a complete show of the design and décor industry.