Breast cancer is a multi-factorial disease, with the risk factors ranging from the hormonal to the genetic. A timely diagnosis is crucial for curbing and curing it. Some guiding points…
Breast cancer: Causative factors and concerns
Geeta Pandya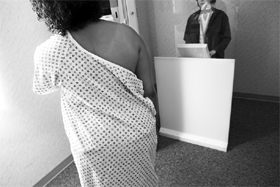 Cancer is a disease in which the cells in the body grow uncontrollably. Rapidly growing cells form a lump or a mass called a lesion or a tumor. A tumor can be malignant (cancerous) or benign (non-cancerous).
When cancer spreads from one part of the body to the next it is called 'metastasis.'`85
Risk factors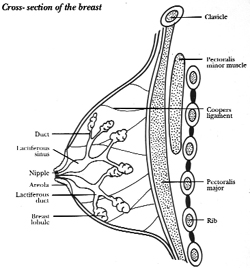 Certain diseases have well-established risk factors. Smoking, for example, can lead to lung cancer; tobacco chewing is responsible for the cancer of the tongue; increased cholesterol is known to cause heart disease.
However, in the case of breast cancer, a definite cause is hard to arrive at. Breast cancer is a multi-factorial disease, with many risk factors, which may interact in a manner that is not clearly understood. Nearly, 70 per cent of patients with breast cancer do not mirror any of the perilous choices or conditions associated with the disease.
However, there are some factors that add an element of risk.
We can list them under one of the five categories.
n General risk factors
n Hormonal risk factors
n Genetic risk factors
n External risk factors: diet, environmental, or behavioural issues
n Stress
General risk factors
n Gender: A woman by virtue of being a woman is at a higher risk for breast cancer. However, a small percentage of men can also develop this disease.
n Age: Children do not get breast cancer. However, it is difficult to say precisely after what age a woman is more likely to get the disease. We used to think that women under the age of 35 did not get breast cancer. However, it has been increasingly seen in younger women in their late 20s and early 30s. The youngest patient I diagnosed with breast cancer was a girl who was 28 years old.
However, cases are reported of even
those as young as 25 years.
n Menstrual cycle: There is no relationship between breast cancer and the pattern of the menstrual cycle whether regular, irregular, scanty or heavy. However, the age at which menses start, and the age at which menopause occurs has some significance. This will be further discussed under 'hormonal risk factors'.
n Breast feeding: It is a common belief that a woman who cannot or does not breast-feed her child has a higher likelihood of getting breast cancer.
n Alcohol: Regularly drinking more than 1 unit of alcohol per day slightly increases the risk of breast cancer.
n Breast conditions: Certain breast conditions like atypical hyperplasia can increase the risk of developing breast cancer.
n Obesity: Being overweight later in life increases the risk of breast cancer. This is because when a woman's ovaries stop producing estrogen after menopause, fat cells become the main source of estrogen. Thus, obese women are exposed to more estrogen than their body can handle, which can stimulate the growth of abnormal cells.
n Family history: A strong family history of breast cancer increases the risk of developing the disease.
n Sexuality: Lesbians are at a greater risk of having breast cancer than those in heterosexual relationships.
Hormonal risk factors
Hormones, especially estrogen, play a huge role in the development of breasts. They also control menarche (the onset of the first period), cyclic changes during menstruation, and are closely related to the development of menopause.
Estrogen is often identified as the main culprit responsible for breast cancer. The breasts, as we had discussed earlier, have estrogen and progesterone receptors. The hormone estrogen stimulates the breast estrogen receptors, leading to a proliferation of these cells. Thus, whenever there is an excessive amount of unopposed estrogen the risk of breast cancer increases. This is especially seen under the following circumstances:
Menstruation: When menstruation starts early, especially before the age of 12, a girl is at a higher risk of developing breast cancer.
Menopause: When menopause starts late, after the age of 55, again, a woman is at a higher risk of developing breast cancer.
Pregnancy: There is a theory that between menarche and the first pregnancy, the breast tissue is sensitive to carcinogens. Thus, if a woman has never been pregnant or gets pregnant after the age of 30, she is at a greater risk of getting breast cancer.
Weight: If the woman concerned is overweight, and especially if she has excess fat around her waist, the hormone estrogen gets stored in such fat and this increases the risk of breast cancer.
Hormone replacement therapy: If the patient has gone through hormone replacement therapy (HRT), without regular check-ups, she is at a higher risk of breast cancer, as stated in reports of a study of HRT, in July 2002.
Certain birth control pills: In the past, when birth control pills had just reached medical counters, they came with high levels of estrogen, which made pill-consumers more susceptible to breast cancer. But over the past four decades, the amount of estrogen in the pill has reduced substantially.
Also progesterone given with estrogen, opposes estrogen, and makes the ovaries quiescent. Thus, there is no fear and risk of getting breast cancer due to low hormonal birth control pills.
Hysterectomy without the removal of ovaries: During a hysterectomy (removal of the uterus), if the ovaries are removed, the risk of developing breast cancer is reduced considerably. However, if the ovaries are not removed, then estrogen from the ovaries makes the breast more vulnerable to cancer. There may also be an incident of ovarian cancer, if the ovaries are left intact. Thus, based on the various risk factors at play and the age at which the operation is performed, a decision about the removal or preservation of ovaries must be taken.
Genetic factors
Factors such as an individual's family history can cause a great deal of anxiety, or worse still, lead to a false sense of security if the person concerned has no family history of breast cancer.
It is, therefore, important to be acquainted with the precise nature of genes and their influence. These are some of the key warning signs.
Family history: If one member of the family has breast cancer, a person's risk of developing the disease is double that of the general population. If more than one relative has had breast cancer, a person's risk of developing the disease is five times higher. This is true irrespective of whether the family member in question happens to be a close relation (such as, a grandmother, mother, sister or daughter), a distant relative (such as the mother's or father's sisters or their children), or a male relative...
Breast cancer gene: Genetic tests are not done routinely, due to their non-availability and non-affordability. But if and when done and a woman is found to be a carrier of the gene, she is at a higher risk of developing the disease. A woman is likely to have a breast cancer gene if she has been diagnosed with breast cancer before the age of 40, if several family members have been diagnosed with breast and/or ovarian cancer, or if there has been a diagnosis of bilateral breast cancer (cancer in both the breasts)`85
External risk factors
Alcohol, smoking and excessive
consumption of caffeinated drinks:
Radiation: In the case of some skin conditions treated with radiation, there is risk of developing breast cancer.
Breast inflammation: This can sometimes spiral into skin cancer.
Diet and stress: Diet and stress will be discussed at length under life-style changes. . .
A diagnosis of breast cancer
To make a diagnosis of breast cancer, the type, and the spread of the disease , one has to understand the anatomy of the breast . . .
Anatomy
Lymphatics carry lymph fluid to the lymph nodes, situated in the axilla (under arm), around the collar bone and chest. They act as barriers of the immune system. It filters infective cells and foreign material.
Thus the lymph nodes are the first to get enlarged whenever an infection occurs. A classic example of this is "tonsils." The tonsils are a lymph gland, and they get swollen and painful whenever infection occurs in the mouth and throat. . .
Diagnostic methods
To make a diagnosis of breast cancer one needs to suspect that there is a lump which could be non-cancerous or malignant. Sometimes a lump may not even be present, but a woman may be worried and may wish to confirm that there is no malignant growth. This is especially so, if the woman concerned has family history of breast cancer, or has just heard about a friend or a relative having developed the disease.
As listed earlier, a lump in the breast may be detected while a woman is bathing, during a massage, in the course of sex play, after a fair amount of weight loss, subsequent to an ultrasound, during a routine mammography or after an examination of the breasts.
A lump, however, could be either cancerous or non-cancerous.
To determine if the lump is malignant, it is important for a woman to get examined by family physician, gynaecologist, general surgeon, or onco-surgeon (cancer surgeon). It is also imperative for her to get a mammography, an MRI, or a sonomammography done.
A fine needle aspiration biopsy (FNAC) or a MRI-guided core needle biopsy may be recommended.
An open surgical biopsy with frozen section (to send the tissue or material received for urgent histo-pathology reporting) may be required. If the report is positive, it is advised to undertake surgery under the same anaesthesia.
If cancer is confirmed, a CT scan may also be required to assess the involvement of the lymph nodes.
Breast cancer set to overtake cervical cancer
By 2020, breast cancer is expected to overtake cervical cancer, which is now the most reported cancer among women in India.
In a written reply in the Rajya Sabha in August 2010, Minister of State for Health S. Gandhiselvan had said that by 2020, breast cancer was expected to overtake cervical cancer at the current rate of increase in such cases. At the moment, cervical cancer tops the list of cancers detected among Indian women, as its symptoms are not easily detected.
According to the National Cancer Registry Programme report on time trends in cancer incidence rates (1982-2005) of the Indian Council of Medical Research (ICMR), the estimated number of breast cancer cases in India in 2010 was 90,659 and of cervical cancer1,03,821.
The National Programme for Control of Cancer, Diabetes, Cardiovascular Diseases and Stroke had been approved with an outlay of Rs.731.52 crore for cancer for the remaining two years of the 11th Five Year Plan (2010-11 and 2011-12) for strengthening cancer care facilities in the country.
Under the scheme, it is planned to increase awareness, prevention, early detection and treatment for cancer cases, besides strengthening the healthcare delivery.
Stages of cancer
Stage 0 : Cancer in situ, where only few cells have started multiplying.
Stage 1 : The lump is not larger than 1 cm and is still inside the basement membrane.
Stage 2 : The lump is between 1 cm to 2 cm and has spread to the lymph nodes. Alternatively, the lump is larger than 2 cm but has not spread to the lymph nodes.
Stage 3 A : The lump is larger than 2 cm and has spread to the lymph nodes.
Stage 3 B : The lump has spread to the skin, chest wall, ribs, muscles and the inner lymph nodes.
Stage 4 : The lump has spread to several other parts of the body, the other breast, bone, lungs, liver or brain. (Inflammatory breast cancer is rare.)
Excerpt used with permission from 'Know Your Breasts' by Dr Geeta Pandya. Published by Vakils, Feffer & Simons. Pages 118. Rs 300