| | | |
| --- | --- | --- |
| | OPED WOMAN | |
Woman empowerment for the Muslim community requires different tools. Their socio-economic indices vary from the women of majority community. Yet, they aspire to join the mainstream economic force. Hence, feminism for the women of this community needs to be spelt with different semantics.
Muslim Women: Lesser of the minority
Mujibur Rehman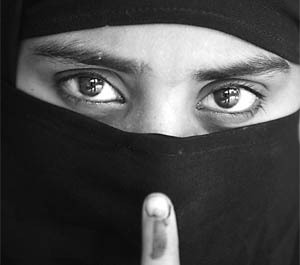 Window to the world and an area of darkness
Ever since Shah Bano debate of the late 1980s, a perception has emerged that Islam is unfair to women, and that there is an inherent theological sanction against gender equality. Recent controversy concerning burkha or hizaf in European nations has only perpetuated this perception about women's position in Islam at a global level. In a country like India, where women's position is generally unfavorable- Muslim women are seen as dual victims; firstly by such flawed interpretation of Islam- and secondly by the inherent system of oppressive Indian patriarchy. Seen in this context, it is important to de- contextualize various dimensions of Muslim- women's issues in modern India. New tools are required to advance the cause of modern feminism for Muslim women in India to expand its own variety of multi- culturalism.


Looking beyond stereotypes

n Better education, higher income and healthcare facilities curb fertility, which is largely missing for the Muslim women.
n Field health workers avoid going to ghettos with higher concentration of Muslims.
n Family-planning promos are made keeping the majority community in mind.


n Models of successful family- planning programmes from other Islamic countries like Malaysia and Indonesia are not studied for replication.
A rough extrapolation of the rate of population growth, using 2001 as base year would suggest that the population of Muslim women should be more than 70 million in 2011, which is somewhat close to the population of a major European country such as Britain or Germany. But comparison of the socio- economic conditions of Muslim women with the population of these European nations would naturally signal massive deprivation. On the other hand, debate on Muslim backwardness in the Post- Sachar India has been so focused on the general nature of deprivation of Muslim community that the issues of Muslim women and its particular nature seem to be entirely slighted.
On the other hand, the debate on the position of Women in Islam has become quite polemical and politically charged.
It is a favourite stick employed by the Hindu fundamentalists and feminists for quite opposing reasons. Shah Bano case and the debate on Uniform Civil Code, which is not welcomed by Islamic bodies, are used by the Hindu fundamentalists to create an argument of Muslim disloyalty towards the country and its Constitution. Feminists, on the other hand point out gender inequality as normatively a wrong issue to be embraced in modern times. They accuse it to be based on Islamic preaching. Some scholars, such as Asghar Ali Engineer, have been arguing that there are some clergy who deliberately mis-interpret Islam and its tenets regarding women; their rights and liberty in order to advance their vested interests.


Lost in the din
When one looks at the trends in sex ratio, Muslim girls are given better chances of survival. The difference may not be dramatic, but is noticeable for the fact that majority of Muslim women are not exposed to gender sensitisation drive. For every 1000 males, in 2001, Muslim females were 936 as opposed to all India sex ratio of 933. In 1991, Muslim females were 930 as opposed to 927 for all India sex ratio. In some states such as Kerala, Uttar Pradesh, Tamil Nadu, Bihar, Gujarat and Madhya Pradesh- data suggests that sex ratio for Muslims is much better compared to all India population.
Breaking myths about high fertility
According to some data used in Sachar Report collected in 1998-99, 49% of Hindus use contraceptives, while 37 % of Muslims use at all India level. The data varies from state to state in this case also, dispelling the notion that Muslim community behaves as a unified block. In some states the differences between fertility of Hindu couples and Muslim couples is really high, such as in Assam 49 % of Hindu couples as against 34 % Muslim couples use contraceptives, in Rajasthan, 42 % of Hindu couples as against 25 % Muslim couples, in Kerala, 72% of Hindu couples as opposed to 48 % of Muslim couples use contraceptives. There are other states such as Karnataka, Andhra Pradesh, West Bengal, and a few other states where the difference between Hindu and Muslim contraceptive users is rather low. For instance, in Tamil Nadu- only 52% of Hindu couples use contraceptives as opposed to 49% of Muslim couples. Surprisingly, in Madhya Pradesh including Chhattisgarh where 44% Hindu couples use contraceptives against 46 % of Muslim couples, is against the general trend. Largely, high rates of fertility among Muslims are due to lack of information and non- affordable health- care facilities.

The world looks at the stereotype
The publication of Sachar- Report (2006) has revealed a very disturbing picture of the Muslim backwardness- mainly under-representation of Muslims in various sectors of the Indian economy. When the entire community is backward, it seems natural to anticipate that the women of the community would be worse. The Committee apparently had five members and a Member- Secretary in addition to its Chairperson, Justice Rajinder Sachar. None of its five members was a woman. Would that imply that no Muslim woman was worth the job? There is a pool of women of accomplishment from the community to choose from. The decision not to include a woman member seems to be a deliberate one, which reflects somewhat unfavorable attitude towards women by the Sachar Committee.
However- the committee sought to make up for it by holding consultations with some women experts and hiring women consultants. The 401 page report has a text of around 263 pages plus appendix containing various tables for the remaining part. The Report does make profound observations about the conditions of the women. In a nutshell, it found that Muslim women are overwhelmingly self- employed, particularly engaged in home- based work. Sewing, embroidery, zari work, chikan work, readymade garments, agarbatti rolling, beedi rolling, are some of the occupations a majority of Muslim women opt for. Low income, poor work conditions, absence of toilet, crèche facilities, lack of social security benefits like health insurance and the absence of bargaining power characterise general nature of their work- profile.
The Report also noted that the distinct pattern of Muslim women's employment in home- based work is partly due to discrimination received in formal employment. It is due to the vicious cycle of poverty, lack of education and technical skills leading to low- skilled, low- income route, that leads back to poverty. Muslim women are unable to bargain for better work conditions because much of the work they do is sub- contracted. The restriction of mobility ( based on social and cultural factors) restricts their employment opportunities and wages. They do not have independent access to credit facilities, opportunities for skill up- gradation, or access to markets.
By the year 2006, when the report was submitted-India had already pursued globalisation for close to 15 years or so. Given the general impression that globalisation has generated employment and wealth- it needs to be noted that it has not worked for Muslims in general and Muslim women in particular. Recurrent incidents of ethnic violence since India's independence have contributed to the ghettoisation of the community, which has a particular consequence for women upliftment. The ghettoisation of poor Muslims has led to the seclusion of home- based female workers.
Another important factor of state bias is reflected in the case of minimal participation of Muslim women in the government sponsored micro- finance programmes such as Self- Help Groups(SGHs), Watershed Programmes and Panchyati Raj. The Sachar Report has recommended that the government should give direct contract to Muslim women for jobs such as preparation of school uniforms.
Muslims- especially women, have virtually no access to government schemes, and lack experience in getting loans from Jawahar Rozgaar Yojana for Below Poverty Line( BPL) beneficiaries. Muslims are often not able to secure reservation benefits available to OBCs as the officials do not give them the required caste certificates. Many eligible Muslim OBCs were not included in the official list resulting in denial of several benefits to the community.
Another important dimension of the Muslim women debate centres around their health. According to Sachar Report, the issue is directly connected to poverty and absence of basic services like clean drinking water and sanitation- leading to malnutrition, anemia, and a variety of diseases and poor life expectancy.
In conflict- prone areas, there is a strong evidence of psychological problems, including stress, depression, and post- traumatic disorders. For decades, a perception has prevailed among some right- wing groups that Muslims do not want to practice family planning- some even accuse the community of having the desire to over- populate India so that India becomes a Muslim majority country. This argument has a great propagandistic value.
Population control programmes and knowledge of contraceptives do not reach Muslim women effectively as the awareness campaign is not designed keeping the community's sensibility in mind. Thus, high rate of fertility among Muslims is partly due to lack of information and non- affordable health-care facilities.
Though, the report also mentions "substantial demand from the community for fertility regulation and for modern contraceptives," which is also reaffirmed by the fact that over 20 million Muslim couples are already using contraceptives. But, women need to have more say in making these choices, which requires special programmes designed to suit the community's sensibility.
In conclusion, there are multiple factors that contribute to the prevailing disturbing portrait of Muslim women in India. In a way, it is part of the general story of the Indian woman. Added to it, community specific factors perpetuate their stereotyping and an almost negligible representation in the growing economy of the country. There are also state biases, and flawed understanding of the community's issues that further complicates the debate. What is now needed is a multi- farious approach at societal, state, and community level in order to address issues of dignity and equality of Muslim women, without which Indian democracy cannot find fuller expressions.
(The author is a faculty at the Centre for Minorities Studies, Jamia Millia Islamia, New Delhi)