Joblessness in rural India
It must be handled with all seriousness
by Jayshree Sengupta
Today in terms of GDP growth, India seems to be doing better than most other countries and the government expects around 9 per cent growth in the next one year. But is this growth translating itself into rural jobs? Is it benefiting the common man? The story of "trickle down" did happen to a great extent in rural India and boosted rural incomes. Indeed, rural demand has boosted industrial demand in recent years, but there is a scarcity of jobs in the rural areas. And with 54 per cent of the population living in our villages, there is a huge pressure on land, creating an adverse land-man ratio, which means there is not enough work for young people in the farms.
This lack of adequate work has created much restlessness among the youth in the villages who do not want to work in the fields and are lured by the news of the outside world through mobile phones, the satellite TV and Internet. Rural youth is aware of what is going on in the rest of India, especially the lavish lifestyles of people living in towns. It makes them want to migrate to towns and even undertake travel for hours in order to get paid jobs. The recent incident in which 18 disappointed young job-seekers died while travelling on the rooftop of a train, which was taking them back to their villages from the small town of Bareilly (Uttar Pradesh), is a glaring example of the kind of desperation the young people are facing. Even for menial jobs like cleaners, washermen, barbers and water-carriers in the Indo- Tibetan Border Police force, there were 100,000 applicants when there were only 416 jobs available. The remuneration was only Rs 5200 per month.
This incident shows not only the desperation of the village youth to get jobs in towns but also their willingness to accept even the most menial jobs. Most of the applicants were semi-literate and school-dropouts, but they now consider themselves as literate and want jobs which would give them some wage-income and job security (that made public sector jobs like those in the Indo-Tibetan Border Police all the more alluring). Another revealing fact is the utter recklessness of the rejected youth because while travelling back they flouted all rules of the railways. Since sitting on top of the train would save them the train fare, hundreds climbed on the top which is dangerous under any circumstances. But in this case, they were also not warned sufficiently in advance by the railway authorities of the low bridges ahead. Even if they had been warned, would they have listened? The complete lack of implementation of any safety laws is also highlighted by this incident. What is scary is the paucity of jobs to absorb the rural youth in India's 638,000 villages and thus it is difficult to hazard a guess about their future.
India will continue to have a youthful population of 500 million in the next 15 years as compared to other emerging economies. But this can turn the situation into a nightmare in which semi-skilled and semi-literate young population may not find a place in the job market as manufacturing and service sector jobs are growing very slowly.
There are also not enough food processing factories to employ the young people locally. The slowdown in manufacturing since December 2010 to 2.5 per cent is an indicator of the possible further slackness of industrial growth.
This is because all input prices have risen in the last few months. The rising oil prices will affect industry's fuel cost. There have also been several hikes in the interest rates to combat inflation in the past one year which makes industrial expansion difficult to finance. Only with more factories in the rural areas can the unemployed youth coming out of the villages be absorbed in gainful employment. The situation is volatile today because food inflation has been running at a double-digit level for nearly two years and is enough to drive out people from rural areas to seek jobs in towns.
The unemployment rate is now around 10.1 per cent in the rural areas and 9.4 per cent across the nation, and this means that around 40 to 50 million youth are without jobs. Unless they are given proper training, and higher education, they will not be fit to join the service sector or the manufacturing sector. According to the Labour Bureau, most of the job growth in the manufacturing sector in the recent past has been slow and public sector jobs have not grown at all. Often to retain flexibility, companies have opted for high-tech which is also required to retain the competitive edge. Unless more labour-intensive industries are set up or labour-intensive processes are encouraged by government policy, the future will see very slow job expansion.
So, what will the young job-seekers in their twenties and thirties do when rural jobs are not available and what if they are turned down for the few openings as was seen in Bareilly recently? It will become a big problem in a few years unless they are engaged in studies and are given vocational training that will enable them to find jobs.
This task of educating and training the young entrants to the labour force cannot be left to the private sector alone and, therefore, the major task of the state governments would be to launch skill training programmes and ensure that all boys and girls finish at least their secondary education. It is perhaps not enough to have universal primary education as a goal because to implement it, there will have to be better schools with proper teaching facilities by teachers in classes so as to ensure that the dropout rate is low.
There is a big danger that the unemployed and disgruntled youth may join the Maoist movement or some other type of anti-social activity in the states that are poor and underdeveloped. To keep the youth gainfully employed in the villages, students should be encouraged to complete their education and training. There should be better implementation of Centrally-sponsored training programmes for rural youth, and for rural jobs labour-intensive factories in food processing could be set up. The youth can be trained to start their own small enterprises that can supply parts to factories in nearby towns. Making loans available from banks to youth for starting their business is also important.
Unless serious thought is given to the question of providing employment to the youth in the villages, widespread joblessness will remain like a bomb ticking away in our villages that may explode anytime.

Card protocol
by Vinod Prakash Gupta
Birthdays, Father's Day, Valentine's Day, Mother's Day, anniversaries, festivals, breakups, makeups or plain simple love, the tradition of greeting cards has diversified, evolved, boomed and ebbed  in the last four decades. But just like hand-written letters, this charming practice is on the decline giving way to e-cards, sms-es, Facebook messages, twitter and other technological leaps and developments in the methods and forms of communication.
I am firmly in favour of paperless communication because after all it is the thought that counts and God knows we need to protect the environment. But even with these compelling reasons one would miss holding a card which is more tangible and personal than an e-mail just like the Kindle is convenient but the reading experience, as romantics and puritans would agree, is not consummate until you can hold and, most importantly, smell the book.  Having said that, one must never lose sight of what is practical and has long-term benefits.
This brings me to the government machinery, a little untouched by technology, which has a different attitude for treating the 'card protocol'. In terms of occasions, New Year wishes have continued to top charts in the card-giving space. Not only is it a time to wish people close to you but in the official sphere it is one of the biggest public relations exercises. Fearing an astronomical expense in case all the cogs in the wheel were officially sanctioned a budget to send out cards to contacts, the government, as the New Year approaches promptly issues instructions to adhere to austerity measures and only a handful of officers, ministers and dignitaries are permitted to send out cards.
I must admit that this select group strictly adheres to the austerity measures and a judicious number of cards is sent out by each. But what the government does not factor into this exercise is the responsibility of courtesy to respond to thousands of greeting cards received by the various officers, especially the Governor, Chief Minister, Ministers, Judges and other high-ranking officers. This is a valid and justifiable practice and expenditure on the exchequer. All cards received from colleagues and the common man are neatly preserved by the personal assistants, listed and uniformly replied to with a standard letter which is printed out on official letterheads, placed in envelopes, stamped and mailed at the government expense.
The heads of the government may even get a huge number of cards printed to respond to the people. This is a necessary exercise to build a responsive image of the government and a relationship of trust and respect. But in its hurry to curb expenses, the government has totally overlooked the hidden costs.
As someone who has been following the New Year wishes tradition for the last four decades at his own expense, I strongly feel that wishes whether sent through a traditional card or e-mail should convey heartfelt sentiments of an individual.
It may be a paperless exercise, which of course is the need of the hour but definitely not a robotic exercise that automated routine responses reduce it to. New Year signifies a new beginning, a new start to make the current year better than the one before and this is the feeling that needs to be embraced and passed on rather than staying caught up in archaic practices that do no good and serve no purpose.

India's strategic autonomy remains at risk due to a heavy dependence on foreign military vendors. A resurgent economy notwithstanding, we still do not have the requisite military prowess to impose any cost on adversaries for acts infringing national security. An indigenous military industrial complex is a vital strategic imperative and will also check China's strategy of influencing neighbours through investment and aid
Defence industry remains an Achilles' heel
Air Marshal R.S. Bedi (Retd)
India's phenomenal economic growth and rising profile has led to its enhanced strategic relevance. It is fast emerging as an important factor in the global strategic calculus. Most western economies, unlike that of Asia, have not performed well in recent years. They are thus compelled to seek and engage the fast growing Asian economies in search of better prospects. This is resulting in a gradual shift of power from the west to the east. Can India like some other emerging powers rise to the occasion in this new scenario?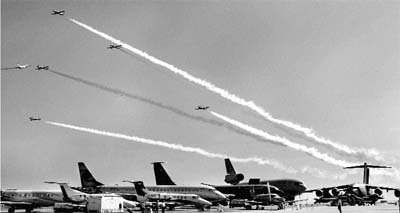 Foreign aircraft on display on the tarmac at Aero India — 2011. An increasing number of western defence manufacturers are looking towards India for a slice in the huge defence and aerospace market envisioned to be generated by proposed procurements, which will also yield big opportunities to the Indian industry.
We are surrounded by neighbours who are not necessarily friendly. Some are out right hostile. Historically, some of the states in the region are not only unstable but tend to remain under the control of the military that wields unprecedented power and spends millions on re-armament. The Pakistani army is always in control of national affairs, whether overtly in power or otherwise, The People's Liberation Army of China too has emerged rather hawkish in matters of territorial and maritime claims vis-à-vis its neighbours.


Government supportive, but issues remain
Opening up of the Indian economy during the early nineties heralded an era of unprecedented industrial growth in India. The growth rates seen match those of the fastest growing economies. A confident and resurgent Indian Industry is making forays into almost all the sectors of manufacturing. Lately, the huge opportunities for growth within the domestic and global defence and aerospace industries have attracted the attention of Indian industry.
The current profile of equipment held by the Indian armed forces with regards to "state-of-the-art", "matured" and "obsolescent" is 15, 35 and 50 percent respectively. This suggests that the government will have to make serious efforts towards upgrading its defence resources either by developing or procuring defence equipment and systems. Moreover, modernisation, upgradation and maintenance of the existing equipment will also provide immense opportunities to the industry.
India is one of the largest global military spenders. The huge opportunity has attracted the attention of not only a few large players but also a sizable number of micro, small and medium sized enterprises that visualise this unprecedented opportunity as a gateway towards entering into the domain of defence production. The slowing down or saturation of markets in other sectors has also been responsible for directing their interest towards the unexplored defence sector, which promises sustained business opportunities.
The private sector is enthusiastic about its ability to play a larger role in contributing to the total defence related production, both within the country as well as for export, once sufficient experience has been gained in particular areas. The need of the hour is to combine the skills of the public and private sector, developing this into a partnership with the aim of achieving self-reliance in defence production, creating an environment where both sectors grow together and partner with each other, thereby contributing towards the national growth.
At the policy level as well, there is support for achieving the long cherished goal of self-reliance in the defence sector. The government has been receptive to suggestions and has been willing to make the required policy changes whenever required. Initially promulgated in 2002, the Defence Procurement Procedure (DPP) has undergone several revisions.
DPP-2011 introduces a number of measures to make the acquisition process industry friendly and to increase transparency. In some quarters, it is seen as a move towards fast tracking the existing procurement procedures, facilitating absorption of offsets and introducing industry friendly procedures, but as far as measures for indigenisation or achieving a level playing field for domestic private industry is concerned, DPP-2011 does not live up to its expectations.
The rate at which China is modernising its armed forces is a cause for serious concern. China has been increasing its defence budget by more than ten percent annually. Reforms introduced by China in the 1990s are now manifested by enhancing its military capabilities and also the prowess of its military-industrial complex that is producing a wide range of advance weapon systems.
The Chinese are currently in the process of launching their 12th five- year plan (2011-2015). Reforms visualised in this plan will further boost China's indigenous and the technological capabilities, besides integrating civil and defence enterprises. The pace and scope of China's modernisation are alarming indeed. This will "increase China's options for using military force to gain diplomatic advantage or resolve disputes in their favour."
This is a clear message for India and the reason why the dilly-dallying Chinese do not allow resolution of the border disputes, despite having met fourteen times at the political level. India must take note of this in dealing with China and try to resolve disputes expeditiously. Chinese proclivity of dragging its feet and raising new issues without resolving the pending ones is a part of their strategy. Dams across the Brahmaputra, military presence in POK, changing stance on Kashmir and the visa issue are all pressure tactics to keep India on tenterhooks
In contrast, India is still in the process of talking about reforms in the defence sector. The defence minister has recently unveiled future plans in regard to procurements, indigenous production and deeper and transparent involvement of the private sector in various areas of defence production. The Army Chief too has spoken about these reforms within the army itself.
On our western borders, the Pakistani army, which had lost its primacy to some extent in the 90s, has once again managed to create political space for itself. Under Gen Ashfaq Kayani, it has emerged as the dominant force in Pakistan and behind the civilian façade, exercises full control over national policies and ensures a lion's share of the national budget for itself. Last year, it increased its defence spending by as much as 17 per cent. Large chunk of US aid also continues to be siphoned off towards building the Pakistani military.
The security situation in India's near as well as distant neighbourhood has rarely been comfortable. Myanmar, Bangladesh, Nepal and even Sri Lanka too keep India under pressure one way or the other. They tend to leverage the China card in their dealings with India. That's how China invests heavily in these countries. With an economy growing at 10 per cent, China can afford to aid these developing countries. Pakistan, in particular, occupies a special place in the Chinese calculus of arming South Asia. Politico-military succour available to Pakistan is in keeping with the Chinese strategy of tying India down perpetually in a proxy war and preventing its rise.
India has little or no military-industrial capability to invest similarly in its neighbourhood. India has to go in for comprehensive defence production capability that would not only take care of indigenous requirements but also help service the needs of South Asian neighbours. Induction of private sector will go a long way in this endeavour. The only way to dilute Chinese influence in the neighbourhood is to compete with it.
Malaysia, Indonesia, Thailand and Vietnam, have all embarked upon re-arming themselves. Obviously, the China factor is behind this. Malaysia has recently acquired new submarines worth $1 billion to safeguard its waters claimed by others. Indonesia has acquired a large number of fighter aircraft. Two blatantly hostile neighbours in the north and the west and progressively arming immediate and the distant neighbourhood does not auger well for India. India finds itself presently in an unprecedented security quagmire. Its claim to a rising power status rings hollow when viewed in terms of its indigenous capabilities.
President Obama's exaggerated rhetoric during his address to the Indian Parliament that "India is not the rising power but a risen power and an indispensable strategic partner of the US", however sweet to the Indian ears, is indeed far from reality. Similar statements made by other leaders visiting India do not make India a great power. Obama, Sarkozy, Medvedev, Cameron and Wen all came not because India was a comprehensive and a great power but because they were looking for jobs, economic and trade benefits. They were all competing with each other for the lucrative $12 billion aircraft deal that India is in the process of negotiating. According to recent reports, India will be spending around $100 billion on defence purchases over the ensuing decade.
The deteriorating security environment in and around India requires it to continuously modernise and upgrade its armed forces. Unable to meet the target indigenously, it is driven to meet the needs of the armed forces from foreign vendors. The Air Chief was blunt enough to concede openly that half of the weapon systems used by the IAF were either obsolete or obsolescent. The army too feels that it would take years to achieve full operational capability. The navy has also been harping on its progressively declining power. With the ever increasing strategic importance of the Indian Ocean, it has an added responsibility. Sixty years after Independence, we still import almost everything that our armed forces need. Studies done by numerous committees only gather dust in the archives of the bureaucracy. One such study of which this writer was a member along with the three services vice chiefs and former DRDO head, Dr Abdul Kalam as its chairman, submitted a ten-year plan for indigenisation in 1992. Nearly two decades later, we are no better.
Our indigenous component continues to be no more than 25 to 30 percent, with core components being imported. The Light Combat Aircraft's engine, fly-by-wire control system and radar are procured from abroad. The story about the army's Arjun MBT and other weapon systems is no different. India's inability to produce weapons and total dependence on foreign vendors only reflects its hollowness as a major power. The vendors can withhold spares and supplies at any time and bring the nation to a grinding halt at critical junctures. India can hardly afford to forget the way the western powers applied sanctions against it after 1998 nuclear tests. Our strategic autonomy remains at risk even today.
Really speaking, it's sound economy coupled with indigenous defence technology and production capabilities that make a power. When Pakistani terrorists attacked the Indian Parliament and later carried out attacks in Mumbai, India failed to respond. A resurgent economy notwithstanding, we did not have the requisite military prowess. These incidents were strong enough reasons for military options. No wonder, Pakistan continues with its nefarious designs with impunity against its much larger neighbour. It's because we are unable to impose any cost on our adversary. Under the circumstances, indigenous military-industrial complex is as vital a strategic imperative as the national economy.
The writer is former Director General, Defence Planning Staff