Questions hard, answers harder
The unexpected bonanza from the sale of 3G spectrum and disinvestment of its stakes in several blue chip Public Sector Undertakings make the Union Government's finances look better. But , as the Economic Survey pointed out, the future is tense and tough times are round the corner. The Finance Minister has already prepared the ground and said that global oil prices would have a bearing on the economy. As the country prepares to watch Pranab Mukherjee deliver his Budget speech, here is a hard, and irreverent look at what it may or may not contain.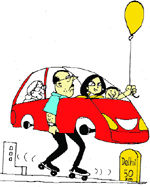 Can the government reduce duties on petroleum products and look for other sources of revenue ?
It's possible if the government shows the will. Taxes on petrol and diesel is a cash cow for both the central and state governments. Apart from newer areas of revenue, even if collections on existing taxes improve it would make a world of difference. Tax deducted at source (TDS) on salaries is the easiest way that the government collects taxes. Similarly high tax on petroleum products is the easiest way of raising revenue. Reducing taxes in this sector will have an immediate impact on costs and inflation.
While the automobile sector is growing, adding to pollution, congestion and more consumption of petroleum products, should there be higher tax on big cars, diesel cars etc. ?
There is already a higher tax on cars beyond a certain engine size. Higher tax on diesel cars has been discussed but there has been no consensus. Also, in diesel vehicles there are also what are called utility vehicles which are used for rural and semi-urban transportation. Increasing excise on cars is resisted by auto makers and also the country still does not have an efficient public transport system, so the need for individual vehicles is acute. In Western countries, there is congestion tax, tax on entry into the city, tax on entering certain crowded parts of the city etc but then they also have alternative commuting systems.
Isn't it time for the government to impose Agriculture Income Tax ?
Yes. The rich farmers who can afford swanky cars and other luxuries can certainly pay tax. It's been a political hot potato for so long that nobody wants to be the first one to disturb the status quo. Every time this demand is raised, it is called anti-farmer, when actually the small farmer has nothing to do with it. It has long been suspected that politicians, bureaucrats, contractors and industrialists are the ones who show the highest income from 'Agriculture'.
Is it time to bring back Estate Duty or Inheritance Tax, done away in 1985 ?

The Estate Duty or Inheritance Tax continues to be levied in the United States and several other countries. And with the number of Indian millionaires and billionaires rising every year, and the richest Indians building 31-storeyed houses for themselves and hosting children's weddings at the Versailles Palace outside Paris, it certainly is time for bringing it back. The philosophy is that wards of the rich should not start with too much of an advantage over others. Imagine how much the Ambani brothers would have paid as Estate Duty when they inherited the property left behind by Dhirubhai Ambani ? It is also because of the high inheritance tax that so many American billionaires give their wealth away to charity.
What are the sources of revenue for the Union government ?
Last year the Union Government's Gross tax receipts were 7.46 lakh crore.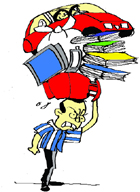 Is the government's expenditure on social sectors adequate ?
Last year the budget outlay for the social sector was 1.37 lakh crore or 37 per cent of the total outlay. 25 per cent of this was earmarked for rural infrastructure. School education had an outlay of Rs 31,000 crore covering SSA and other schemes. The Government outlay on Health was Rs 22,000 crore. NAREGA, the rural employment guarantee scheme, took away Rs 40,000 crore while Bharat Nirman was allocated Rs 48,000 crore. The problem continues to lie in implementation, delivery and corruption.
How much does the government spend on subsidies ?
Food, fuel and fertilizer subsidies cost the government Rs. 1.08 lakh crore last year. Fuel subsidy cost Rs 3018 crore, food Rs 55,578 crore and fertilizer Rs 49,980 crore.
Can the Budget or fiscal measures help retrieve India's black money worth billions of dollars stashed away in secret Swiss Banks and 'tax haven' islands ?
With the outcry over the black money issue, some announcement is more than likely. The government has already set up a committee and yet another amnesty scheme appears to be on the anvil. But this will be a tax on honesty because the corrupt are being invited to regularise their black money by paying a certain penalty and taxes. The government would argue that it would help recover assets and revenue, which are currently 'lost' to it. The government has also signed tax information exchange agreements with several tax havens. The problem is most of the money went out when the tax regime was very harsh and the economy was closed and most of the black money would in probability be stashed in benami accounts under fictitious names.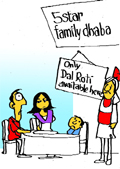 Onion prices may have come down, but food inflation continues to be high. What can people expect from the finance minister ?
The government has flagged inflation as the main problem facing the economy. Inflation is tax on the poor as it erodes his income. The government is following a tight monetary policy and raising interest rates to curb it. In addition, it is putting in place a inflation monitoring mechanism and also telling states to act to remove bottlenecks in movement of produce from the farms. It has also identified several reforms in agriculture including improving storage, warehousing to cut down on wastage of farm produce. It has also advocated greater capital investment in agriculture. There are also indications that FDI in retail may be opened as the industry logic is that it will set up the back end for storage and movement of farm produce.

The 9% growth story appears tailor-made for industries and the rich. The poor are still getting poorer. Is any remedy in sight ?
Though there are gaps, benefits of growth are reaching the people. The issue is how fast and how inclusive the growth is. That is why the government is now all the time talking about inclusive growth to tell the people that it is not limited to just the rich section of society. With growth and opening up of avenues of information, people are also getting impatient. Not leaving everything to the percolation of riches to the grassroots, the government is going ahead with several direct welfare schemes like NREGA to transfer state support to the grassroots.
Compiled by Sanjeev Sharma.
Cartoons by Sandeep Joshi
LOOKING BACK
LAST YEAR'S numbers
Total Expenditure
11.8 lakh crore
Gross Tax Revenue
7.46 lakh crore
Non-tax Revenue
1. 48 lakh crore
Net Borrowing
3.45 lakh crore
Disinvestment to yield
25,000 crore
Finance Minister's concerns
n Double digit food inflation due to poor Monsoon and drought in 2009-10
n Need to deregulate petroleum prices in sync with international trends
n Give a fillip to infrastructure development
n Budgetary support for rural employment guarantee scheme, rural development, food security, Railways etc.
n Stimulus to industry for coping with global recessionary trends
n To ensure fiscal deficit remains manageable
n To bail out the farm sector and stop farmers' suicides
FM on the backfoot
n Despite a good Monsoon, food inflation has remained high
n Not much headway in implementing the Direct Tax Code and General Sales Tax from April, 2011
n Forced to continue with subsidies
n Implementation has remained tardy on almost all fronts.