Separatists react sharply to PM's remarks
Say right of self-determination must to resolve Kashmir issue
Srinagar, March 5
Separatists have reacted sharply to the remarks of Prime Minister Manmohan Singh that the Kashmir issue will be resolved within the framework of the Indian Constitution. The separatists have said the Prime Minister's proposal was unacceptable to them, as they wanted a settlement outside the framework of the Indian Constitution.
Three timber smugglers arrested
Srinagar, March 5
The police arrested three timber smugglers at two places and recovered a large quantity of timber from their possession today. A police spokesman said Abdul Qayum Sofi, a resident of Yangoora, and Rouf Ahmad Sofi, a resident of Barsu, who were transporting timber cut illegally in a Tata 207 vehicle, were arrested on the Sumbal-Ganderbal bypass.
Army spent Rs 400 crore on rural infrastructure
Jammu, March 5
Besides fighting Pakistan-sponsored proxy war in Jammu and Kashmir, the Army has spent nearly Rs 400 crore in the past 12 years as part of its strategy to improve the socio-economic condition of people living in remote and militancy infested areas.
A different cup of tea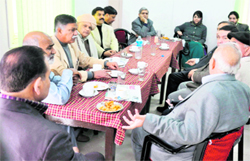 Legislators of the Opposition have tea after staging a walkout from the Legislative Assembly in Jammu on Saturday. Tribune photo: Anand Sharma

Jammu-Srinagar highway opens to traffic after 5 days
Srinagar, March 5
After remaining closed for five days due to snowfall, the Jammu-Srinagar National Highway was opened to one-way traffic today. "The highway was closed on Monday night following landslides triggered by heavy snowfall at various places along the highway," a traffic police officer said. He added that as there was no rain or snowfall today, the highway was opened to one-way traffic.
Strengthening Cong for Assembly poll in Punjab priority: Charak
Jammu, March 5
A newly-appointed permanent invitee to the Congress Working Committee (CWC), Gulchain Singh Charak, who has also been made the in charge of the Congress affairs in Punjab and Chandigarh, replacing veteran leader Mohsina Kidwai, said his priority was to strengthen the party for the forthcoming Assembly elections in Punjab.
Tiny cheerleaders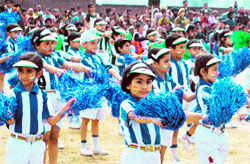 Students participate in the annual day function of Banyan International School at Babliana in Jammu on Saturday. Photo: Inderjeet Singh

Early detection prevents breast cancer: Oncologist
Jammu, March 5
Dr Kanchan Kaur, a breast cancer surgeon (oncologist), stressed the need to create awareness about the disease as it was key to fighting the disease.
Less participation by legislators matter of concern
Jammu, March 5
Though the issue of some legislators taking the business of the Legislative Council lightly have been raised a number of times, it seems some members are not much concerned about attending the House proceedings. As during the House business today, when the deputy chairman/acting deputy chairman called the names of members, one by one, for discussion on the Motion of Thanks on the Governor's Address, three of them were not present in the House.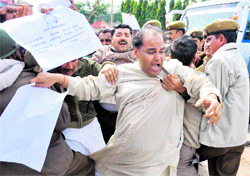 Activists of the Shiv Sena scuffle with the police during a protest in Jammu on Saturday. Tribune photo: Anand Sharma

'Wanted' stone thrower arrested
Srinagar:The police arrested a 'wanted' stone-thrower, Nissar Ahmad Bhat, a resident of Singhpora near Pattan, on Saturday, a police spokesman said. He added that Nissar was involved in several incidents of stone throwing and had been evading arrest for quite some time.
Jawan killed in avalanche
Srinagar: A jawan of the 168 field regiment of the Army was killed while another jawan was injured when they came under an avalanche in Kargil district of the Ladakh region on Saturday morning. As per official sources, jawans Rajiv G and Satish Patil were buried under the avalanche near their Chinigund camp on Saturday.
Issue arms licences liberally to defence personnel, govt urged


Jammu, March 5
The All Jammu and Kashmir Ammunition Dealers Association has urged the state government to take stern action against unscrupulous elements involved in the preparation and distribution of fake arms licences in the state.

ML Sharma
Book cheat under PSA, say Bhaderwah residents
Jammu, March 5
After being duped of nearly Rs 80 lakh by a cheat, a group of people from Bhaderwah today demanded that the accused be booked under the Public Safety Act (PSA).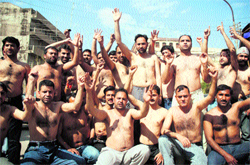 Members of the Jammu and Kashmir Agriculture Technocrats Association stage a protest at Mubarak Mandi in Jammu on Saturday. Photo: Inderjeet Singh

Admn to hold sports events to engage youth
Udhampur, March 5
The district administration today decided to organise cultural and sports events like football and cricket matches, wrestling bouts, nukkad shows, local theatre activities, mass rallies and a run for unity.
Man held with illicit liquor
Jammu, March 5
The Kathua police arrested a man with 240 pouches of illicit liquor near Kathua town yesterday. It said during a routine checking at a naka on the outskirts of the town, 240 pouches of illicit liquor were seized from a pedestrian.
1 held, 10 bovines rescued
Jammu, March 5
The police foiled a bovine smuggling bid and rescued 10 bovines from a truck here today. It arrested Mohammad Azhar, driver of the truck, in which the bovines were being ferried to Kashmir. Earlier on February 28, the police seized seven vehicles and rescued 80 bovines.