Cong's walkout over 'illegal subsidy'
Shimla, March 7
The alleged "wrongful claim of subsidy" involving the Chief Parliamentary Secretary (CPS) Sukh Ram, rocked the Vidhan Sabha today with the opposition Congress staging a walkout in protest on the issue.
ADB okays $350 mn loan
Shimla, March 7
The transmission woes of the independent power producers (IPPs) are likely to end with the Asian Development Bank (ADB) agreeing to grant $350 million to the state transmission utility (STU) for creating the required infrastructure for evacuation of power from the upcoming hydroelectric projects.
State not serious on traffic rules
l Despite HC orders, trucks being used for passengers
l No bus driver penalised for using cellphone while driving
Dharamsala, March 7
Another fatal accident in Chamba recently claimed the lives of 31 people. It has once again brought to the fore the complacency of transport and traffic officials of the state while enforcing rules and traffic laws. The accident was caused as a marriage party was travelling in a truck. Despite a clear directive of the Himachal High Court, commercial vehicles are being used for carrying passengers.


A truck carrying passengers in Dharamsala.

2 students booked for destroying answer sheets
Dharamsala, March 7
The police today booked two students appearing in the board examinations of Class XII of the HP education board.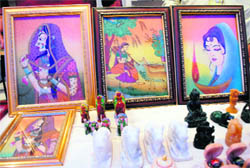 R'sthan artists eye good business
Mandi, March 7
Painting is in their blood. They may not be high-profile artists of the likes of MF Hussain, but they represent over a 1,000 families who eke out a living from two different schools of painting- Bundi and Kishangarh "shelee"- of Rajasthan.


The paintings on display at Paddal Maidan in Mandi. Photo by writer

40 teachers attend refresher course
Shimla, March 7
The Academic Staff College of the University Grants Commission (UGC) of Himachal Pradesh University has organised a three-week refresher course in political science for teachers from all over the country.
DC for uniform temple management system
Chamba, March 7
The district administration is all set to formulate a uniform system of management alike the centuries-old famous temples of Chamba town for supervising control of all temples existing in the length and breadth of the district.
DC awarded
Kullu, March 7
The Deputy Commissioner, BM Nanta, was conferred with an award for distinguished administrative services by the Charu-Castle organisation under the aegis of the Himachal Pradesh State Department of Art and Culture during a function in Gaiety Theatre, Shimla.
Programme on corruption Act
Shimla, March 7
Chief Justice of the Himachal High Court Justice Kurian Joseph today inaugurated a training programme on the "Prevention of Corruption Act 1988" being organised for judges by the Judicial Academy here today.
Landslide razes building
Kullu, March 7
A three-storeyed building, almost near completion, gave way in a landslide at Chowki village today due to heavy rains during last week.
'Little Israel' loses buzz due to visa curbs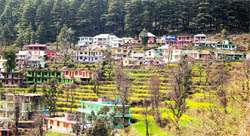 Dharamsala, March 7
Dharamkot is a small village located in the lap of Dhauladhar, about 2 km uphill from McLeodganj. The village is also known as "Little Israel" due to the presence of a large numbers of tourists from the country in Dharamkot.


A view of Dharamkot. Photo: Kamaljeet

Hoteliers seek sops for leasing out units
Shimla, March 7
In order to ensure that maximum number of people benefit from various schemes launched by the Tourism Department, hoteliers have urged the government to help in leasing out properties, including forts and havelis, so that the problem of finance faced by most property owners is not a problem.
Tourist held with charas
Kullu, March 7
A tourist, Vicky Narayan Chauhan, a resident of Mumbai, was arrested near the Bhootnath temple in Manali as 1.5 gm of heroin and 8 gm of charas was recovered from his possession during patrolling today.