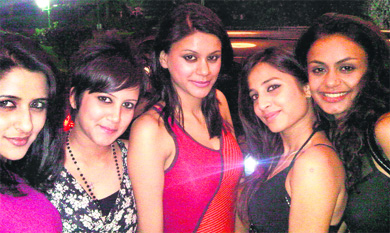 On the International Women's Day, here's a look at why an all-girls party is so much fun
It could be 'raining men' but don't girls 'just wanna have fun'? On the International Women's Day, even frivolous feminism is some serious fun! Plan a slumber party, stock up on junk, host a sleepover, go disco glam or discuss boys.

Niki Magee (second from left) with her friends


This Women's Day, toast with Pink Wine!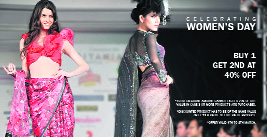 An SMS inviting you to be part of an all-women bicycle rally is soon followed by an e-mail invite for the launch of a wine dedicated to women and yet another, a fashion show celebrating womanhood - need we spell out the occasion? The International Women's Day, of course. Or, rather the modern day version of it! So, we are not going to bore you with the details on how Clara Zetkin, the leader of Women's Office for the Social Democratic Party in Germany, proposed the concept of the International Women's Day in 1910 and how the day became a symbol for celebrating women's economic, political and social achievements.
Wave of women-centric films a welcome trend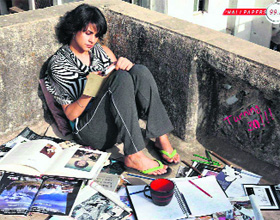 No One Killed Jessica, Mirch, Turning 30 and 7 Khoon Maaf - all women-centric films in last few months show the female leads in strong and powerful roles. Filmmakers and actors hope this trend continues in future.On the silver screen women are usually seen as helpless mothers, submissive wives, devoted girlfriends, overcaring sisters, daughters or vamps, but directors like Vishal Bharadwaj and Alankrita Shrivastava are trying to break the mould and present women in more realistic, vibrant and unconventional roles.


Gul Panag in Turning 30



Starry Day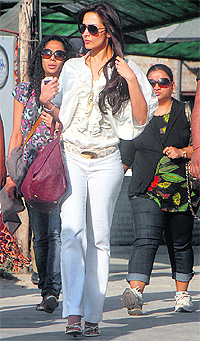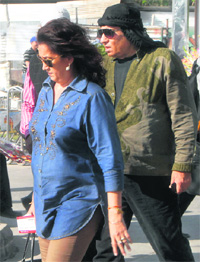 Stars Shine Down: The city saw an influx of Bollywood personalities at the Chandigarh airport on Monday. Style diva Malaika Arora Khan dazzled in white, followed by Bollywood baddie Ranjit and his wife. Tribune lensman Vinay Malik captures the stars

Spade work
Adopt new ways
Garden shows are over. Now is the time to pat your back or find out what went wrong. But there has been some gain. Gain for horticulture, because like every year there new varieties were introduced and old and new varieties were conserved. And, for gardeners because there is no substitute to the joy that one derives from recognition. Budding designers from the city to showcase their creations at the Lakme
Fashion Week
Of all the sources around, of all the themes they could have gone in for, designer students, Pankaj and Navpreet drew inspiration from the most unlikely subject, "From motifs painted on traditional drums of The Republic of Congo. We picked the design of our creation. It's unusual, unseen and unexpected an idea.
In tune with Maloya
It wasn't me who chose music, actually music chose me," says Danyel Waro, a singer and poet from Reunion Island and an ardent lover of Maloya music. "Maloya is a compound rhythm on which plantation workers sing their joys and woes. It's a sort of reunion blues," adds Danyel who will be performing on March 8 at Plaza- 17.
I take each day as a birthday: Anupam Kher
Veteran Bollywood actor Anupam Kher, who will celebrate his 56th birthday Monday, reveals he never plans for his birthdays because each day is new and special for him."I don't plan anything for my birthday because I believe in celebrating life than just a single day. I believe that each day is a new day and a special day so why just single out one singe day?" Anupam said.
Neha troubled over Dear Friend Hitler
Actors Neha Dhupia says she was troubled by Anupam Kher's last minute backout from controversial Bollywood film Dear Friend Hitler. The actor is playing Hitler's girlfriend Eva Braun in the movie. Kher had agreed to play the title character but backed out after protest from fans. Raghubir Yadav later replaced him.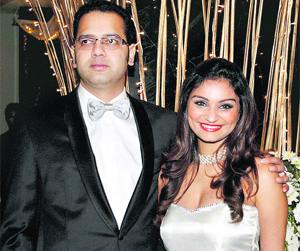 Rahul Mahajan with wife Dimpy during their first marriage anniversary party in Mumbai on Sunday evening. — PTI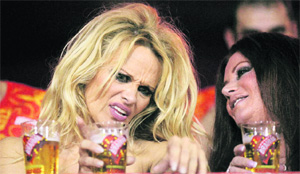 Pamela Anderson (L) during a carnival parade at the Sambadrome in Rio de Janeiro, Brazil, on Sunday. — AP

Birds of same feather!
Amateur Bird Watchers of Chandigarh and North India organised a first-of-its-kind bird watching event in the city
For the city, bird races have predominantly been an unexplored area, but on Sunday, when Amateur Bird Watchers of Chandigarh and North India, along with HSBC India organised a first-of-its-kind event here, the enthusiasm was marked. As many as 80 participants comprising 20 teams, including three from Delhi, Dehradun and Nepli, participated in day-long event.
Tributes to Qadri
The Chandigarh Kalit Kala Akademi organised a condolence meeting on Sunday to pay tributes to late renowned artist Sohan Qadri. A slide show covering some major aspects of Sohan Qadri's life and art works and a documentary on him were screened.
Witherspoon always carries her make-up kit
Actor Reese Witherspoon always carry her make-up kit with her whenever she goes out. Witherspoon, who is engaged to Hollywood agent Jim Toth, hates to be caught without her favourite cosmetics, though she insists she tries to limit what she takes with her.