DMK blinks, Cong gains, UPA safe
Karunanidhi accedes to Cong demand for 3 more seats in Tamil Nadu poll
Anita Katyal
Our Political Correspondent
New Delhi, March 8
The three days old standoff between the Congress and the DMK over sharing of seats for next month's Tamil Nadu Assembly polls was resolved amicably this evening.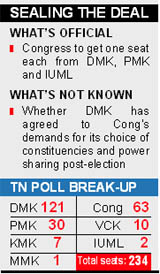 The Congress scored a major victory over its Southern ally, which gave in to its demand for 63 seats as against the 60 it had conceded earlier. The agreement was a climbdown for the DMK, which had even threatened to pull out its ministers from the UPA government to register its protest over the Congress demand for three more seats after it had already allotted 60 seats to its ally.
Being pragmatic political players, the DMK leadership realised that it would be politically suicidal if the two parties failed to forge an electoral pact as it would end up conceding a clear victory to its arch rival AIADMK.
The breakthrough came after several rounds of intense negotiations and hard bargaining between the two parties, which eventually concluded at Congress president Sonia Gandhi's residence this evening. It is learnt that the Congress will get one seat each from the DMK and other allies PMK and the IUML.
Finance Minister Pranab Mukherjee held two rounds of discussions with DMK leader Dayanidhi Maran. He was joined by Ghulam Nabi Azad, AICC general secretary in charge of Tamil Nadu, and Ahmed Patel, Congress president Sonia Gandhi's political secretary.
Union minister and IUML leader E Ahmed was also called in for consultations as his party is contesting three seats in Tamil Nadu.
After their prolonged discussions, the negotiating team drove straight to Sonia Gandhi's residence.
The formal announcement about their agreement was made jointly by Azad and DMK leaders Maran and Alagiri outside Sonia Gandhi's 10 Janpath residence. "The leadership of DMK and Congress have finally decided on the number of seats… the Congress will contest 63 seats," Azad told mediapersons. Asked about the details of the deal with the Congress, Alagiri said, "It is a winning formula."
The agreement came as a big relief for the Congress and the DMK as the two parties were on the verge of break-up when neither side showed any signs of budging from their respective positions. The matter came to light on Saturday evening when DMK patriarch M Karunanidhi announced that their six ministers would pull out from the UPA government as the Congress had continuously escalated its demands for more seats. Starting with 53 seats, the Congress then raised its demand to 57 and then to 60, which was accepted by the DMK. It subsequently asked for three more seats and was also locked in a battle over the choice of these constituencies.
The Congress, on its part, drove a hard bargain as it realised that the DMK would be more vulnerable if the partnership failed to materialise. It did not react to the DMK threat initially and it was only after a day of silence that Mukherjee spoke to Karunanidhi twice and sought another day for resolving their differences.