Bumbling along
Electoral politics as font of corruption
by B.G. Verghese
Recent events, with action often being propelled only by media exposure and court directives, reveal the parlous state of governance in India. This is truly alarming and scandalous as much of what passes for lofty decision-making constitutes just bumbling along. The Supreme Court has removed P.J. Thomas as Chief Vigilance Commissioner (CVC) consequent to bureaucratic mishandling of his papers as put up before the high-power selection committee.
The court has laid down future guidelines, stressing the overriding importance of institutional over individual integrity, though the latter is not unimportant. It has also questioned limiting high-level posts to government servants. This pernicious practice stems from a misplaced spoils system premised on wisdom and competence residing exclusively within the government.
The Prime Minister has properly taken responsibility for the Thomas muddle though no mala fides attaches to him. But he must now act and clean the Augean stables. This can only be done by building a national consensus as good governance cannot be a matter for partisan predilections. One question that must be asked in all these cases — and of the judiciary and investigating agencies too — is why the Thomas case and so many other sensitive matters drag on forever.
Liberhan and Nanavaty are outstanding examples of how not to do it. The Qattrocchi "closure" masks the deliberate sabotage of the Bofors inquiry early on, with the then foreign minister used to further a cover-up. Hasan Ali, a named multi-crore tax defaulter, is regularly at the gym and seen at the races but was allowed to roam around scot-free until the court had to bellow about "what the hell " was going on. The BJP may smile, but its conduct in Karnataka is equally reprehensible.
The breakdown of the criminal justice system is palpable, with even justices and former chief justices being arraigned, one such being the current chairman of the National Human Rights Commission. Another judge has remarked that "no government wants a strong judiciary". The Supreme Court has shared its agony over low provisioning for justice in the national budget. What comes in the way of greatly expanding the judiciary at all levels, with nyaya panchayats and honorary magistrates at the base? This, of course, will be useless without police reform and independence for bodies like the CVC and the CBI, which should have its own autonomous prosecution agency.
Much of this can surely be done within weeks by ordinance, on the basis of a broad national consensus that starkly exposes stand-out elements that patronise the corrupt and corruption, legislative ratification can follow. Undemocratic, some will exclaim! But is the persistent and massive loot of the nation's conscience and wealth a democratic virtue? And do we have the luxury of time with a billion mutinies on hand?
And why cannot the full gamut of police reforms, endlessly debated and refined for 30 years, be enforced at least in Delhi, Pondicherry and Chandigarh without further delay? It is a crying shame that even after the Home Minister's plaintive cry in Parliament that mala fide transfers have reduced the police to a "football", absolutely nothing has happened. The charade must end.
The font of corruption is undoubtedly electoral politics and the assiduous cultivation of the corrupt and corruption to amass funds from any and every source. Hence the criminalisation of politics and the politicisation of crime. With elections in five states slated for April-May, the corrupt are readying to gather their harvest. Let us see how many with criminal records are given nominations. The Election Commission is expanding and strengthening its election expenditure monitoring system — including paid news in which sections of the media are involved — and favours inserting a "none of the above" box in the ballot paper and introducing a run-off system so that the winning candidate is elected by a true majority of those voting. All this will call for long-pending electoral reforms that must include registration of political parties with a roster of paid members, annual elections of office-bearers and public audit of accounts. A simplified primary system on the American pattern may also be considered at the next stage.
The series of killings of whistle blowers across the country indicates that honest men and women are in danger of losing life and limb while the crooked flourish. This is an intolerable state of affairs and such criminal activity must be put down with an iron hand.
The sudden Tamil Nadu crisis is likely to blow over as the DMK has few options. The withdrawal of its Union ministers could facilitate a Cabinet reshuffle but should not incapacitate the government from vigorously pursuing governance and economic reform for that is what the country wants and will strongly support.
Meanwhile, in Bangladesh, the ruling regime has unfortunately launched a vendetta against the country's best known son, Mohammad Yunus, the founder of Grameen Bank. The charges are trivial and run counter to the efforts being made to restoring the country's secular, democratic, liberal values that inspired its liberation movement. Friends of Bangladesh must hope that the government will realise its error and not allow its record to be sullied by a sorry witch hunt.
In Pakistan, liberal voices have been further intimidated by the brutal killing of the Minorities Minister, Shahbaz Bhatti, in Islamabad. In Track-II dialogues, such spokespersons say they are fighting back but fall a prey to old mindsets when they talk of threats from across their "eastern borders". Yet they deny they need a permanent enemy in India to cohere. They cite a huge "trust deficit" and want India to put behind 26/11 but cannot plainly assert that Pakistan will live up to its 2002 promise of ending cross-border jihad, pleading that this is past history despite current incendiary pronouncements of the JuD/LeT. They say General Musharraf's peace formula was not based on any consensus, and the will of the J&K people must prevail. They welcome the restoration of dialogue, with the Pakistan Army fully on board, and their bottom line is that India cannot be an island of peace in a continent in turmoil.

I am sorry
by Shriniwas Joshi
I am sorry for the IAS couple Arvind and Tinu Joshi, who between them could salt away only Rs 360 crore worth of undeclared assets. It is insulting to all Joshis. The market rate for corruption, based on averages, has touched a thousand crores, the highest being Rs 1.76 lakh crore, whether the CAG has fudged it or not, and the Joshis could gather only 25 flats plus only 400 acres of land plus Rs 1 crore in cash. Fie on them! Even the desi girl Priyanka Chopra and the "almost God" Karmapa Lama had more than Rs 6 crore in hard currency.  Joshis! You being on the seats of power with the suffix of "Indian Acquiring Service" at the end of your names had only this petty hard cash in your possession. It is intolerable to us. And curse is on this colleague of yours who says, "This is a mind-blowing figure... hard to believe that officers can raise illegal assets of Rs 300 crore or even more. The Joshi couple has really produced a shocker."
I, on the other hand, propose that all Joshis take out street protest in the cities where they reside to tell the "famous" Joshi couple that it has lagged much behind the average loot in India and that has downgraded we Joshis who have always strived to be meritorious in our chosen fields. Arvind and Tinu! we, the kinfolks of Pandit Bhimsen Joshi, vocal classical musician and Bharat Ratna; Prasoon Joshi, the top song-writer for films today; Genral BC Joshi, ex-Army Chief; Manohar Shyam Joshi, father of Indian soap-opera; Sharad Joshi, a reputed satirist and Padmashri; Pallavi Joshi, actor and winner of the National Award for Woh Chokri; Sister Nirmala (Joshi) of the Missionaries of Charity and many others, have no hesitation in saying that we feel ashamed of you for you could not gather even Rs 365 crore matching it with the days in a year, forgetting the leap year.
And Tinu! You are beaten by Neera Yadav, former Chief Secretary of Uttar Pradesh. She became the first woman IAS officer to be convicted for her bungling in NOIDA plot distribution. What Joshi blood flows in your veins if you are not ashamed of Neera beating you in the race to enjoy behind-the-bars scenes? I would suggest that both of you undertake the SWOT — strength, weakness, opportunity and threat — analysis of yours.
The world knows that your strength is to grab realty and liquidity; you have no weakness except that your hands and attaché-cases are a little smaller; you have the opportunity to go to the US for a corrupt there goes to jail and that in India such a person goes to the US. Moreover, you have degree from the university of education plus that from the universality of corruption — these degrees will take you far.  Threat — what threat? The judiciary is known as a blindfolded lady, but presently the government enjoys that privilege and appoints tainted CVC till the blind lady comes and shows the way to the government. So, fear not and enjoy the suspension period. You know, Duryodhan was killed by Bheem when he came out of suspended animation from inside a frozen lake. So, Joshi's piece of advice to Joshis is to stay in suspension and survive,  otherwise "I am sorry".

Amidst deepening security concerns, the cost of modern weapon systems has sky-rocketed. Increased military spending notwithstanding, India's defence budget remains among the lowest in the world in GDP terms. Crucial demands for weapons and equipment are pending; yet large chunks of the budget are surrendered each year and consequently, modernisation of the armed forces is suffering dismally
Wanted: An enlarged financial package for defence
Lt. Gen. O.P. Kaushik (Retd)
In the budget presented before Parliament on February 28, a sum of Rs 1,64,415 crore has been earmarked for defence for 2011-12. The defence budget for 2010-11 was ` 1,47,344 crore and hence, this year's allotment is higher by about 11.6 per cent. Last year the defence share was two per cent of the Gross Domestic Product (GDP) and the proposed allotment for 2011-2012, though higher and still amounts to about two per cent of the GDP. It falls much short of expectations of the service chiefs who have been demanding three per cent of the GDP to meet the growing security concerns to the country.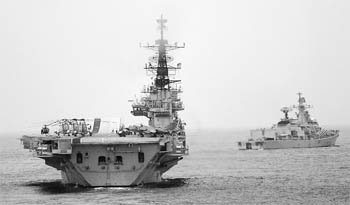 India's defence budget has been rising steadily since independence. In 1950-51 it was Rs 168 crore. It increased to Rs 19,180 crore in 1993-94. Till 15 years after Independence, the military needs of the country were ignored by Jawaharlal Nehru, resulting in a humiliating defeat in 1962 against China. The defence budget at that time was kept below two percent of the GDP. Our defeat at the hands of the Chinese made it to rise four percent in 1962-1963.
Due to the latest weapons Pakistan then obtained from the US and China worth about Rs 40,000 crore, we were forced to increase our defence budget during 1987-88 to Rs 12,512 crore. China's infrastructure development in Tibet. enabling her to enhance her operational capabilities by four times, as also the ability for rapid modernisation of her armed forces, rang alarm bells in the minds of the Indian leadership, resulting in defence budget rising to Rs 1,41,703 crores in 2009-2010. It was again marginally increased in 2010-2011. The increase was less than four per cent vis-à-vis the previous year. Allocations made during this year is approximately 11.3 percent more than the last year.
China, which spends 12 per cent of its GDP on defence, has enhanced its operational capabilities by four times. It can deploy 35 divisions against us, while we have only seven guarding the Sino-Indian border. Chinese and US aid also gives Pakistan an edge over India
Many factors have to be considered while compiling the defence budget. First among them is the threat to security, both external and internal. Rising inflation, declining value of the rupee, rapidly rising cost of modern weapons, salaries, organisational needs and prevailing economic situation effect allocations.
Our security environment today is highly critical and to say the least, it is in fact, imbalanced. To meet the challenge posed by China, we need three times the force than what we have today. Pakistan has been receiving liberal aid from the US on the pretext of fighting terrorism. The US administration, ignoring India's objections, has been deliberately building up Pakistan's military. China has been working overtime to boost Pakistan's military strength and hardware, including their nuclear capability. Recent acquisitions of nuclear capable F-16 aircraft and long-range weapon delivery systems give Pakistan an edge over India. It is because of this military preparedness that Pakistan dares to ignore all warnings from India on account of its indulgence in organising and supporting terrorist activities in India.
About 70 percent of the Indian Army is today committed in counter-terrorist and counter-insurgency duties in various parts of the country. We also have to contend with a volatile security environment developing on borders with Nepal, Mynamar and Bangladesh, as also the recent happenings in West Asia. These developments not only justify an increased defence outlay but also demand an enlarged financial package to build up our military capabilities to ensure uninterrupted and unhindered economic development.
There has been an unprecedented rise in the cost of modern weapons. A tank that cost Rs 6 lakh in 1980 now costs Rs 10 crore. The price of a fighter aircraft has risen from Rs 25 crore in 1980 to Rs 200 crore. In case of the Navy, the situation is much worse. A frigate worth about Rs 20 crore in sixties is now over Rs 2,000 crore. Due to the financial crunch, no new major weapon system has been purchased for the army since 1986. Indigenous production of weapons and equipment has been dismally slow and, in fact, has let down the aspirations of the armed forces. The navy's needs of surface-to-air guided missiles, aircraft carrier and replacement of old frigates are miles behind schedule. The air force needs total replacement of its ageing fighter aircraft and better surveillance equipment.
Manpower costs constitute a very large chunk of defence expenditure. About 62 per cent of revenue expenditure accounts for the salary bill and to say the least, the Sixth Pay Commission has left armed forces dissatisfied and discontented, a factor that a nation can ignore only to its peril. Mounting security threats have resulted in the military strength rising from about 2.3 lakh in 1960 to about 13 lakh today. And yet, as against an authorised strength of 46,615 officers, the army alone is short of 11,238 officers.
With unsettled borders with China and continuous hostile attitude of Pakistan, conflict can be imposed upon us much against our will and at a time-frame not of our choice. The army is overstretched due to commitments on the borders, counter-insurgency, aid to civil authorities and establishing law and order, resulting in stress and strain on soldiers who get much lesser time to take care of their families. To cater for lurking security dangers and to avoid overstretching, the government must sanction, at least 10 more divisions for the army. Foreign aid agencies may demand reduction in our defence expenditure and consequently, the size of the defence forces, but nevertheless we have to be concerned with our security and should abandon such conditional foreign aid. On our northern borders, China can today deploy 35 divisions as opposed to just six in 1962. We have only seven divisions guarding this border.
Despite the increase in defence spending, in terms of the percentage of GDP, our defence budget has been one of the lowest in the world. Last year it was 1.97 per cent and the proposed allocation for 2011-2012 will be barely two per cent. China and Pakistan have been spending about 12 per cent and seven per cent, respectively. Reports suggest that Third World countries are spending 3,000 billion dollars on defence every year. India's share is only one per cent of this whereas its population is 25 per cent of the Third World.
In the last three decades, very little could be spared for modernisation and improving our military's cutting edge. Of the total budget, about 48 per cent was utilised for salaries, 39 per cent for housing and other accessories including purchases of equipment, six percent on research and seven per cent on training.
In 1993, then prime minister P.V. Narasimha Rao, had made a promise of giving roughly three per cent of the GDP for defence needs, but unfortunately that figure has not been reached till date. The three services chiefs' demands for this share has fallen on deaf ears. Many crucial demands for weapons and equipment are pending in the Ministry of Defence on account of procedural and bureaucratic delays, resulting in surrendering ` 7,007 crore as unspent during 2008-2009. On an average, roughly Rs 8,000 crore have been surrendered every year during the past seven years.
The impact of continuous surrendering of large chunks of the defence budget, delay in supplies from foreign vendors and the emphasis shifting to internal security, is that the army has almost lost its edge over Pakistan. Despite our objections, aid worth thousands of crores is reaching Pakistan from the US and China. The situation is likely to get worse and under these circumstances, India has no other option but to earmark at least three per cent of the GDP as an outlay for defence. We must remember, insecure nations cannot develop economically and socially, Nor can they take sustained, incisive decisions. Hence, a climate of secured external and internal environment is needed for all round development and to provide that, well equipped, well officered, well trained and fully content armed forces are an inescapable necessity.



The writer is a former Chief of Staff, Eastern Command