M A I N N E W S
Special to the tribune

Gaddafis' 'blood money' dents image of Indian-origin academics
Shyam Bhatia In London
The image of UK-based NRIs has been dented following the revelation that two prominent Indian names are closely linked to the London School of Economics' (LSE) shamed association with the Gaddafi family.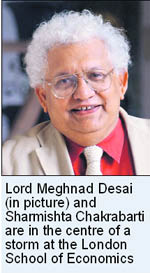 Few in India will have heard the name of Sharmishta (Shami) Chakrabarti, a London-born lawyer, and head of a human rights organisation called Liberty, who became a virtual household name during the halcyon days of the Labour government.
In her attempts to highlight human rights abuses throughout the world, Chakrabarti became a regular participant in some of the UK's best-known radio and television shows. So much so that in one radio poll she was included on the shortlist of 10 persons who may run Britain. One year later she was voted second in the 'Most Inspiring Political Figure' award run by Channel 4 television.
Problems for her arose earlier this year after she did not appear to implement her principles of upholding human rights when it came to her alma mater, LSE, where she is both a member of the council and the court of governors.
In both roles she was part of the decision to accept a large donation from Colonel Gaddafi, some student activists describe it as 'blood money', to train 400 of what one newspaper describes as his "stooges" to "administer his vicious totalitarian regime."
Chakrabarti said and did nothing about the rights and wrongs of accepting the donation, said to be upwards of £2 million, although Amnesty and other human rights groups have had no qualms about reporting how ordinary Libyans under Gaddafi have never had an opportunity to vote, far less enjoy freedom of speech, conscience or assembly.
When the scandal first broke, Chakrabarti was quoted as saying she had 'bucketfuls' of embarrassment and regret about what had happened. Speaking about the reaction of the LSE ruling council, she added, "The council has been completely united in its regret. As a human rights campaigner, I can only share bucketfuls of both."
Such belated expressions of regret are, however, not enough for Chakrabarti's critics who say she should at the very least resign from both the LSE council and her job as Director of Liberty. This will not affect her many other jobs, including Chancellor of Oxford Brookes University and a visiting fellowship at Nuffield College, Oxford. One of her colleagues, Sir Howard Davies, has already resigned as Director of the LSE council.
The other NRI embarrassed by LSE's Gaddafi links is Lord Meghnad Desai, born in Vadodara, Gujarat, who is not a member of the LSE council, but one of the two examiners of Saif al-Islam Gaddafi's Ph.D thesis that is said to be both ghost written and widely plagiarised.
Desai has defended his role as examiner, saying, "I read the thesis and when I examined him along with another examiner, he defended his thesis very, very thoroughly. I don't think there's any reason to think he didn't do it himself."
Another UK-based economist, who also interacted with Gaddafi junior, has a different perspective on his intellectual capabilities. John Christensen says in his online blog, "Saif was not, how to say this politely, the brightest of students. Not only was he totally uninterested in economics, he lacked the intellectual depth to study at that level, and showed no willingness to read let alone do course work…without making it explicit, Mr Gaddafi was expecting me to write his essays…I was not prepared to do this."
This is the same Saif al-Islam Gaddafi who subsequently pledged a £1.5-million donation to the LSE. A £300,000 advance sum has since been received, but the university is now in a quandary about whether to keep what has been received, donate it to a charity or send it all back.
Asked about Saif al-Islam's donation, Desai said last week end, "I don't believe there was any quid pro quo, you get a Ph.D you give us one and a half million pounds, because giving the Ph.D is not in LSE's hands. It's a University of London Ph.D."
Asked about the rest of the Libyan money, he commented, "It obviously looks like we were wrong. In hindsight it has become blood money. LSE has to clean up its image and money should be going back. Any association with Libya that looks like financial gain has to be returned."
Criticism of Chakrabarti and Desai comes less than six months after another prominent NRI, Swraj Paul, was suspended from the House of Lords for claiming thousands of pounds in expenses to which he was not entitled. Paul apologised and subsequently repaid £42,000.
Fortunately, not everything is gloomy where NRIs and the LSE are concerned. Another less well known Indian has emerged with considerable credit for his role in demanding that LSE returns the Gaddafi money forthwith.
Ashok Kumar, education officer of the Students Union at the LSE , courageously said last week, "We do not know for sure how much money the university was paid but our position is that this is money stolen from the Libyan people."