Rise in GDP rate not helping poor: Experts
Bhanu P Lohumi
Tribune News Service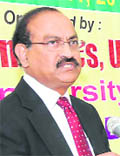 We can pump in money but the problem is about equitable distribution with corruption the main hindrance to growth.
— Raj Chengappa,
Editor-in-Chief, The Tribune
Kurukshetra, March 10
Rampant corruption and an indifferent delivery system that resulted in disparities were the main hurdles in the way of inclusive growth. Escalated violence and crime were the result of these disparities, observed Raj Chengappa, Editor-in-Chief, The Tribune, at a conference at Kurukshetra University here today.
Inaugurating the UGC-sponsored "National conference on poverty and inclusive growth in India: measurement, policy, issues and regional studies", he said: "The problem lies in delivery, governance and implementation and the larger issue is equitable distribution of resources.
"We can pump in money but the problem is about equitable distribution with corruption the main hindrance to growth as 85 paise out of a rupee go into corrupt hands."
Voicing concern at the indifference of the well-to-do people to the plight of the poor, he cautioned that there could be a "violent revolution" if inclusive growth was not ensured.
Former UGC Chairman and president of Indian Economic Federation, Sukhdeo Tharot, who was the guest of honour, said "inclusive growth" meant increase in the GDP rate leading to a decrease in poverty but this was not happening in India even as the monthly per capita expenditure had risen from 1.2 per cent in 1983 to 1.9 per cent in 2005.
This was because income distribution suffered from bias with the Scheduled Castes, Scheduled Tribes and Muslims not getting their due.
Observing that the growth of the farm sector had been positive, he said while the small farmers had gained, the farm labour had not and poverty among the Scheduled Tribes was the highest in spite of the fact that 40 per cent of them owned land.
"Forty-five per cent of tribals are living below the poverty line as no technical guidance on soil and climate is being given to them to increase production," He said 95 per cent of Scheduled Castes did not possess land and those working in urban areas were uneducated and unskilled. The Muslims, mainly concentrated in urban areas, were not getting jobs due to discrimination and 52 per cent were engaged in petty businesses.

The problem of under-nutrition is directly linked to poverty ... The increase in income has not resulted in increase in calories
— Prof JV Minakshi, Delhi School of Economics
In her keynote address, Prof JV Minakshi, Delhi School of Economics, dealt with the problem of under-nutrition which, she said, was directly linked to poverty and was a hurdle in inclusive growth.
Expressing concern that 40 per cent children were born under-weight , she said those weighing less than 2 kg at birth had a higher mortality rate. The increase in income had not resulted in an increase in calories and the nutritional status of the second child was poorer than the first, and so on. Observing that the nutritional status of SC and ST families was dismally poor, she called for a "collective and multi-dimensional intervention" by the central government.
Kurukshetra University Vice Chancellor DR DDS Sandhu said the people were over-dependent on the state. He called for active private participation in the growth process as the government could not be the sole delivering agency.
At least 100 scholars and economists are participating in the conference.
A book entitled "Fiscal Policies, Decentralisation and Economic Growth in India" by Pradeep Chauhan was released by Chengappa and Tharot on the occasion.