A few moments with Raghu Rai
India's best-known photographer Raghu Rai who was in the city at the invitation of Chandigarh Lalit Kala Akademi feels that beyond time, space and styles creativity is a very individual journey
His photographs may have become the iconic signature of the times he has captured, yet India's most celebrated photographer Raghu Rai doesn't believe in signature styles for "styles can be so boring." Rather, taking a cue from Khalil Gibran's wisdom, he quotes: "My images are life's longing for itself."
| | |
| --- | --- |
| Raghu Rai at the Punjab Kala Bhawan-16 on Wednesday. | See through the master's eye |
Boring things inspire me: Nida
Isn't television today all about standardisation of the stereotypical? Don't all the programmes look the same? Let alone serials, don't all characters on various channels look cloned? "Almost all the characters on television wear the same kind of clothes, but for this serial we have five designers each giving a different look to the five main characters," designer Nida Mahmood, in the city for the promotion of upcoming serial Meri Toh Lag Gayi…Naukri on UTV Bindaas, the stylist and character duo of Nida Mahmood and Ayaz Ahmed do a touchwood on the channel's foray into fiction.
Manish Malhotra to promote Indian crafts at LFW
Celebrity designer Manish Malhotra, known
for designing glamorous and stylish outfits for Bollywood actresses, has taken upon himself to promote Indian craft and craftsmen through his collection at the forthcoming Lakme Fashion Week, starting Friday. "I have always been a part of fashion weeks in Mumbai. As it's Spring-Summer, the lines would be Indian contemporary evening wear because that's what my label is all about - glamour and grandeur," Manish, who has titled his collection Indian contemporary evening wear, he said.
Manish Malhotra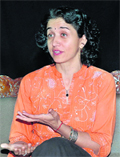 Date with kathak maestro
I learnt bharatnatyam from Hema Rajgopalan before I took a strong liking for kathak. Thereafter, I devoted 10 years to learn its nuances. — Jaysi Chandra
Although I left Chandigarh as an infant to migrate to the US, all this while I have remained rooted to Indian ethical values and its rich cultural heritage," shares Jaysi Chandra, renowned kathak dancer. "I learnt bharatnatyam from Hema Rajgopalan before I took a strong liking for kathak. Thereafter, I devoted 10 years to learn its finer nuances," she adds.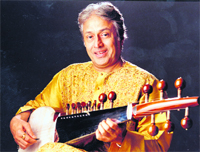 Amjad Ali Khan to enthral
The Third Chandigarh Arts and Heritage Festival 2011, scheduled to take-off on March 25, promises it all - dances, art workshops, musical nights and interactive literary sessions. The annual extravaganza organised by the Chandigarh administration is being eagerly awaited by city folks. "The festival aims at establishing Chandigarh as a global destination for arts and cultural tourism," says Ram Niwas, UT home secretary.
Love for the old
From crockery, cutlery, dinning table articles to the picture of

'Zamindars of Punjab (1816)', which adorns the wall of Victoria Albert Museum in London, AS Sekhon has a rich collection of antique household items that have been bequeathed by his forefathers. Born in a family of 'biswedars' of the erstwhile Patiala State, Sekhon, a resident of New Officers Colony, Patiala, proudly talks about the antiques. Among the collection is a walking stick gifted by Lord Linlithgow, Viceroy of India, to his father Siasat Singh, in 1938, and a two-centuries old sword of Charhat Singh, his great grandfather.
AS Sekhon
Future of Corbusier's city
This workshop made me aware of so many new facets of the city I am living in," says Harshit Singla, a fourth year student of Chandigarh College of Architecture-12 and participant, University of Washington's India Programme.



Vikramaditya Prakash (extreme left) with other participants at the workshop
Side Lanes
Comfortable in our own skin


It was an evening that brought together many people collectively radiating positive, creative vibrations and energies. Most were in the golden age of maturity and seemed comfortable at having put their working years behind them. Sweety, our hostess, introduced me as a 'writer'. I do not deign to call myself that. A weekly column in a daily; three slim books--poetry, short stories and a novella; years of freelancing in journals and newspapers, do not earn one such an appellation. My writing is like the directionless travel of a person seeking her soul, savouring each precious experience with her being. Over the years, the stories and poems have changed in style and content. They show the journey of a human being, finding herself in the sidelanes of life. I suddenly realise how little there is to show from these meanderings. However, I am comfortable in this fading skin. The pace has slowed down. There is no need to hurry.


Best foot forward
—–
v
Bollywood actor Bipasha Basu with fashion designer Rocky S at an event for the launch of a summer-shoe in Mumbai. — PTI