| | | |
| --- | --- | --- |
| NOT EASY TO BREAK FREE: Policemen prevent protesters try to break past a barricade in Sector 28, Chandigarh, on Saturday. Tribune photo: S Chandan | ACTING TOUGH: Police turns on a water canon to disperse the Congress workers to prevent them from crossing a barricade in Sector 35, Chandigarh, on Saturday. Tribune photo: Parvesh Chauhan | NO MERCY: An elderly BJP supporter being forcibly taken to the police station after being arrested by the Chandigarh Police near the residence of Pawan Kumar Bansal in Chandigarh on Saturday. Tribune photo: S Chandan |
Commuters face parties' apathy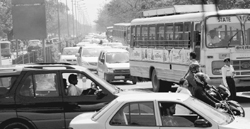 Chandigarh, March 12
Hundreds of commuters travelling by different modes of transport were put to a great inconvenience, as workers of the Congress and BJP today laid a siege to some of the busiest roads in the city.
BUMPER TO BUMPER: It was a trying day for commuters with vehicles stranded in
a traffic jam on the Madhya Marg in Chandigarh on Saturday. Tribune photo: Manoj Mahajan
Scam takes a political turn


Chandigarh, March 12
Union Minister for Parliamentary Affairs Pawan Bansal, whose name figures in the Shergill report, indicating his alleged involvement in the "booth scam", today said that he had called UT Adviser Pradip Mehra to inquire about a row between two groups. "I told Mehra to make sure that no partiality should take place in the matter. This is how my name got dragged in the report," said Bansal here.
Pawan Bansal
BJP threatens to intensify stir
Chandigarh, March 12


With th Municipal Corporation elections round the corner, the Bharatiya Janta Party (BJP) here seems to have latched on to the "booth allotment scam" as a key political issue. "We will intensify our stir in the coming days," said former BJP Member of Parliament Satya Pal Jain and BJP's national secretary, Dr Kirit Somaiya after their arrest under cautionary measures during their agitation on the "booth allotment scam" here today.
Satya Pal Jain
5-yr-old girl sexually assaulted
Was abducted from Community Centre in Sec 40 during a marriage function; later found abandoned
Chandigarh, March 12
A five-year-old girl was allegedly sexually assaulted after being abducted from a marriage ceremony being held at a Community Centre in Sector 40 last night. The victim was later found abandoned near the gate of Government Senior Secondary School in the same sector. The police has registered a case of kidnapping at the Sector 39 police station and attempts are on to arrest the accused.
Teenager battered to death in PGI
Chandigarh, March 12
An 18-year-old boy was battered to death by over half-a-dozen assailants near his residence in the PGI today over an issue involving a girl.


Don't turn legal profession into business: Jethmalani
Mohali, March 12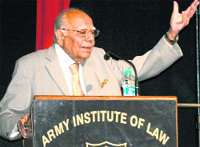 Cross-examination has become a dying art in our country and the truth will not emerge till the last question is asked in a court, said Ram Jethmalani, MP, and a senior advocate of the Supreme Court of India, here today. Jethmalani, who was the chief guest at the National Seminar "Changing Facets of Criminal Law: An Interface" organised by the Army Institute of Law (AIL), exhorted students to nurture the courage to ask inconvenient questions in order to reach the truth once they took up the legal profession.
Ram Jethmalani delivers a lecture at the Army Institute of Law, Mohali, on Saturday. Tribune photo: Pradeep Tewari
'High voltage' causes fire at house
Mohali, March 12
The house of a former panch in Lakhnour village caught fire, damaging various items here today.
Bone density check-up camp
Panchkula, March 12
Even as people above the age of 50 years were more vulnerable to knee arthritis, the younger generation was also exhibiting its symptoms these days, said Dr Manuj Wadhwa, director and head, orthopaedic and joint replacement, Fortis Hospital, during a free bone density check-up camp organised here today.
2 cops escape unhurt in accident
Zirakpur, March 12
Two Punjab police cops had a miraculous escape when the official Reva car (PB65-F-8906), in which they were patrolling, was hit by an unidentified vehicle near the Singhpura road on the Chandigarh-Ambala highway here last night. However, the car got damaged from one side.