M A I N N E W S
Punjab Budget
Eye on polls in tax-free budget
Naveen S Garewal
Tribune News Service
Chandigarh, March 14
Punjab Finance Minister Upinderjit Kaur today presented a near perfect "pre-election" budget for 2011-2012, with a please-all approach that provided for no new taxes. Even as the government tried its best to include several schemes for targeted groups like the poor and women, it left many others - which include industry and employees - disappointed.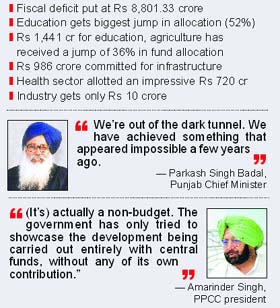 The good news, however, is the realisation on the part of the government that education, health and social security must fall in the priority areas of governance. Though the expenditure on agriculture and other subsidies has gone up marginally, education, infrastructure, health, social security and development have assumed centrestage.
Punjab's first woman finance minister (incidentally also the country's first in any state) presented a Rs 48,594.85 crore budget. She is confident to mop up revenues of Rs 32,026.76 crore, while the committed expenditure is Rs 35,405.75 crore, leaving the state with a Rs 3,378.99 crore revenue deficit. In an annual plan of Rs 11,500 crore the state will have a fiscal deficit of Rs 8,801.33 crore.
The budget is largely on expected lines in a pre-election year. It has also somewhat managed to offset the damage caused to the SAD-BJP government by former finance minister Manpreet Singh Badal, who questioned the financial prudence in giving out doles and subsidies while accumulating more debt. Kaur has retained all subsidies, yet managed to bring down the revenue deficit.
In this budget education has received the biggest jump with an increased allocation of 52 per cent with the government earmarking Rs 1,441 crore for education and another Rs 229 crore for higher education. The social security sector has received Rs 924 crore, a 24 per cent rise. A major sum is earmarked for old age pensions for 19.7 lakh beneficiaries.
For infrastructure development, which will also be a major SAD-BJP election plank in the next election, the finance minister has committed Rs 986 crore. PIDB has got Rs 916 crore for creation of infrastructure, the power sector Rs 3,300 crore while irrigation has got another Rs 1,030 crore.
Though the health sector has been allotted an impressive Rs 720 crore, the element of politics is apparent. Free healthcare has been extended to all backward classes and economically weaker families whose family income is below Rs 30,000 per annum. This initiative is expected to benefit an additional 1.4 million families.
As a majority of the SAD vote bank comes from rural Punjab, agriculture has received a jump of 36 percent in allocation, raising allocation for agriculture during the current fiscal to Rs 453 crore. Sports that is a focus area for Deputy Chief Minister Sukhbir Singh Badal, has got Rs 142 crore. In contrast industry has got only Rs 10 crore.
Even as the capital expenditure has gone up to Rs 5,418.3 crore from last fiscal's Rs 3,062.15 crore, the revenue deficit has dropped by Rs 408.74 crore. Describing the budget as "fiscally prudent and development oriented", the finance minister said the budget was as per the road map given by the 13th finance commission.

PUNJAB BUDGET REACTIONS: EXCLUSIVE TO THE TRIBUNE
Upinderjit: Education key catalyst to speed up growth
Ruchika M. Khanna/TNS
Chandigarh, March 14


Investing in Punjab's huge human resource capital has been the primary focus of the 2011-12 state budget. As Punjab's first woman finance minister (rather, the country's first), Dr Upinderjit Kaur, an educationist herself, knows investing in education is the surefire way for taking the state on the path to development. It's no wonder then that the maximum financial outlay has been allocated to the education sector in this budget. However, infrastructure, including power, have also been given a fairly big boost, mainly with an aim to attract more industrial investments in the state.
Talking to The Tribune after presenting her budget proposals for 2011- 12, Kaur said she had tried to do her best in the limited revenue resources that the state had. Excerpts from the interview:
Q: What was your mandate before finalizing the budget proposals for the next fiscal?
A: The state has limited financial resources. Though we couldn't do much with expenditure, within the given constraints, we've tried to make this a budget of the common man. No new taxes have been imposed and allocations to social sector schemes, health, education and infrastructure have been increased manifold.
Q: How will the increased plan outlay for education help in development?
A: Growth in the education sector is the topmost determinant for accelerating growth. Thus, we have decided to invest in a big way in education and education infrastructure, besides strengthening the universities in the state. We have increased the budget of all varsities by 50 per cent in nonplanned expenditure. Punjab Agricultural University will also get an additional Rs 25 crore from the planned expenditure, so that it can carry on with research and development for bringing about the second green revolution. We have also created a fund of Rs 203 crore to strengthen their infrastructure and will soon fill up all vacancies. We'll also set up 17 new government colleges across the state and provide RS 1.50 crore for each college to the university concerned as grant in aid.
Q: How do you propose to increase the revenue collections of the state, given that no new taxes have been imposed?
A: We're expecting an increase of over 17 per cent in our revenue receipts in the next fiscal. We expect the VAT collections will rise from the present Rs 11,112 crore in 2010-11 to Rs 13,110 crore in 2011-12. Similarly, we expect the excise collections to go up from Rs 2,640 crore in this fiscal to Rs 3,250 crore next year. We also hope additional funds will be generated from the Optimum Utilization of Vacant Government Land Scheme.
Q: Your predecessor was very vocal about the huge subsidy bill. Do you justify the huge subsidy given the state of the economy?
A: The state's subsidy bill is expected to go up to Rs 3,500 crore in 2011-12. But we are a welfare state and, for inclusive growth, we'll have to subsidize the marginalized sections.

Govt bankruptcy has travelled to people
Surinder Singla


Bibi Upinderjit Kaur's presentation of this government's last Budget is the final nail in the coffin of a failed administration. What is stated to be both a financial and a vision statement is essentially a continuation of the reckless and fiscal irresponsibility of earlier Budgets. The FM yearns for special favours from the Centre, including loan waivers, to restore economic "vibrancy", which in itself is admission of a failed state.
Both revenue and fiscal deficits have continued their inexorable rise over the term of this administration. Contrast this with the previous Congress administration that inherited in 2002 a 42.35 per cent revenue deficit as a percentage of revenue receipts and improved this within four years to 7.31 per cent.
Similarly, the fiscal deficit, which has now risen to a projected 3.45 per cent of GSDP, contrasts with a 2.34 per cent in the final year of the last Congress administration. The Finance Minister wrongly claims that this complies with the target set by the 13th Finance Commission, which has set a 3 per cent target. In reality, Punjab continues to violate the Fiscal Responsibility Statute, with all the attendant detrimental consequences for the state finances and its economy.
This state government wishes to trivialise the significance of fiscal consolidation, maybe because the Finance Minister has boarded a doomed vehicle relatively lately. Yet, whilst social welfare is a noble objective for which the Congress has been the standard bearer for long, this government makes tall claims but delivers little to intended beneficiaries like old age pensioners, Shagun Scheme recipients, public sector employees, the weak and the poor.
A state that owes its businesses over Rs 1,000 crore in VAT refunds (thus rendering thousands of business units with near sickness) is actually a government that is slowly grinding the wheels of the Punjab economy to a halt.
This government may be oblivious to those whose entitlements it is withholding, yet it is these very persons who will yell loudest during the forthcoming elections. This alone is sufficient proof of the government's bankruptcy travelling to the people.
Most surprisingly, the Finance Minister wishes to wave away fiscal consolidation and financial stability under the pretext of "stimulating and accelerating" the economy, yet this hope lies in tatters for there is no empirical evidence to substantiate her wishful thinking.
The Finance Minister candidly admits that Punjab has been "pushed behind in the economic race" but she refuses to accept that the fault lies squarely with a government that sapped the extraordinary inherent entrepreneurial drive of Punjabis.
If the Finance Minister and her political masters view a different Punjab through rose-tinted spectacles, it is only on account of their own obstinacy. They only need refer to the CAG report for 2009-10, which states that 40 per cent of the state's rural health centres lack operating theatres, safe drinking water and even toilets. The same report states that 40 per cent schools surveyed witnessed declining pupil rolls. Talk of record state capex and asset creation finds few takers outside of the government.I recall a time when the portfolio of state assets was commendable in quality, delivery and scale. However, today, effective state provision of essential services, including power, healthcare, education and infrastructure, is missing. These drivers of economic growth are the very assets that the state has undermined and cannot be leveraged further to stimulate growth.
This government has borrowed recklessly both on and off the balancesheet, inspite of the biggest sell-off of government real estate in the state's history. There is not a single state undertaking that is not mired in unserviceable debt. For the 13th Finance Commission to bracket Punjab with Kerala and West Bengal as financially distressed states is itself an abject indictment of the incumbent government's policies. It is a fact that inspite of the mess Mr Badal left behind in 2002, never was the last administration so bracketed.
If the state's revenues have increased, it is largely on account of the VAT regime implemented by the previous administration, something the Akalis opposed at the time. No wonder, the Finance Minister rubs her hands in glee at the forthcoming GST scenario! The Budget is full of centrally-funded amounts that the Punjab Government wishes to take credit for. The state's receipts from central taxes and grant-in-aid, which as recently as 2006-07 aggregated to approximately Rs 2,700 crore, are now budgeted to rise to Rs 7,993 crore. However, the government repeatedly claims discrimination by the Centre and continues to squander opportunities made available by increased resources.
Punjab survives today essentially because of centrally-sponsored schemes, the devolvement of greater tax revenues from the Centre, the enterprise of Punjabi businessmen and huge inward NRI remittances.
None of Mr Badal's administrations have the hallmark of fiscally responsible management; this one is no different. Troubled times call for tough decision makers. A second Capt Amarinder Singh term beckons.
(Surinder Singla was the finance minister in the Congress government)

Lies, damned lies and statistics
Manpreet Singh Badal

The last Budget of the present government deliberately tries to understate the extent of Punjab's fiscal emergency. Nowhere is this more evident than in the electricity subsidy, the estimate of which has been reduced from Rs 3,493 crore to Rs 3,020 crore.
This figure is possible only if the state's power generation and its availability to citizens has reduced drastically. Going by the statements of Chief Minister Parkash Singh Badal and Deputy Chief Minister Sukhbir Singh Badal, there have been significant improvements in generation as well as availability.
Massive inflation in three-odd years has ensured that power generation costs in general -- and those of coal, freight and equipment in particular -- have gone up tremendously. So, even if the state's power generation levels were to remain the same, there would have been an increase in the electricity subsidy.
A conservative estimate suggests that there should be a minimum 20 per cent increase in subsidy (if we go by the claims of increase in generation by the government, the hike should be much more than 20 per cent). This means that the electricity subsidy estimate should be at least Rs 4,200 crore and not Rs 3,020 crore, as shown.
The actual expenditure has been cleverly and misleadingly brought down. While the Finance Minister has "underestimated" expenditure on this count, she has been unreasonably buoyant over the projected income from stamp duty, which she expects shall register an increase of Rs 400 crore. As to how stamp duty can increase from Rs 2,500 crore to Rs 2,900 crore beats me.
These two calculations, only the tip of the misrepresentative iceberg, suggest that the actual revenue deficit that the minister claims has come down from Rs 3,787 crore to Rs 3,705 crore should, in fact, be in excess of Rs 5,000 crore. This is a sort of staggering debt monstrosity that should have jolted the government into action. Unfortunately, it has resorted to window dressing!
The government may like to rubbish it as the figment of a skeptical mind, but symptoms of the state's deplorable finances are elsewhere, too. The devilish details in budgetary statements show that the picture of the state's finances is hardly as rosy as Dr Upinderjit Kaur paints it to be.
Far from it, the situation is rather frightening. While the Finance Minister can cleverly claim that the debt as a percentage to the state's Gross Domestic Product has gone down (conveniently forgetting to add that inflation leads to artificial increase in GDP which automatically brings the debt percentage down), she can't hide the real financial mess substantiated by the extraordinary hike in fiscal deficit.
Fiscal deficit estimates have been revised from Rs 7,188 crore to Rs 8,801 crore. This unequivocally conveys that there is a lot of unproductive expenditure in the government. This is further exemplified by a steep increase in primary deficit (fiscal deficit minus interest payments). From last year's projections of Rs 1,690 crore, it is expected to reach Rs 2,271 crore. The jump of Rs 580 crore testifies the profligacy of the Punjab Government -- a sin exacerbated by the refusal to admit it.
I am personally gladdened by introduction of several schemes, most notably the provision of bicycles to girl pupils in higher classes. This along with the lowering of pension eligibility age for women and the LIC scheme at the birth of every girlchild are welcome and I sincerely hope they assist in slaying the monster of female infanticide in our state. Likewise, the provision of free healthcare facilities to backward classes and benefits to freedom fighters and defence personnel are welcome social steps. Punjab needs more such schemes with higher endowments.
Similarly, all financial assistance needs to be offered to our border areas. For a Finance Minister, that it is a demanding task since funds are limited. From me, the poisoned chalice was handed over to Dr Kaur and it would be inappropriate to expect her to transform the state's financial condition in five months.
But as her predecessor and as a citizen of Punjab, I expect the Finance Minister to apprise the people of the true situation and not give them chimerical ideas of the state's "comfortable financial condition". During my tenure as Finance Minister, it was my persistent endeavour to highlight state's horrible fiscal state. I always knew that this rubbed the powers that be the wrong way, but I did not allow it to affect me.
I did not mind being a purveyor of gloom because gloom was all around me and I hoped that continuing to highlight the actual situation would ultimately lead to corrective action. If I had to err, I erred on the side of caution. Ultimately, this held me in good stead, which explains that rarely was there any excessive variation between the projected figures and the actual figures during my successive budgets.
When it came to tax default, I called a spade a shovel. In my maiden Budget, I showed how one single McDonald's restaurant paid more tax than the entire food and beverage industry of Ludhiana. Such candid talking ensured that defaulters came under the public eye. In my tenure, VAT collections grew from Rs 5,000 crore (approx) to close Rs 10,000 crore.
I still feel that it is not even half as much as Punjab is capable of generating and in this regard, I have been disappointed by estimates of Rs 11,800 crore. With a resurgent economy and by making tax compliance more stringent, we should have set a target of at least Rs 15,000 crore.
The fact that tax compliance has taken a beating after I left is evidenced by the fact that the government's tax revenues this year they are expected to go up only by 17.31 per cent, as against 44.5 per cent last year.
When the Akali-BJP government came to power, some analysts were paranoid that the state's finances shall go for a toss. We ensured that these naysayers were proved wrong by continuously bringing down the fiscal deficit as per provisions of Fiscal Responsibility and Budget Management (FRBM) rules. In 2008-09 it stood at 3.8 per cent of state GDP. In 2009-10 it came down to 3.1 per cent.
Despite being saddled by payments under the pay commission, we managed to keep it at 3.1 per cent in 2010-11. Unfortunately, this continuous decline has been reversed this year. The estimates for 2011-12 have been hiked to 3.45 per cent. The Centre, always keen to chastise and penalise Punjab for its profligacy, shall not be impressed.
Punjab's fiscal condition can be improved only by better tax compliance and restricting the reckless expenditure of government ministers and officers. I expected the Finance Minister to make an appeal on the latter. But while she offered her profuse thanks to the Chief Minister and Deputy Chief Minister eight times during her speech, she refrained from mentioning anything about the government's unconscionable excesses.
I know her mandate is limited but she could have made an impression by merely projecting the extent of personal expenditures of some of our leaders. I wonder why is the government so tightlipped about it? I filed an RTI three months ago asking information about the same. My wait continues till this day!
(Manpreet Singh Badal was the Finance Minister in the SAD-BJP government)