OPED —

internal security
Counter-terrorist operations in response to the carnage in Mumbai over two years ago was an important episode in the history of the National Security Guards. It produced several lessons for the premier anti-terror force, some of which are in the process of being implemented. After a quarter century of existence, it is time for introspection and reorganisation to meet emerging challenges and to optimise the force's full potential
WHETTING the Black Cats' teeth
Col Ramesh Davesar (Retd)
IT has been 25 years since 1986, when National Security Guards (NSG), the elite commando force for carrying out specialised security tasks was raised. During this period the NSG has more than once proved their mettle and professional acumen. Except for delayed reaction against Pakistani highjackers in December 1999, the NSG successfully executed counter-terrorist operations in Punjab, Akshardham in Gujarat, Jammu and Kashmir and more recently in Mumbai during the December 2008 (26/11) terror strikes. The Silver Jubilee year is aptly timed to carry out reappraisal and review its command and control set-up as well as reorganise to face new challenges.
The NSG is modelled on the lines of Special Air Service (SAS) of the United Kingdom and the GSG-9 (a.k.a. Federal Border Police) of Germany; the former being an Army outfit while the latter is purely a police establishment. The designated role of the NSG is anti-hijacking, hostage rescue and counter terrorists (CT) operations.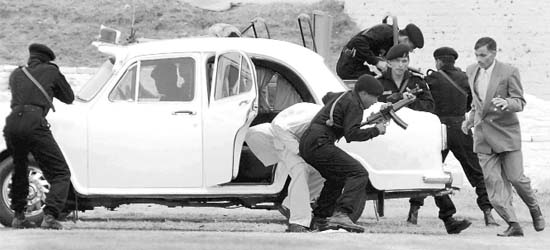 NSG Rangers simulate a VIP protection drill.
Primarily, the NSG has two special Action Groups (SAGs), one Special Support Group (SSG) and three Special Rangers Groups (SRGs). Post 26/11, in order to improve reaction capability, four hubs have been created at Kolkata, Mumbai, Chennai and Hyderabad, each having a SAG team comprising approximately 250 personnel. The SAGs are trained for CT operations and therefore, are completely staffed by Army personnel including officers, while the SSG supporting the operations has majority Army deputees. The SRGs, meant for VIP security and support operations, have manpower drawn from the central police organisations (CPOs). Thus, the SAGs along with the SSG form the NSG's teeth, as Army personnel are the major component of the force's overall strength of 14,500.
In order to execute its assigned role and tasks, the NSG adopts military tactical battle drills for raiding hideouts, fighting in built-up areas, conducting heli-borne operations and storming high jacked aircraft, etc. It is evident that the assigned tasks and their execution are Army specific or shall we say, an extension of the offensive and specialised operations for which Infantry units in general, and the Special Forces of the Army in particular, are trained. Rightly so, the SAGs are therefore staffed and commanded by the Army personnel. Conversely, with due respect, the state police, the CPOs and the IPS officers are basically trained in maintenance law and order and crime prevention, except for the limited and subsidiary exposure they would have got while operating in the counter insurgency (CI) grid. It is therefore axiomatic that Army operations are best comprehended and conducted by Army officers only. But ironically the overall command of the NSG is with an IPS officer, which is not only surprising but is also operationally untenable. Perhaps we are the only country where Army troops are commanded by police officers.
One may argue that since the NSG is a paramilitary force (PMF) and functions under the Ministry of Home Affairs (MHA), its command has, therefore, been delegated to a police officer. Conversely, the Assam Rifles (AR) also being a PMF has the complete line and staff appointments held by Army officers. One may further attempt to justify this arrangement by quoting that the GSG-9 (one of the NSG's role models) is also commanded by police officers. This, however, is a wrong comparison because the GSG-9 is totally a police outfit with no elements from the Army. Hence it has been appropriately placed under a police officer. Take a look at the SAS of UK, the other role model. Keeping in view the sensitivities and nature of the specialised tasks, the UK has very rightly branded this force as a regular Army unit as it is strongly felt that that it is an operational necessity. In order to optimise the full potential of this elite force, the NSG must be commanded by an Army officer, preferably from the Special Forces.
The 26/11 terror strike, apart from other things, brought out important lessons and highlighted operational and logistic loopholes such as our sea frontiers being vulnerable to infiltration, the requirement of captive air transport to enhance mobility, deficiency in overall command and control of operations and lack of coordination with local military and state agencies. Presently our coastal defence is woefully porous and needs to be substantially beefed up because the Navy is already overstretched on their conventional role while the Coast Guard and the Navy's Marine Commandos (MARCOS) are inadequate for effective maritime surveillance. With increased incidents of sea pirating it becomes all the more prudent to reinforce our strike capabilities against misadventures from the sea route. Therefore the NSG should raise a marine wing organised on the lines of MARCOS and staffed by naval personnel for carrying out CT tasks in the second tier or in brown waters and relieve MARCOS to operate strategically in the first tier or in blue waters.
As regards providing inherent mobility and improving reaction capabilities, in addition to provision of long-range airlifts, NSG headquarters as well as the new hubs should also have heli-lift capability for faster movement of their teams over short distances.
It must be understood that such military-like operations against the terrorists, whether conducted by the armed forces or by any other agency including the NSG, are executed with the operational and logistics support from the local military formations and the civil administration. Somehow a complacent impression has been created that the NSG can carryout such tasks independently on its own steam, which is ethically incorrect. Going back to 26/11, during the entire operation while the local Army units provided outer cordon at various points of action, the Navy along with MARCOS were deployed to dominate the coastline. Therefore it is a misplaced belief which must be set aside. Further, the local military formations have adequate knowledge of the security scenario and have the professional and administrative wherewithal to conduct such operations. In fact, to optimise the desired success, the NSG operations must be conducted under the overall command and control of local army formations, which are inherently best poised for effective planning and execution of such tasks.
In order to further optimise the operational capabilities of the avant grade force; we must carry out objective analysis of the existing organisation, command and control structure as also taking note of the operational expediencies, handover the overall command of the NSG to an Army officer, particularly one from the Special Forces. Also keeping future threat perception in mind, captive airlift as well as short-range marine special mission capability for the NSG must be considered as an inescapable necessity.


SOME NSG operations THAT ARE IN THE PUBLIC DOMAIN
THE NSG commenced its charter in 1986 by combating terrorism in Punjab with initial operations in Amritsar. Primarily a counter-terrorist assault, anti-hijack and hostage rescue force, its deployments are usually kept under wraps and most of its operations are classified. Some known and successful operations include:
May 11-18, 1988 - Neutralised terrorists holed-up inside the Golden Temple, Amritsar during Operation Black Thunder- II
April 25, 1993 - Rescued Indian Airlines Boeing 737 hijacked by Islamic militants during Operation Ashwamedh in Amritsar
October 1998 - Combat missions against terrorists in J&K. Black Cats heli-dropped into countryside.
July 15, 1999 - Freed 12 hostages held by armed terrorists who had stormed an apartment complex in Kashmir and killed four people
August 21, 1999 - Neutralised armed terrorists hiding in a house in Delhi
September 25, 2002 - Operation Vajra Shakti to free hostages held by terrorists who had killed 29 people at the Akshardham temple in Gujarat.
November 26, 2008 Mumbai attacks - Operation Black Tornado and Operation Cyclone to flush out terrorists and rescue hostages after multiple attacks across Mumbai.
THE WISH LIST
THERE have been occasions when the functioning of the NSG has come under critical review, particularly over the non-availability of state-of-the-art tactical combat and surveillance equipment as well as poor transport and mobility arrangements. A section of NSG Rangers, belonging to the Special Ranger Group, has been assigned on VIP protection duties. After the 26/11 Mumbai carnage, some of the modernisation programmes include induction of:
Corner shot guns
Laser designators
Advanced communication sets
GPS & GPRS technological systems
Wall surveillance radars
Night vision devices
Protective goggles
Special tactical gear
Thermal imaging cameras
Mini remotely operated vehicles
Non skid shoes
Ghillie suits
Assault helmets with-in built hands-free communications
Level-3 bullet-proof vests
Knee pad and elbow pads
SIG SG 553 guns
Taser electric stun guns
Anti-Materiel Rifles
Chartered helicopters and use of civilian aircraft for emergencies.
— Compiled by TNS