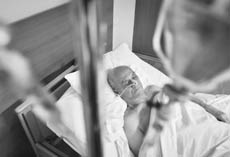 Medical practice is traditionally riddled with innumerable moral and legal dilemmas — the doubts about 'doing' or 'non-doing' in the management of a patient. Presence of a dilemma causes great impairment of one's decision-making capabilities. It not only creates unease of mind but also, sometimes, a feeling of apathy and depression.
The choice between different alternatives in medical practice is hard. Often the points for or against an apparent decision are equally strong and weak. Moreover, the concerned individuals - the patient and/or the family members — are often ignorant of wider perspectives of the issues concerned.
On the other hand, the physician, who may foresee the disease course and weigh the pros and cons is not the competent individual, either morally or legally to take a decision. The socio-economic factors are other compelling forces in the overall decision-making process. A survey of the national sample of 2314 bankruptcy filers in 2007 revealed that 62.1 per cent of all bankruptcies were medical - this had risen by 49.6 per cent (2.38 fold higher) in 2007 than in 2001.
Let us take a topically important example which one faces in day-to-day life. The issues related to the continued care of a terminally ill patient with chronic end-stage disease are bothersome for all concerned. Each specific term included in this statement i.e. the chronic end-stage disease, the terminally ill condition and the continued care must be fully understood. Chronic end-stage disease is the most critical determinant of decision-making. Parameters for these terms or conditions are clearly defined in scientific medical literature. The dilemma of whether to continue care or to withdraw the treatment is not easy to solve.
Prima facie, it is almost abhorrent to think that the treatment may be stopped in an irretrievable and hopeless situation. This act, even if futile, may also be considered as an immoral or unethical practice. Some may tend to equate it with euthanasia, which it is not by any stretch of imagination even in a wider sense. But there are several genuine fears in the minds of the kith and the kin of the patient who is lying in a kind of vegetative state. "What will the relatives and others in society say if I/we suggest to withdraw the treatment"? "Let us continue irrespective of the outcome, perhaps some miracle may happen".
As an advocate of the patient who is unable to express his/her opinion, let me dare to question the need and the obligation to "prolong the death" and interfere with the natural process of dying? Why to employ artificial supports to extend the period of suffering in pain and agony? Why deny the dignity of death? The real objective of medicine is to heal and provide comfort - not the opposite. The bottomline remains that the condition is end stage and irretrievable and all possible methods of cure have been exhausted.
The arguments for and against the withdrawal of continued care can go on without finding a final answer. This, like many other difficult dilemmas in medicine, remains debatable since the introduction of artificial life supports and aggressive management practices. Incidentally, it was mostly in the 19th century onwards that different medical dilemmas had actually cropped up. This had broadly corresponded with the developments in advanced technology and their consequent application in medical care.
It is in the past two decades, that a real attempt has been made to solve such dilemmas. The era now belongs to the guidelines - the scientific principles to solve a complex problem. Practical guidelines are neither rules nor policies. They consist of carefully designed and documented suggestions for the resolution of a conflict. Being framed through a systematic approach by a larger group of experts without any conflict of interest, the guidelines may serve as the leading light to move out of a dark tunnel. The decisions made on the basis of defined guidelines are more acceptable, and also defendable, including in the courts of law in case of disputes.
The trend to formulate guidelines for the management of diseases and disorders is a global phenomenon in modern clinical medicine. Previously, the guidelines were based on expert opinions and views. Then came the consensus guidelines made by groups of people, based on mutual consensus arrived at after discussions and consultations. Now, there is greater stress laid on the scientific evidence available from studies published in peer-reviewed journals on the particular subject. Such evidence-based guidelines also tend to classify the level of evidence from 'unequivocal' to 'doubtful' and 'none' based on the methodology, the size and the type of studies, which are available and analysed. The evidence-based guidelines, in spite of some limitations, are more wide-based and professionally analysed. However, one must be careful to look into the credibility and objectives of the people or the body associated with the formulation of such guidelines. It is not uncommon in this era of Internet information and commercial exploitation to find motivated guidelines disseminated for ulterior or selfish purposes.
The guidelines with reference to terminal care cannot be considered as 'unequivocal' and universal, unlike other recommendations for management of diseases. The terminal-care issues involve a whole lot of personal, emotional, financial, legal and socio-religious concerns, which are not only region-specific, but also different in different cultures and ethnic groups. It is, therefore, important to allow a degree of flexibility and variation in the interpretation of these guidelines in individual cases.
An important aspect of the guidelines for terminal care relates to the issue of "withdrawal of aggressive treatments" in case of prolonged and hopeless situations. This is especially so in case of treatments in intensive-care units for patients on assisted life-supports such as the tracheal intubation and mechanical ventilation. The British Medical Association Guidelines "Withholding and Withdrawing Life-prolonging Treatments" is a highly valuable document for decision-making. Such guidelines are also available from the American Academy of Critical Care Medicine, European Intensive Care Units (ETHICUS) Study and a few others.
There had been also attempts by the Indian societies, in particular the Indian Society for Critical Care Medicine to formulate Indian guidelines. In the recent past, doctors at the Postgraduate Institute of Medical Education and Research, Chandigarh, in joint consultation with the legal fraternity, had framed the "Guidelines for Withdrawal of Treatment of Irreversibly Critically ill Patients on Assisted Respiratory Supports". The document, available on the Institute website clearly defines the need, the situations, the ethical principles and the recommendations. They help a patient's family as well as the medical personnel looking after the patient to resolve conflicts and take a decision.
Some people advocate voluntary "withholding" of aggressive treatments i.e. not instituting a particular treatment, as a more humane act than withdrawing at a later stage. Several western countries allow the end-stage disease patient to voluntarily sign the "do-not resuscitate" and/or "do-not intubate" consents as clearly expressed advance directives. This, as yet is not a valid consent in the Indian set-up. "Withholding," therefore, is not a practical option to offer.
The withdrawal of life supports, especially of the assisted respiration, in the presence of defined conditions in the presence of an end-stage terminal disease is allowing the God's natural process to take its own course without any external interference. It considers death as a normal and logical end of life - something which is known to man since time immemorial. Even in modern medicine, it is true today what was said over two-and-a-half centuries earlier by Morgagni: 'In the treatment of disease, often times to do nothing is to do everything' (The Seats and Causes of Diseases).
Case examples
l KR, a 74-year-old male who suffered from progressive lung disease for over 15 years, was admitted to a hospital after he fell unconscious. He was resuscitated, intubated and put on mechanical ventilation. He remained unconscious, developed bedsores and swelling all over the body. The daily costs amounted to over Rs 30,000 per day. Finally, he died after about 5 weeks of suffering.
l TS, a 48-year-old individual suffered from advanced lung cancer which spread to different parts of the body. He had been given several cycles of anti-cancer drugs without any significant response. He suffered from relentless pain and sleeplessness. One day, he threw a fit (due to spread in the brain) and became unconscious. The rest of the story was generally similar as in the first case.
Question: In both the cases, could (or should) one have withdrawn (or withheld) mechanical ventilation earlier?
Ethical principles involved
l The Indian Medical Council (Professional Conduct, and Ethics) Regulations with regard to professional conduct, etiquette and ethics terms the practice of euthanasia as misconduct. The exception is withdrawal of supporting devices to sustain cardio-pulmonary function after brain death. Assisted suicide and abetment to suicide are legally proscribed and hence shall not be indulged in by a medical practitioner.
l There is an important distinction between intentional killing and allowing a person to die under circumstances mentioned as 'brain death' and persistent vegetative state /deep coma in the presence of all of the following:
i. Chronic, previously diagnosed and documented advanced, end-stage disease.
ii. No recognisable and treatable or reversible cause of an exacerbation.
iii. No concurrent administration of a hypnotic/sedative/ opioid overdose.
iv. No hypothermia (body temperature more than 35 degree celsius).
v. All above (i to iv) are documented to be true by at least two specialist doctors.
l Physicians have an obligation to make patients comfortable during dying. Withholding therapy to provide comfort is not intended to or equivalent to killing. The intentions are critically important in determining the moralities, decisions, liabilities and legalities.
l These principles are not in any way contradictory to the existing social, religious and legal values or systems in India.
The writer is Professor and Head, Department of Pulmonary Medicine, PGI,Chandigarh
Euthanasia or mercy killing in its passive form has taken legal root in India. The Supreme Court recently broke new ground with a judgment in the Aruna Shanbaug case, sanctioning passive euthanasia — or withdrawal of life-support systems — on patients who are brain dead or in a permanent vegetative state (PVS).
The court clarified that active euthanasia, involving injecting a potent drug to advance the death of such a patient, was a crime under law and would continue to remain so.
A Supreme Court Bench, comprising Justices Markandey Katju and Gyan Sudha Misra, laid down the guidelines for the high courts concerned alone to give a final go-ahead for passive euthanasia, involving withdrawal of life-sustaining drugs and/or life-support system, in a brain dead or PVS patient, after bona fide consent from the patient's relatives and the doctor's opinion. The procedure would hold good until Parliament enacted a law on this issue.
While laying down the guidelines, the Bench rejected the euthanasia plea for Aruna Shanbaug, who is in a PVS for the past 37 years after sexual assault.