M A I N N E W S
2nd blast rocks Japan N-plant
Tokyo, March 14
A second hydrogen explosion rocked the quake-hit Fukushima nuclear plant leaving 11 workers injured amid fresh fears of a 'meltdown' as Japan intensified efforts to contain radiation levels.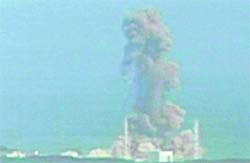 Smoke billows out from the Fukushima nuclear plant's Unit III. — AP/PTI
A thick column of smoke billowed from Fukushima reactors No.3 following the explosion at 11 am but the container was not damaged, Japan's nuclear safety agency said. "We judge that the possibility of a large amount of radioactive materials flying off from there is low," Chief Cabinet Secretary Yukio Edano told a news conference, adding that the injection of seawater to cool down the No.3 reactor is continuing.
The emergency measures of flooding the affected reactors with sea-water are to avert a full meltdown, officials said. A meltdown occurs when a severe failure of a nuclear power plant system prevents proper cooling of the reactor core, to the extent that the nuclear fuel assemblies overheat and melt. "The reactor building exploded but the primary containment vessel was not damaged. The control room of unit 3 remains operational," the Vienna-based International Atomic Energy Agency (IAEA) said.
The blast injured 11 persons, including 4 employees and 4 Self-Defence Force members, state broadcaster NHK quoted Tokyo Electric Power Company as saying.
Fears of high radiation levels brought back horrific memories of the nuclear holocaust in the last days of World War II.
The Fukushima nuclear plant has been shut down since Friday's massive 9.0 magnitude earthquake and tsunami in which 10,000 persons have been estimated to have perished.
"According to the Fukushima plant chief's assessment, the container's health has been maintained. The possibility is low that massive radioactive materials have spattered," Edano said. He said the blast that blew away the roof and the walls of the building housing the container was similar to an explosion Saturday at another reactor of the same plant.
Other media reports said the explosion was heard from 40 kilometers away.
The top government spokesman said operations to pour sea water into the reactor to cool it down were continuing and the level of pressure in the container was stable, Kyodo said.
Japan's Nuclear and Industrial Safety Agency said wind was not blowing in the area and the radiation level had not significantly risen. Over two lakhs people have been evacuated from a 20 kms radius from the nuke plant joining over 3.5 lakhs who have already moved out. — PTI