Enter: the prancing horse
Automobile fans are eagerly awaiting Ferrari's launch in India. Some of them share their experience of driving the luxury car abroad
How does getting behind the controls of a jazzy car feel? I bet words fail…and when the machine is a sparkling, dazzling Ferrari, the laps definitely become endless.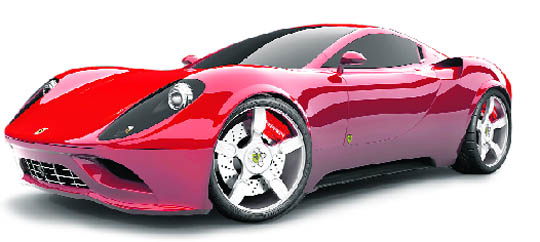 Ferrari Dino Priced at $170,000, Ferrari share V-8, rear transaxleRetractable hard top with optional glass roof panel

Designers break free and present creations inspired from tuk tuk autos, patachitra and even madhubani paintings at the Lakme Fashion Week
Day 4 of the Lakme Fashion Week and a relatively new designer Sabah Khan hogs the limelight. Unusual inspiration behind their designs and a non-conformist treatment given to the collections attracted everyone.




ON THE GO: Actor Yuvika Chaudhary walks the ramp for designer Sabah Khan


The year ahead
If your birthday is March 15...





Mumbai maidens

: (L-R) Bollywood actors Sushma Reddy, Sophie Chaudhary, Amrita Arora and Sameera Reddy during Lakme Fashion Week in Mumbai on Saturday.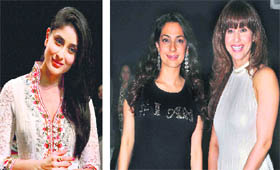 Actor Kareena Kapoor looks pretty in an embroidered kurti.Actors Juhi Chawla and Urmila Matondkar give each other company.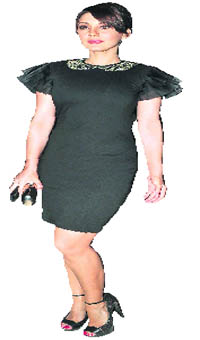 Minissha Lamba looks stunning in a black dress. —PTI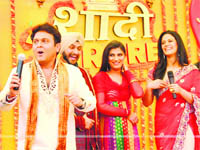 Chatter box


Ekta Kapoor awarded


Chaitanya, Shubhangi back to work?


Dilip Joshi hates bhang!


Shaurya turns phoolwala for love!


Siddharth chills in Goa!


Mona Singh, the ideal bahu!


Veena celebrates first birthday in India
Meiyang Chang was underdog of Jhalak...
Well-known choreographer Remo D'Souza and judge of Sony's dance show Jhalak Dikhla Ja feels that Meiyang Chang deserved to be the winner as he was the underdog on Jhalak. Ecstatic about his co-judges, the two dancing divas-Madhuri Dixit-Nene and Malaika Arora Khan, he gets candid about his journey in Jhalak, Madhuri Dixit and his directorial debut.
Beat it
Ainvayi Ainvayi — Band Baja Baraat

Zarine is Ready, thanks to Salman
Zarine Khan credits her Veer co-star Salman Khan for her cameo in director Anees Bazmee's Ready and says she has got a very glamorous makeover for the role. "It's a cameo with a club song. Salman offered me to do this and I would never say no to Salman," Zarine, who made her Bollywood debut with Veer, said.



Zarine Khan
Sonam gets the Golden Kela
Bollywood star Shah Rukh Khan was named the worst actor and Sonam Kapoor the worst actress at the third annual Golden Kela Awards on Saturday night, a spin-off of Hollywood's Razzies awards, which recognises the worst in cinema.
Renee never dreamt big
Oscar-winning actor Renee Zellweger, who started her career out small, said she had never imagined the skyrocketing Hollywood career that lay ahead of her.The 41-year-old actor, who was inducted into the Texas Film Hall of Fame at a recent awards ceremony hosted by the Austin Film Society, said that she did not plan on making it big in movies.
Johnny's weird childhood
Hollywood star Johnny Depp felt like a freak when he was growing up and considered himself 'weird' when he was just five years old. The Pirates of the Caribbean star used to shut himself away when he was younger because he never felt like he fitted in."When I was growing up I felt a complete freak. Very strange. I felt weird at five. At the age of 12 it was me against the world."I remember locking myself in my bedroom and playing my guitar. It seemed like I was in there for two or three years," said Depp.


Freak at 5 Johnny Depp

Confessions of Isla
Hollywood actor Isla Fisher said her husband, funnyman Sacha Baron Cohen, encouraged her to audition for comic roles because she always makes people laugh. The Confessions of a Shopaholic star, who shot to fame in Australian TV drama series Home and Away, insisted she has always made her friends laugh but only thought of it as a direction for her career when her spouse encouraged her to try for comedies.
For your eyes only!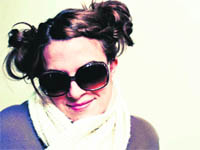 The winter sun is giving way. Soon it's going to be hot and with the sun glaring down ferociously on all and sundry it's time to flaunt the latest shades.Though eyewear finds plenty of pop this season with influences from the 50s to 80s, there's a modern edge to those old styles making it chic and fit for the style conscious. While certain styles suit particular facial features, this season it's the bold square frames, round shapes, creamy neutrals and pearly finishes, cat-eye styles, metal frames, rimless and semi-rimless looks and rebellious blacks that would be considered in.
Swing it right
The game of golf allows one to keep improving with each day spent on the course. As we go through this series of articles, I would like to go through different tips on the technique as well as drills to help improve your game and allow you to play to the best of your ability. Positive changes can be made in the following areas: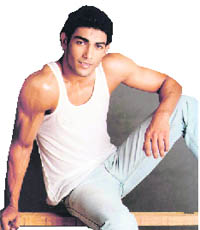 HEART talk Parvesh Rana
I am in love with a married man who is not ready to leave his family. The thought of going away from him kills me, but at the same time I don't want to spoil the equilibrium of his family. What should I do?Talk it out with the man you love. It is important to know whether he values you enough to keep you in his life. If he has already decided on not walking out of his family, I doubt he ever will. There is no point in putting yourself in this mess. Talk about things, and see things practically in the longer run.



Parvesh Rana, actor and anchor, will write this weekly column. If you want a piece of advice on matters concerning the heart, send your query to lifestyletribune@gmail.com
Fatherly advice
Aamir Khan who is first a father and then an actor is amazed to see his son Junaid Khan studying. He is currently giving his HSC Board exam and according to Aamir he studies too much. "I keep telling him don't be so serious about studies. If it's not happening leave it but he insists on studying more. Like recently I asked him about a vacation but he said no as he has to study," says Aamir.