Gurdaspur, Batala, Pathankot face health hazard
MC employees' strike enters 11th day; garbage piles up in towns
Ravi Dhaliwal
Tribune News Service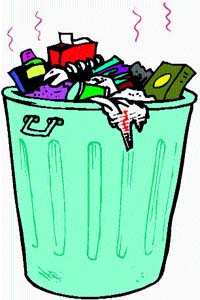 Gurdaspur, March 17
Heaps of garbage piled up in the city as employees owing allegiance to the Gurdaspur Municipal Employees Union, affiliated to the powerful Bharatiya Mazdoor Sangh, decided to strike work for the 11th successive day in protest against the state government's 'indecisiveness' in resolving their long-pending demands.
City residents had a harrowing time as garbage heaps could be seen piled up in heavily-populated areas of Sangalpura road, Mohalla Islamabad, Dak Khana Chowk, Geeta Bhawan road, Gopal Nagar, College road and Hanuman Chowk. The nearby towns of Batala, Dhariwal, Dinannagar and Pathankot too have been badly affected.
Anil Vij and Santosh Riar, MC chiefs of Pathankot and Gurdaspur, respectively, washed their hands off the issue by saying that it was for the state government to break the logjam and they had no role to play in the controversial issue. Batala MC chief Ambika Khanna has remained incommunicado for the last few days.
Leaders of the Punjab Municipal Employees Union met the Local Bodies Minister Manoranjan Kalia a few days ago at Chandigarh in an attempt to break the impasse but to no avail. Union leaders allege that the minister claimed that it was for the Chief Minister to take a decision on the demands of the striking employees.
To make matters worse, the Gurdaspur Municipal Council authorities snapped a contract they had with the Punjab Sewerage Board for the proper maintenance of sewerage pipes. The MC used to pay Rs 3.5 every month to the Sewerage Board which, on its part, used to provide manpower for the maintenance of pipes criss-crossing the town. However, insiders claimed that the contract was abruptly terminated last week because the MC was not satisfied with the work of the board.
Ramesh Gupta, president of the Gurdaspur MC Employees Union, claimed, "Our main demand is to regularise the services of nearly 5,000 temporary employees working with various MCs all over the state. The other demand is to provide a separate head for pensions so that money sent by the government pertaining to pensions and provident funds of the employees is credited directly into the head meant for Pensions. At present the state government directly transfers this money to the MC, which in turn, diverts it for other purposes rather than paying retired employees their pensions."
Residents are irked over the fact that they have been exposed to a health hazard for no fault of theirs. Said Pathankot-based senior Congress leader Chowdhury Rajbir, "When we pay our taxes on time we expect the MC employees to clear the garbage."
Our Correspondent adds from Phagwara:
As MC staff strike entered 11th day today, residents of several localities of the town were forced to clean the streets themselves. Meanwhile, the MC employees from Phagwara, Goraya and Phillaur continued with their protest rallies and dharnas today.