Retest effectiveness of fungicide for yellow rust, govt asked
Jammu, March 25
With reports about yellow rust affecting the wheat crop in hill areas of the state, NC legislator Ajay Sadhotra asked Agriculture Minister Ghulam Hassan Mir in the Legislative Council here today about the steps taken by the government to save the crop of farmers in hill areas.
50,000 vehicles add to traffic rush in Jammu city every year: Minister
Jammu, March 25
Traffic congestion in Jammu city is emerging as the biggest problem as over 50,000 vehicles are being added to the number of vehicles every year. The number of vehicles in the city stood at 4,54,400 till March this year, excluding the vehicles belonging to the security forces and tourists entering the city.
Anthology of Dogri poet Yash released

Jammu, March 25
"Hun Main Utthein Nahin Rohanda" (Now, I no longer stay there), an anthology of poetic work by eminent Dogri poet Yash Sharma was released at a function the University of Jammu here this evening. It was followed by a musical concert.

Parvati Sehgal of the 'Pratigya' (Star Plus serial) fame releases an anthology of her grandfather, Yash Sharma, in Jammu on Friday. Photo: Inderjeet Singh

Govt hasn't transferred heritage building to anyone: Charak
Jammu, March 25
Even as the state government has announced to withhold a proposal for the construction of a heritage hotel at the historical Mubarak Mandi complex, Gulchain Singh Charak, vice-chairman of the Mubarak Mandi Jammu Heritage Society, today sought to clarify that there was no proposal to lease out the historical complex to any private party.
Amandeep Murder
Former PSO of jail supdt arrested
Jammu, March 25
The police arrested a former personal security officer (PSO) of jail superintendent Mirza Salim Ahmed Beig and recovered a revolver and Rs 15 lakh from his home here today.
Corruption charges against ex-VC being probed: Omar
Jammu, March 25
Chief Minister Omar Abdullah, in a written reply to a question in the Legislative Council, stated here today that the state government was probing the charges of corruption levelled against about 450 officers, both serving and retired, and, including a former Vice-Chancellor of the University of Jammu.


Support for Libya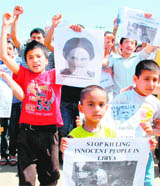 Members of the All Ladakh Muslim Students Association protest outside the UN Observer's office in Jammu on Friday, against the air attack by foreign forces on Libya. Photo: Inderjeet Singh
Youth Cong demands colleges at Paddar, Dachhan
Udhampur, March 25
The district unit of Kishtwar has demanded two more degree colleges in far-flung areas of Paddar and Dachhan on the lines of a degree college for the Marwah area in Kishtwar district.
11 hurt as bus rams into hill
Jammu, March 25
At least 11 passengers on board a bus sustained minor injuries when it rammed into a hill near Sagra village in Mendhar tehsil of Poonch district this evening. The mishap occurred around 4.45 pm.Official sources said packed to its capacity, the bus (number JK02D/5057) was on its way to Sagra from Mendhar town.
BJP to take up issue at national level
Jammu, March 25
The BJP's national convener of the Human Rights Cell, Sudhir Aggarwal, said yesterday that the party would take up the problems of the refugees of the state at the national level. He was here on a one-day fact-finding tour.
902 file papers for panchayat poll
Udhampur, March 25
A total of 902 candidates filed nomination papers for the panchayat elections for the Udhampur district today.As many as 1,170 forms were issued and 223 candidates filed nominations for the posts of sarpanch, which included seven women candidates, while 679 candidates filed nomination papers for the posts of panch, which included 218 female candidates.
Playgrounds to be developed at block level: Maken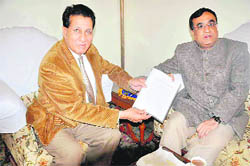 Srinagar, March 25
Union Minister of State for Youth Affairs and Sports Ajay Maken has appreciated the hospitality, humanity and brotherhood of the Kashmir people and said the hearts of these people are filled with the spirit of love and amity.

Minister for Youth Services and Sports RS Chib (left) with Union Minister for Youth Affairs and Sports Ajay Maken in Srinagar on Friday. A Tribune photograph

Missing youth's body found from well
Srinagar, March 25
The situation became tense in Sopore town of Baramulla district when the body of a missing youth was recovered from a well in the area today.Sources said the body of Mohammad Yasin Mir (26) was recovered from a well in the Wadoora area of Sopore this morning. The boy had been missing since March 2. Local residents took to streets soon after Mir's body was fished out from the well.
Three reports tabled
Jammu, March 25
Reports of three committees of the House were tabled in the Legislative Council here today. MY Taing presented the 49th report of the Public Accounts Committee, while Khalid Najeeb Suhrawardhy presented the 43rd report of the Public Undertaking Committee. Javed Ahmad Rana presented the 41st report of the Estimates Committee.