PM's PoK initiative cheers state
Residents hopeful Pak would reciprocate in similar fashion to Delhi's six-month stay move
Jupinderjit Singh/TNS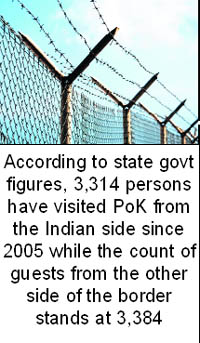 Jammu, March 27
Octogenarian Salamat Khan has one unfulfilled wish: to see the borders between India and Pakistan melt down to a pre-1947 era. "Then (before Partition), people moved here and there like free wind and birds. Will it ever happen in my life time again?" he wonders.
Going by the bitter relations between India and Pakistan, his prayers were sure not to be answered until a week ago. But, Prime Minister Manmohan Singh's initiative to allow six-month stay for Pakistan-occupied-Kashmir (PoK) residents (in India) has offered some hope to Salamat. Earlier, the PoK residents were allowed a four-week stay.
Post-Partition, Salamat Khan opted to stay back in India with a hope that India-Pakistan borders would fade away with time. "They haven't all these years…. I was 17 then. My two younger brothers and parents crossed over," he said while talking to The Tribune.
Salamat says he expected Pakistan not to botch up the opportunity this time. "When India started the bus, they stabbed in the back by intrusion in Kargil, which eventually led to the Kargil War. Later, they scripted the 26/11 Mumbai mayhem."
Like thousands of his fellow Kashmiris whose near and dear ones stay in PoK, Salamat has to undergo an ordeal to meet his children and grandchildren. "It takes a year to process the files for our visit to PoK. Same is the situation on the other side of the border. It is us who have to live the pain and the agony of Partition. The border was built on our heart and with our blood," he said, choking with emotion.
But now at least after a year of struggle, said he, they could meet their relatives for six months.
Dr Liaqat Jafri, doctor and poet whose maternal uncles are in PoK, terms the initiative as "very good": "My relatives recently stayed here for four weeks….Then it was like climbing Mount Everest to get an extension of two weeks." Jafri, however, says that the government also needs to ease the verification process. It is easier to go via Wagah than through Chakan-da-Bagh border in Poonch district. "The Indian Government can help us by easing the process."
Rajiv Chunni, chairman of SOS International, an NGO working for the rights of PoK refugees, too, endorsed the simplification of the verification procedure. "It is too cumbersome and one has to pass through many checks and counterchecks." He wants the paper work reduced and all process completed in border districts itself.
Meanwhile, the latest figures, as revealed by Chief Secretary Madhav Lal about a fortnight ago, suggest that 3,314 persons have visited PoK from the Indian side and 3,384 vice versa since 2005.
Haji Jabbar Ahmed, of Jabla Uri, says, "We expect that the government of Pakistan would reciprocate in a similar fashion… it is a very welcome move as the members of a divided family who have been separated from each other for decades would get a chance to stay longer with each other."
(With inputs from Tejinder Singh Sodhi in Srinagar)