Residents protest poor water supply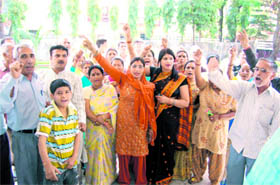 Dehradun March 29
Protesting against the lack of water supply in their area, residents of Bangarwala held a demonstration outside the Jal Sansthan office in Nehru Colony today. Led by Hema Purohit, member of the Mianwala Zila Panchayat, the residents raised slogans against the authorities of the Jal Sansthan.
Residents of Bangarwala protest at the Jal Sansthan office in Dehradun on Tuesday. A Tribune photograph
Foreign national dies at Piran Kaliyar
Dehradun, March 29
A 58-year-old foreign national, who had come on a pilgrimage to the famous shrine of Piran Kaliyar, 7 km from Roorkee, died under mysterious circumstances. Deceased identified as Ashraf Khan, a South African national of Capetown, had arrived in India on March 21 and reached Piran Kaliyar on March 27 to offer prayers.
FCI staff hold sit-in
Dehradun, March 29
Employees of the Food Corporation of India (FCI) held a sit-in in support of their demands outside the office. The employees are demanding increase in the number of employees, allowances for field staff and revocation of loading and overloading order. — TNS
Liquor vends auctioned amid tight security in Kumaon
Nainital, March 29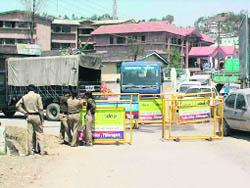 The allotment of liquor vends across Kumaon began this morning amidst heavy police deployment at all the venues at district headquarters. The allotment is being done through the lottery system in the presence of the top administrative officials. While most of the liquor vends were to be allotted by late Tuesday night, those left on account of certain unavoidable reasons would be allotted tomorrow.

Police personnel stand guard at the venue for the auction of liquor vends in Pitthoragarh on Tuesday. A Tribune photograph

Auction peaceful in Pitthoragarh
Pitthoragarh, March 29
Despite month-long agitations by women groups against the existing and proposed liquor vends in the Kumaon region, the auction of liquor vends in three districts of the Kumaon region passed off peacefully today.
Focus on development of Himalayan states
Haridwar, March 29
Owing to their different and adverse geographical conditions, development in hill states is not at par with plain area states. So for wholesome development of the Himalayan states, special attention needs to be paid to them.
Housing project for poor renders family homeless
Mussoorie, March 29
The claims made by the local Municipal Council about providing houses to the poor under the Jawaharlal Nehru National Urban Renewal Mission (JNNURM) at Suman Nagar here have a hind side too. The house owned by a poor family is on the verge of caving in after the work to level the land for the project was initiated by the contractor yesterday. According to the victims, Sunil, Anil and Pradeep, they have been living in the said house for the past 20 years and some days ago they were told by Municipal Council Executive Officer Rohtash Sharma that the work on the project would begin only after they were shifted elsewhere.
9 accused of raping minor girl let off by court
Dehradun, March 29
Nine persons accused of raping a 12-year-old girl for six months in the Raipur area in 2007 were let off by a local court today.
IAS trainees to hold health camp on April 9
Mussoorie, March 29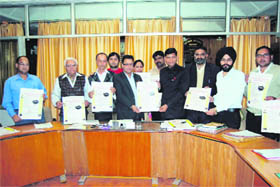 IAS trainees from LBSNAA, in association with the district administration, will organise a one-day health camp at St Mary's Hospital in Mussoorie on April 9. The trainees today visited the Municipal Council premises for support from the president and members of various wards.


IAS trainees show publicity material for a health camp in Mussoorie on Tuesday.
Nagalia retains presidentship of vyapar mandal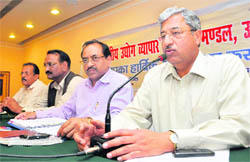 Dehradun, March 29
Vipin Nagalia has retained the presidentship of the Doon Udhyog Vyapar Mandal. His opponent Akhil Bhatia today withdrew his candidature from the election, following which Nagalia was declared elected unanimously.
Rakesh Oberoi, Chief Election Officer of the Doon Udyog Vyapar Mandal, addresses a press conference in Dehradun on Tuesday. A Tribune photograph
Safai karamcharis protest 'raid' by officer
Mussoorie, March 29
Safai karamcharis marched to the local Municipal Council premises yesterday in protest against the confiscation of their brooms and garbage baskets, which were lying on the roadside, by a health officer on Saturday.
Protest held against removal of coach's turban
Dehradun, March 29
Annoyed with Amrender Singh, coach of international golfer Jeev Milkha Singh, being asked to remove his turban on the grounds of security at the Milan Airport, members of the committee of Gurdwara Baba Lakhi Shah resorted to protest here yesterday.