PATHANKOT
SLOW MARCH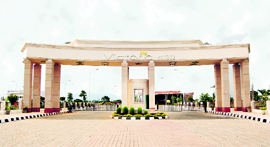 The realty market in Punjab has been on a high and has reflected the positive trend being witnessed all over the country. In all major cities in the state the property prices have shot up significantly over the past few years. According to some estimates, property rates in Punjab have risen by 30% to 40% within just 12 months.
Residential colonies that hold the promise of planned development have got some positive response in the otherwise lacklustre realty scene

Move to prevent loan frauds
The government has set up a Central Registry to prevent fraud in loan cases involving multiple lenders on the same immovable property.
Astrology for homes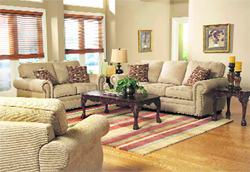 We all have heard about individuals' horoscopes, but a house horoscope or astro architecture is a new terminology for many. For the uninitiated, it is nothing but a personalised chart of a house depending on the legal owner/inmates of that premise. Every structure has its own unique energy, so does every living person. The core of this science is how both of these energies could be brought together in harmony to reap maximum benefits.
The use of right colours, mirrors and correct placement of furniture can make a lot of difference in the lives of inhabitants of a house

EYE-CATCHERS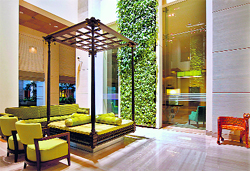 Vertical treat
The idea of creating 'Vertical Tropical Gardens' in the huge lobby of a hotel might appear to be daunting task, but that is just what ITC Royal Gardenia at Bengaluru is proud to achieve. It is, indeed, among the first hotels in India to flirt with the concept of 'Vertical Gardens'. Calming, fresh and inviting. Inspired by every natural element, the architect transforms the public space of the hotel into the super stylish retreat.
Price Index
PATHANKOT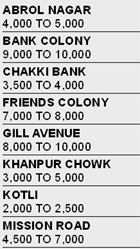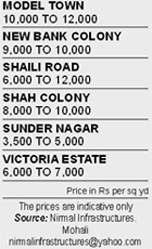 Rentals up in Delhi-NCR
A study by real estate portal 99acres.com has shown 10 to 15 per cent appreciation in rentals in Delhi and NCR region in the first quarter of 2011 as compared to the corresponding time period last year. Commenting on the same Vineet Singh, Business Head, 99acres.com said "As far as rental trends for 2011 are concerned, the market will continue to see an upward movement. The Indian economy is growing at a fast pace and hiring activity is picking up and people are relocating or moving to better homes, which in turn will effect the rental values of properties. Also, the state of real estate is not in trend with the moving economy because availability of fresh inventory is less in the Delhi region, thus resulting in annual escalation of rental values".
Ground Realty
Wood under your feet


Last five years have seen an increased use of laminated tile wooden flooring in residential units. Almost every new house builder chooses to provide wooden flooring in bedrooms or living room of his house. All newly furnished offices now make wooden flooring as their final choice while vitrified tiles, once lapped up by the non-residential sector in a big way, are getting restricted to shops, showrooms and commercial sector only.

tax tips
n Self lease amount in tax return
n Share in joint property
n Max limit for Wealth Tax
n Consider time limit
n Rebate on loan for renovation

Housing needs more capital inflow
Given the increase in the land prices, the Confederation of Indian Industry (CII) has said there was a need to improve the infrastructure and increase in flow of capital in the housing segment.