Khalsa College Row
Court fixes April 8 as next date of hearing
Amritsar, April 2
The district court today fixed April 8 as the next date of hearing in the case filed by the teachers belonging to Khalsa College and Punjab, Chandigarh College Teachers Union (PCCTU). In the case they have sought anticipatory bail after the registration of a case against them.

Opportunists go into oblivion: Badal
Chak Suhelewala (Ferozepur), April 2
Chief Minister Parkash Singh Badal today said that those leaders, who had left their mother party for personal gains and fulfillment of their vested interests, always went into oblivion.




Govt extends term of fast-track courts by three months


Chandigarh, April 2
Derailed after the withdrawal of funds from the Centre, fast-track courts in Punjab are functioning again. The Punjab Government has issued a notification extending the term of all fast-track courts in the state by three months, up to June 30. The development is significant, as the courts will continue to function as they were on March 31, before the Central grant came to an end.
Some villages excel state's child sex ratio norms
Chandigarh, April 2
In Punjab, which is traditionally known to be hostile to unborn or even newborn female infants, there are villages that care for the girl child. Some of these villages outperformed the national average child sex ratio (CSR) of 914 and have a much higher number of girls than boys who are born here. Irrespective of the pressure to have a male child, some of these villages have launched campaigns through their panchayats to ostracise female foeticide.
Kidnapped farmer released
Kapurthala, April 2
Mohinder Singh, a farmer of Murar village who was allegedly kidnapped from his house on March 30 for Rs 50 lakh ransom, was released by abductors on late Friday night.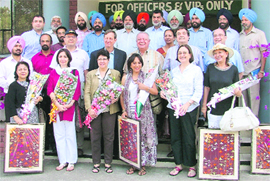 Now, Latin America woos farmers
Ludhiana, April 2
Farmers from Punjab keen to explore agricultural opportunities in Latin American countries will be allowed relaxation in taxes and land would be given to them on lease and on nominal payment, said Juan Alfredo Pinto Saavedra, the Ambassador of Columbia to India.

Ambassadors from Latin American countries at PAU on Sunday. Photo: Inderjeet Verma

Changes in Constitution

Members of art academy slug it out
Amritsar, April 2
A dispute among members of the 83-year-old Indian Academy of Fine Arts (IAFA) over changes in its constitution has hurt the artists and citizens of the city. It forced the district administration to intervene. Deputy Commissioner KS Pannu, also Chairman of the IAFA, constituted a five-member committee to review and amend the constitution in a democratic spirit.


A view of the Indian Academy of Fine Arts in Amritsar. Photo: Vishal Kumar

Now, dial 108 in medical emergency
Amritsar, April 2
The much awaited free ambulance service 108 will become operational after a formal inauguration by Chief Minister Parkash Singh Badal tomorrow here.

State-of-the-art-emergency ambulances to be launched in the state on Sunday. Photo: Vishal Kumar

Talwandi Sabo irrigation project dedicated to state
Talwandi Sabo (Bathinda), April 2
To benefit the tail-end farmers of Talwandi Sabo and Maur who were facing an acute scarcity of irrigation water, Deputy Chief Minister Sukhbir Singh Badal today dedicated to the state a Rs 3.96 crore integrated irrigation project for supplementing the irrigation facility in the areas falling at the fag end of the canal networks.
HARPREET MURDER CASE
Kamaljit for re-examination of his statements
Patiala, April 2
Kamaljit Singh, the main complainant in the murder case of Harpreet Kaur, daughter of a former SGPC President, Bibi Jagir Kaur, has pleaded before the Court of Special Judge (CBI Cases), Patiala, Balbir Singh for the re-examination of his statements.
70-yr-old seeks CJ's intervention
Chandigarh, April 2
Surinder Kumar is asking for justice before it is too late. Retired, but still fighting for what he says is his due, the 70-year-old has sought Punjab and Haryana High Court Chief Justice Ranjan Gogoi's intervention in his promotion matter pending for the past 24 years.