Martial arts meet ends
Tribune News Service
Haridwar, April 4
Young practitioners of martial arts showcased their skills at a district-level karate tournament in Roshanabad. Dhruv Chawla, Utsav Mandal, Jyoti Sharma, Priyanshi, Tanishka, Aditi, Mohit, Munal, Ayush Singh, Gurjit Singh, Sparsh, Shubham, Nitish, Ashutosh, Priyanshi, Tanishka Singh, Sparsh, Shubham, Nitish and Ashutosh won green, blue, brown and red belts in different categories.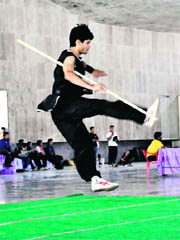 A player showcases his skill at a district-level karate tournament in Roshanabad on Monday.
These belts were presented by Subash Barthwal, Vice-Chairperson, Youth Welfare Council, Uttarakhand.
At the conclusion of the meet, JS Khan, general secretary, Kino Kan Karate Federation, said that the immense talent that the state possessed in martial arts was a good sign for a hill state like Uttarakhand as it cannot have excellent outdoor sport infrastructure due to its geographical limitations.
Martial arts could be the way ahead as these games do not require many accessories, he said.
"It is heartening to see girls outshining boys in the tournament in terms of numbers as well as performance in a state where women have mostly been confined to the household," he said.
Subash Barthwal assured support to various martial art associations in the state for the spread of martial arts to the remote areas.
The industrial segment in Haridwar too evinced support to the development of martial arts with Uttarakhand Industrial Association vice-chief Harendra Garg showing interest in hosting such competitions in the near future in Haridwar.
Tanishka, a school student who bagged a green belt, said that hill girls, despite being tough, needed specialised training and exposure which such meets and training camps could provide.
Present at the venue were SK Saxena, Amit Kumar, Naveen Mishra, Saroj Yadav, SK Singh, Vinod Yadav, Rajeev Madan and Yash Garg of the association.