Gaddafi forces push towards Ajdabiyah
Tripoli, April 9
Muammar Gaddafi's forces today pushed ahead towards the eastern town of Ajdabiyah, the gateway to the opposition stronghold of Benghazi, as five people were killed in heavy fighting for the western city of Misurata which lies encircled by government troops.
After forcing the rebels to retreat from the oil town of Brega, Gaddafi's tanks and heavy artillery are pushing ahead to retake Ajdabiyah which lies midway between Brega and Benghazi. On the western front, Libyan rebels claimed to have pushed back an advance by Gaddafi's forces into Misurata, with five people killed in the fighting for the besieged city. Fierce street fighting was witnessed as Gaddafi's forces mounted an assault on the eastern part of the port city that is the only major rebel stronghold in the west of the country.
Reports from the east said rebel fighters came under heavy artillery fire from the advancing government forces in of Ajdabiyah.
The last few weeks have seen a military stalemate grow in the east with both sides advancing and retreating across enemy lines. Coming under heavy shelling, the rebels had retreated from the outskirts of Brega and were struggling to hold their ground. In Ajdabiyah as well, intense artillery fire was making lives difficult for the rebels. — PTI
VIOLENCE CONTINUES TO ROCK ARAB WORLD
Protesters return to Tahrir Square; 2 killed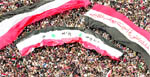 Cairo: At least two persons were killed and scores wounded today when Egyptian military stormed the capital's Tahrir Square to clear the protesters, signalling that the bonhomie between them had turned sour in just over two months.The Army opened fire after demonstrators burnt cars. — PTI
Security forces killed 37 in Syria, claims rights group
Beirut: A Syrian rights group accused the state security forces today of committing a crime against humanity, saying they had killed at least 37 persons during yesterday's demonstrations across the country. The National Organisation for Human Rights said 30 persons were killed in the southern city of Deraa, the centre of protests. Three more persons died in the central city of Homs and three in Harasta, a Damascus suburb, as well as one in Douma. — Reuters
In Yemen, death toll up
Sanaa: Protesters kept up the heat on President Ali Abdullah Saleh today as deaths mounted in the flashpoint city of Taez, even as a dissident general denied aiming to replace the Yemeni leader. — PTI