February industrial output growth slows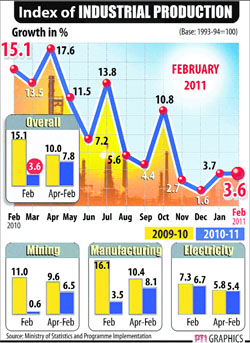 New Delhi, April 11
India's industrial output growth slowed unexpectedly in February, adding to evidence that its economic expansion may be moderating, but a hawkish Reserve Bank of India (RBI) is still expected to raise interest rates next month as it struggles to contain stubbornly high inflation.
Several analysts have trimmed their forecasts for Asia's third-largest economy and have warned that high inflation combined with a tight monetary policy could drag on growth.
The Reserve Bank of India (RBI) has its eyes firmly on inflation, which at 8.31 per cent in February was considerably above the RBI's comfort level, and has indicated it would tighten policy further during the year.
"Weaker-than-expected industrial production is unlikely to throw a spanner in the RBI's way, with a 25 basis points hike at the May meeting a near certainty as inflation remains the main policy driver at this juncture," said Radhika Rao, an economist at Forecast Pte in Singapore, referring to the RBI's next policy review on May 3.
"Nonetheless, successive softer IP prints does warrant some attention, especially as capital goods stay under weather, while consumer durables maintain steady growth."
February's output growth data was lower than an upwardly revised 3.9 per cent growth a month earlier.
The decline was led by a contraction in capital goods output, which shrunk 1 8.4 per cent in February, compared with an expansion of nearly 47 per cent in the prior-year period, pointing to sluggish investment spending .
Manufacturing output, which makes up 80 per cent of the overall output, grew an annual 3.5 per cent during the month, compared with 16 per cent a year ago.
The most-traded 7.80 per cent 2021 bond yield dropped 1 basis point to 7.86 per cent after the factory output data. The main share index extended losses and was down 0.6 per cent from 0.4 per cent before the data.
"The data confirms some slowdown of growth momentum in the first quarter, and will cap the Indian rupees's gains," Dariusz Kowalczyk, senior economist and strategist at Credit Agricole in Hong Kong.
Last week, a HSBC survey showed growth in India's service sector slowed in March from February's blistering seven-month high as new business growth moderated slightly, while price pressures, particularly wages, continued to rise.
India's domestically driven economy, is expected to have grown 8.6 percent in the fiscal year that ended on March 31 and the government has forecast it to grow 9 percent in the current fiscal year. — Reuters