Harvesting romance
The fields of Punjab have always charmed B-town directors. No wonder, many hit songs have been shot in the sarson ke khet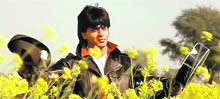 The definition of 'mush' in Hindi cinema, especially in Yash Chopra's and Akshay Kumar's movies is weaved around and in the middle of the fields of Punjab. In this case, a handsome looking actor, Shah Rukh Khan, positioned in the centre of the 'fields', plays guitar for his lady love, Kajol, who comes running hearing the romantic melody.
All mush: Shah Rukh Khan in Dilwale Dulhania Le Jayenge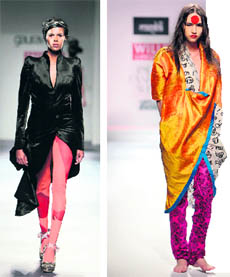 Leg(ging)s to die for
Heavy digital patterns, ethnic and futuristic styles, flower motifs and shiny crystals — designers at the just concluded Wills Lifestyle India Fashion Week (WIFW) showcased leggings in various varieties, making it the next big trend in the fashion world. Designers like Rajesh Pratap Singh, Varun Bahl, Alpana-Neeraj, Gaurav Gupta, Kallol Datta and label Virtues showcased leggings in digital patterns and classic designs. "The 1950s trends are very much in and this is the reason why digital leggings were used to meet the bling factor and add that extra zing to the collection," designer Puja Arya said.



Designs by Gaurav Gupta and Leggings by designer Masaba

Watch the WORD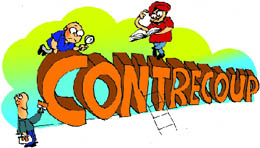 An initiative by Oxford Dictionaries and Oxford Fajar, 'Save the Words' project asks people to 'adopt' an underused word and take an oath to save it from extinction
You may not know, but words are an endangered species. Just like sparrows, tigers and vultures, there are certain words that too are facing the threat of extinction. Thanks to the slang and text language, words that are no longer used in conversation and written communication are dropped from the Oxford English Dictionary.



Telly tale:

Model Poonam Pandey poses during the announcement of a TV show in Mumbai on Monday. — PTI

Avika goes to Sasuraal
Avika Gor, aka Anandi of Balika Vadhu, is back with a new show on Colors' Sasuraal Simar Ka. She will play the role of Simar's younger sister, who is a whiz and has all updates regarding television serials. A chirpy Avika is thrilled to bag this role and looks forward to bigger projects and meaty roles in movies.
the year ahead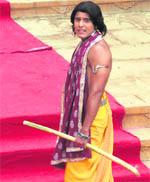 What's common between Mrunal and Anushka?
Mrunal Jain has something in common with hot actress Anushka Sharma and that is they both hail from the same acting school where Anushka was his senior. Mrunal who is currently playing the lead in Imagine's Looteri Dulhan was one of the top ten Gladrags finalist in 2007, debuted in Ekta Kapoor's Mahabharat and played Ronit Roy's eldest son in Bandini.



Classroom bonding: Mrunal Jain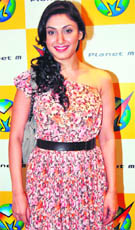 More drama for Manjari
Manjiri Phadnis, who made her debut with Jaane Tu Ya Jaane Naa, is back with another release. This time, it is a children's film called Zokkomon, also starring Darsheel Safary of the Taare Zameen Par fame. The pretty actress talks to us about Zokkomon, Darsheel and much more.








FUN TIME: Manjiri Phadnis
TWO's company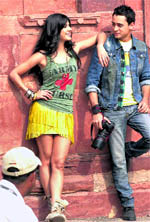 Bollywood actors Imran Khan and Katrina Kaif pose for pictures during the shooting of the film Mere Brother ki Shadi at the Agra Fort. — PTI

Preeti machaye Shor
Preeti Desai has not yet made her debut, but has still been in the news since a long time. She came into the spotlight when she was dating Abhay Deol. And now, at last, she is ready to make her debut in Bollywood with Shor In The City, opposite Tusshar Kapoor. We talk to her about her upcoming film and more.
How did she land this role?
"I wasn't auditioning for films, but my agent told me about this film because he knows what kind of work I want to do, and encouraged me to go for the auditions. I was not expected to speak a lot of Hindi, and it was mainly English, so I went for it. I like the role and the script a lot."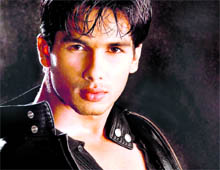 Chicks love Shahid
Bollywood actor Shahid Kapoor, who was voted Bollywood's sexiest vegetarian by People for the Ethical Treatment of Animals (PETA), will be seen urging people to turn vegetarian in a new ad of the animal rights group.In the new ad titled "Chicks Love a Vegetarian", a casually dressed Shahid is seen with two downy yellow chicks perched on his body, extolling the benefits of a plant-based diet. The ad is shot by ace photographer Atul Kasbekar.


Animal love:

Shahid Kapoor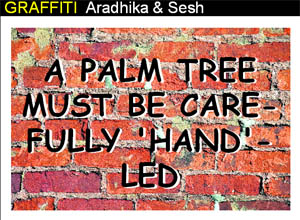 Scarlett takes up a healthy issue
Hollywood beauty Scarlett Johansson is campaigning against the US government's decision to eliminate $ 300 million of federal funding for women's health care centres.
The league of Real Men
Hollywood heartthrobs Ashton Kutcher, Justin Timberlake, Bradley Cooper and Sean Penn have joined hands to fight sex trafficking with a new campaign aimed at Real Men.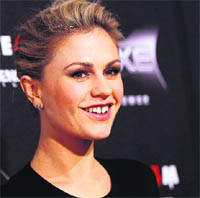 SMILING BEAUTY: Anna Paquin poses at the premiere of Scream 4 at the Grauman's Chinese Theatre in Hollywood, California. — Reuters

Of pain & verse
Romantic love can lift one to bliss and that very love can hurl one on a harsh rock. Having experienced both, Maniinder chose to transfer her pain on to the paper
After being a news anchor for as many as two decades, Maniinder found a new vocation - that of a writer and painter. Painful, personal circumstances made her forsake her job. To get away from the situation, she made London her new home and landed in the 'company' of none but Keats!
HEART talk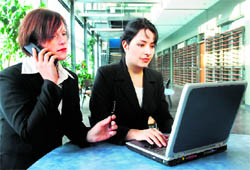 The queen bee syndrome
Female bosses can wreck other women's promotion
Women who make it to the top of an organisation are more likely to help out their male subordinates than female ones and sometimes can even wreck another woman's promotion prospects, says a study. Called the queen bee syndrome, the phenomenon can be a major obstacle to women climbing the managerial ladder.
MASTER CHEF
Say cheese!
Veenu Dhanda, a culinary expert from Mumbai, has been running her cookery school - Cook'n'style - in Ludhiana for close to two decades now. She shares the recipe for a stylish, yet easy to make breakfast dish.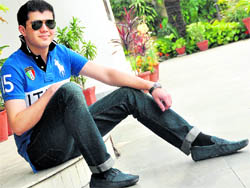 Trend Setter
Brands all the way
GenY is adopting brands with élan and becoming veritable style icons. Suave and slick Ludhiana lad Arjun Dhanda, studying in Les Roches International school of Hotel Management, on a vacation here as of now, shares his thought.



Glam struck: Arjun Dhanda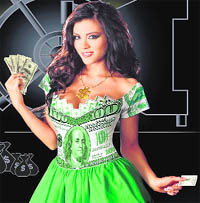 Show me the money, honey!
Good looks or a sense of humour are increasingly taking a back seat to money when it comes to the criteria women use to find a partner, according to new research in Germany. It said that with women getting better jobs, they are looking for their men to have a spending power to match. The Cologne-based Institute for the German Economy claimed women quizzed in a survey said they wanted to avoid stress and confrontation over big differences in earnings. The findings showed that the number of households in which one person earns much more than the other has decreased in the 10 years between 1998 and 2008.