New DU admission process most likely to get council nod
New Delhi, April 12
The proposal forwarded by the Delhi University administration yesterday to do away with the pre-registration Optical Magnetic Resonance (OMR) forms is most likely to get passed at the admission council's meeting over the next few working days.
DTC seeks commuters' opinion for better service
New Delhi, April 12
The Delhi Transport Corporation (DTC), for the first time in its history, has launched an online opinion programme for people's suggestions to improve its services and infrastructure.


Days of fasting end with Ram Navami
New Delhi, April 12
With prayers and rituals, Indians on Tuesday celebrated the festival of Ram Navami, the birth anniversary of Lord Ram, a day that also marked an end to nine days of fasting for some.

Devotees dressed as Lord Rama, Lakshmana and Sita take part in a religious procession held on the occasion of Ram Navami at Ramlila Maidan in New Delhi on Tuesday. Tribune photo: Masnas Ranjan Bhui
Family of accident victim teacher gets Rs 60 lakh
New Delhi, April 12
A Delhi court has awarded over Rs 60 lakh as compensation to the family of a 48-year-old teacher of a Delhi government school who died in a road accident in 2010.
Jamia admits 27 street kids to its schools
New Delhi, April 12
Jamia Millia Islamia today admitted 27 streetchildren to its primary schools. The children belong to Ummeed Aman Ghar, functioning under the auspices of the Centre for Equity Study, a welfare organisation that provides shelter, food and education to the homeless street children and night shelter to the destitute.
CWG guilty must be punished: CM
New Delhi, April 12
Delhi Chief Minister Sheila Dikshit today said those involved in wrongdoings in CWG projects must be punished, but the agencies concerned should take care that innocent people do not face any harassment.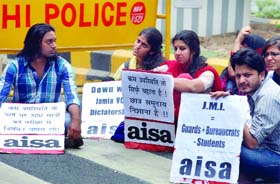 Members of AISA sit on dharna to protest against the suspension of 500 students from examinations in Jamia Milia, at Jantar Mantar in New Delhi on Tuesday. Tribune photo: Manas Ranjan Bhui
Water safe for drinking, assure experts
New Delhi, April 12
The Delhi government today again held a meeting of experts to know their opinion on the quality of Delhi's water about which an international health journal claimed that it was not fit for drinking.
MCD earns record property tax
New Delhi, April 12
The Municipal Corporation of Delhi (MCD), which has been going all-out to increase its dwindling cash reserves, today said it has collected an all-time high property tax amounting to Rs 1,500 crore during the financial year 2010-11.
Clouds, light rains make Delhi cooler
New Delhi, April 12
After light rains in the Capital last evening, the day today began on a cooler note for the city. With an overcast sky and light rains in several parts of the city, the maximum temperature today settled 3 degrees below the normal for this time of the season at 33 degree Celsius.
Youth found dead outside house
Body has marks on the neck
New Delhi, April 12
A 24-year-old man was found dead under mysterious circumstances near the gates of his house in the Karawal Nagar area of northeast Delhi this morning. According to the police, Raju was discovered unconscious outside his house by his father who rushed him to GTB Hospital, where doctors declared him dead.


| | |
| --- | --- |
| Children take part in 'Louder Together', a campaign to give a louder voice to the millions of street children around the world, at Bal Bhavan in New Delhi on Tuesday. Tribune photo: Mukesh Aggarwal | |
Man held for giving illegal surety in court
New Delhi, April 12
A man who used illegal documents to stand surety for undertrials and convicts in courts has been arrested from west Delhi, the police said on Monday. Ramesh Kumar, 55, was arrested from his house in Raghubir Nagar on April 8.
Youth who took drugs to burgle held
New Delhi, April 12
A 29-year-old man, who allegedly committed burglaries after consuming Ecstasy tablets (drugs) to heighten his senses, has been arrested by the crime branch of the Delhi police. His two accomplices have also been arrested.
DMRC earns carbon credits worth over Rs 2 cr
New Delhi, April 12
Delhi Metro Rail Corporation (DMRC) has earned more than Rs 2.4 crore from the sale of a total 82,000 Certified Emission Reductions (CERs) under the carbon credits scheme by the Japan Finance Carbon Ltd.
People should play active role for safety: Walia
New Delhi, April 12
Delhi women and child welfare minister Kiran Walia today exhorted the people of Delhi to play a "responsible role" in making women feel secure in the Capital. Walia said this while reacting to the growing cases of crime against women in the Capital.
2 held for misappropriating Rs 82,000, false FIR
New Delhi, April 12
The outer district police has arrested a mobile recharge coupon distributor and his friend for misappropriating around Rs 82,000 and getting a false case of snatching registered about the same.
Notorious robber held
New Delhi, April 12
The Delhi police has arrested a man wanted in several cases of robbery. The accused has been identified as Chander Mohan, alias Wahe Guru (30). The arrest followed a tip-off that Mohan, wanted in a sensational case of robbery in Sadar Bazar, would be coming to Paschim Vihar for committing another robbery.
30 hurt as bus catches fire
Ghaziabad, April 12
At least 30 people were injured when the bus in which they were travelling caught fire after it hit a road divider at Vasundhara Colony, the police said here today. The accident occurred last night.