2 hurt in celebratory firing
Ghaziabad, April 3
Celebrations after India's cricket World Cup victory turned sour in the Maliwara area of Ghaziabad when two persons, including a woman, were seriously injured in firing by a reveller, the police said. The splinters hit them.


WHEN THE CITY CELEBRATED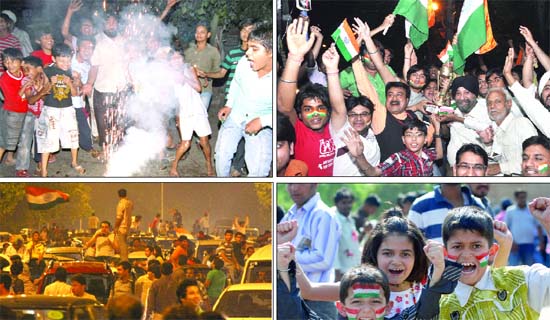 Delhi errupted in joy as soon as the Men in Blue lifted the World Cup on Saturday. Tribune photos: Mukesh Aggarwal/ Manas Ranjan Bhui
Woman gangraped in her house
New Delhi, April 3
A 35-year-old woman was gangraped in east Delhi's Kalyanpuri area, today morning, the police said. The incident took place around 7.30 am. Sarla (name changed) was alone in her house at Block-18 of Kalyanpuri when the incident took place. Her husband Raj Kumar, who runs a catering business, had gone out with their son.
MBA student shoots cousin, kills self
Ghaziabad, April 3
A management student, depressed over his impaired vision after an accident, shot his cousin dead before killing himself here today. Nagendra Sharma, who was pursuing his MBA from a private college, first shot Ravi Shankar on the head and then killed himself at his home in the Vishwas Nagar area, said SP (city) JK Shahi.
60-yr-old man dies in road mishap
New Delhi, April 3
A 60-year-old man was killed when two auto-rickshaws clashed in the Kotwali area of central district last night, the police said. Mohammad Mustaq, along with his family members, was returning to his residence after attending a marriage party when the incident took place.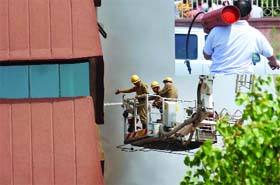 Firefighters try to extinguish a blaze that broke out at Sena Bhawan in New Delhi on Sunday. Tribune photo: Manas Ranjan Bhui
Residents meet Ramesh over waste plant
Say it violates SC order
New Delhi, April 3
Aggrieved residents of Jamia Nagar and Okhla colonies met Jairam Ramesh, union minister of environment and forests, to point out serious legal violations concerning the Okhla waste-to-energy plant and asked him to take cognisance of imminent public health crisis facing the residents of the area. The residents submitted a letter to him.
JN Stadium FOB to be rebuilt
New Delhi, April 3
The foot over bridge (FOB) outside Jawaharlal Nehru Stadium that had been collapsed in September last year before the commissioning of the Commonwealth Games will be reconstructed again. The incident had caused a major embracement to the nation, sources said.
Chatterati
Jeffrey Archer draws literati
Guess who came to the Capital last week? It was non other then the Lord Jeffrey Archer. We are all familiar with Jeffrey Archer's books and he was in town to launch his new book, "Only Time Will Tell". The book launch at the Imperial Hotel started with a bang as the dais fell down and the stage quaked. But the author's humour negated the lapses and the show started with laughter. The author had the city's literati support as Jeffrey Archer is a familiar sight in Delhi.
Fire at Sena Bhawan, none hurt
New Delhi, April 3
A fire broke out on the third floor of Sena Bhawan here today. No one was injured in the mishap. The incident took place around 2.30 pm in room number 238 of the B wing, adjacent to the main Sena Bhawan building.
IIT Roorkee campus in Gt Noida
Greater Noida, April 3
Indian Institute of Technology (IIT), Roorkee, has opened a campus at Knowledge Park II in Greater Noida. The campus is spread over 10 acres. The institute already has two campuses at Roorkee (365 acres) and Saharanpur (25 acres).
Sawan Singh Maharaj remembered
New Delhi, April 3
Baba Sawan Singh Ji Maharaj, founder of Sawan Kirpal Mission, dedicated his entire life to all mankind by spreading the message of universal love, peace and oneness. This was stated by spiritual head of Sawan Kirpal Ruhani Mission's Sant Rajinder Singh on the occasion of 63rd death anniversary of Baba Sawan Singh.


Sunny Sunday
New Delhi, April 3 It was a bright and clear day in Delhi on Sunday. The India Meteorological Department (IMD) has forecast a warm and sunny Monday. "The day began with clear skies but later in the afternoon the sky had turned partly cloudy," an IMD official said. The maximum temperature recorded was 34.2° C and the minimum temperature 20° C. The maximum and the minimum temperatures on Monday are expected to hover around 34 and 19 degrees, respectively. — IANS

A couple takes refuge under an umbrella in New Delhi on Sunday. Tribune photo: Manas Ranjan Bhui
Holiday sought on Mahavir Jayanti
New Delhi, April 3
The BJP today demanded the government to declare public holiday on the occasion of Bhagwan Mahavir Jayanti falling on April 16. Delhi BJP chief Vijender Gupta has said that in the present age of violence, the teachings of the Jain Tirthankar Bhagwan Mahavir is important. — TNS