Govt staff get half-day holiday
New Delhi, March 30
To boost the morale of the sports lovers, the Delhi government today announced half-day holiday to spare time for its officials and employees to watch the World Cup semi-final match played at Mohali in Punjab.

People watch the World Cup semi-final match between India and Pakistan on a TV set at the roadside near Connaught Place in New Delhi on Wednesday. Tribune photo: Manas Ranjan Bhui
Rs 21,000 crore allotted for developing cities
Noida, March 30
A budget of Rs 21,000 crore has been approved by the three boards of Noida, Greater Noida and Yamuna Expressway Industrial Development authorities at a board meeting held here yesterday.
Illegal colonies: DJB asks residents to pay or face connection cut
New Delhi, March 30
Though the Delhi Jal Board (DJB) in its Budget for the year 2011-12 has allocated funds for extending water supply to the unauthorised colonies, it has decided to snap water connections to households in these colonies which have not paid sewerage development fees to the agency.
Shunglu Report
BJP seeks Dikshit's ouster
New Delhi, March 30
The BJP has requested Congress president Sonia Gandhi and Prime Minister Manmohan Singh that they should immediately remove Chief Minister Sheila Dikshit on the basis of financial irregularities pointed out in the V K Shunglu committee report.


CM turns 72 today
New Delhi, March 30
The birthday of Chief Minister Sheila Dikshit will be celebrated in a grand manner by her supporters this year as she will be presented a six-foot bouquet, shaped like the prized cup.



Delhi Chief Minister Sheila Dikshit arrives at the Raising Day function of Delhi Fire Service in New Delhi on Wednesday. Tribune photo
No shortage of funds for fire service: CM
New Delhi, March 30
Chief Minister Sheila Dikshit today said that there would be no dearth of funds for development and modernization of Delhi Fire Service (DFS).
Court orders probe into parking mafia
New Delhi, March 30
The Delhi High Court today directed the Delhi police chief to probe the complaint about the alleged nexus between the police and the illegal parking mafia in the city. A division bench of Chief Justice Dipak Misra and Justice Sanjiv Khanna, while issuing notices to the police and the Delhi government, directed Delhi Police Commissioner B K Gupta to carry out an investigation into the issue.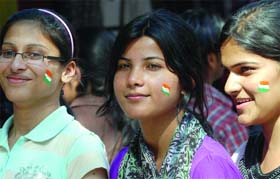 CHEERING PRETTY HARD: Indian cricket fans paint their faces for the semi-final match between India and Pakistan, in New Delhi on Wednesday. Tribune photo: Manas Ranjan Bhui
Dispute between religious groups resolved
Gurgaon, March 30
A dispute between two religious groups over a building in Wakf Board land at Sohna was resolved peacefully today with both the parties agreeing to maintain status quo at the site, officials said.
List of DDA flat applicants on website
New Delhi, March 30
The Delhi Development Authority (DDA) has come up with the names of the eligible applicants received by it on its website for the latest housing scheme announced by the authority in November last year.
The best of Spanish films from Monday
A contemporary panorama of nine movies reflecting the European nation's key concerns
New Delhi, March 30
Come Monday and the film enthusiasts in the city will have a chance to catch the best of Spanish cinema right here in the Capital at the sixth annual Spanish Film Festival.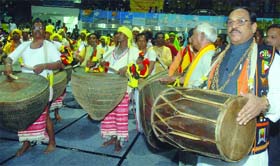 PLAYING THE ROLE: Union tribal affairs minister Kanti Lal Bhuria (extreme right) beats the drum at an all-India tribals' mahasabha at Talkatora Indoor Stadium in New Delhi on Wednesday. Tribune photo: Manas Ranjan Bhui
Gurgaon armyman kills wife in front of son
Gurgaon, March 30
An armyman strangled his 30-year-old wife in front of their four-year-old son and locked up the boy in a room with the dead body, the police said on Tuesday. The gruesome incident happened at the Sushant Estate house of the couple.
Drug racket run by Nigerians busted, 3 held
New Delhi, March 30
The special cell of the Delhi police has arrested three persons--Mohemmed Owolabi Adigun and Akanbi Olamilekan Mohemmed of Nigeria and Shobhan Mittal of Chatterpur Farm in the city-- and recovered 122 grams of cocaine from them.
2 held for cricket betting
New Delhi, March 30
The police has busted a betting racket with the arrest of two men who were accepting bets on yesterday's semifinal match between New Zealand and Sri Lanka, the police said.
Two liquor smugglers held
Noida, March 30
Two persons were arrested for allegedly possessing large amount Indian made foreign liquor from Okhla barrage area, officials said today. "Two liquor smugglers were arrested and eight cartons of smuggled liquor was seized yesterday by District Excise Department," said Excise Officer M P Singh.
Delhi auto drivers threaten strike
New Delhi, March 30
A prominent autorickshaw union today threatened to go on strike if the city government does not withdraw its decision of making it mandatory to install GPS in the three-wheelers.