The BIG WORRY over Diagnosis
Health care lately has become a very attractive business venture and laboratories for various investigations are mushrooming rapidly. However, their growth is haphazard and their utilisation without any definite direction or control
S.M. Bose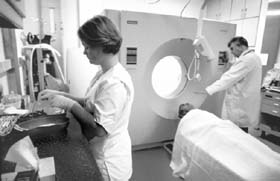 Investigations now form an integral part of medical management of a patient. The emerging importance of this may be gauged from the fact that while a quarter of century back, one could find laboratories only in big hospitals, at present a large number of laboratories, may be 10 times more than the number of hospitals, are found all over the country. These labs have facilities in radiology, radio imaging, nuclear medicine, endoscopy, haematology, biochemistry, virology and immunology etc.
These investigations are necessary. The labs are welcome additions but their growth is haphazard, their utilisation without any definite direction or control. Let us evaluate the relevance of the investigations and these laboratories.
Need for investigations
Three to four decades ago a doctor solely depended upon his clinical examination for establishing the diagnosis of the problem and its sequel. Hands, eyes, ears and nose of the doctor cannot enter the body cavities of the patient (skull, chest and abdomen). The diagnosis could not be certain and mostly used to be very late when cure was a remote possibility.
In contrast to this, the present-day doctors do not examine the patient at all, of course exceptions are always there. A large number of patients complain that doctors do not get up from their cozy chairs and all they get in return for the fat consultation fees are slips for investigations.
Ideally speaking, a detailed history of the patient should be followed with full systemic examination from head to toes, a provisional diagnosis made; the patient is prescribed medication and asked to undergo specific investigations. Such a systematic routine will establish the correct diagnosis, evaluate the stage of the disease and also assess the patient for his problems.
A large percentage of consultants feel that 60 to 70 per cent of patients can be reasonably diagnosed and evaluated only by a good clinical examination. Every senior consultant can recall a number of cases where omission of clinical examination has led to gross errors in spite of sophisticated investigations. Just to give an example, a 70-year-old man was diagnosed to be having lung cancer on the basis of X-ray and CECT scan of the chest. He came to me for second opinion and gave history of urinary problems. His rectal examination revealed a large sized tumour of the prostate gland. The FNAC confirmed my diagnosis of cancer of the prostate and the lung lesion was metastasis.
Another patient referred for urgent surgery, had CECT of the abdomen suggesting impending perforation of appendix. Rectal examination revealed constipation. Simple enema cured his problem.
Advising investigations without a clinical examination is like going on a tour without having any information about either the route or the destination.
Profs. V.K. Kak and S.K.Khanna, eminent surgeons, opine that all the investigations are at present advised not because they are essential but because of other reasons; and this is true to a greater extent in the private sector. It is common knowledge that specialists employed in private hospitals are coaxed to raise the hospital revenues; and prescribing unnecessary and costly investigations is an easy way to achieve this.
Evaluation
Relevant sophisticated and high-tech investigations are very important but the mere presence of the facility does not help. The clinician should know what specific investigation to advise and more important is also to interpret the result because a good percentage of investigations are not reported correctly.
The man behind the machine always remains more important.
Health care lately has become a very attractive business venture and laboratories for various investigations are mushrooming rapidly. There is an acute shortage of competent experts to man these labs and error in their interpretation may lead to serious problems.
Take for example Fine Needle Aspiration Cytology (FNAC) carried out to establish the diagnosis of breast cancer. Afalse positive interpretation will result in removal of breast and a false negative will lead to a delay in proper management of cancer. Both are serious errors. These problems are seen more frequently in investigations like CT & MRI scans, angiography, Radioactive Isotope studies etc. Ultrasound examination, done very frequently, is cent per cent performer dependent. Varying results are, therefore, common.
Mammography is another example, which has come in a big way because of the increasing incidence of breast cancer all over the world. Twenty to 25 per cent of biopsies done for suspicious mammography findings are negative, a big disadvantage but presently there is no better alternative.
The error is not only due to non-availability of competent specialists but because of the busy schedule also. A good CT scan of abdomen takes slices at 3 to 5 mm distance and 80 to 100 pictures need to be evaluated and in a busy lab, a specialist finds it difficult to spare that much time.
Quality
It is a common experience that investigations from different labs give varying results (blood sugar levels of 102 and 140 mgs %); and even the treating doctor does not know which one to rely upon.
Unfortunately in our country there is no standardisation of labs and more importantly no stiff penalties for such gross negligence. Need for good equipment, their proper maintenance, availability of quality chemicals is as much essential for reliable results as the meticulous procedures. A large number of investigations are very sensitive, requiring not only proper procedure and reliable chemicals but also proper collection and storage.
A recent trend has started to get samples from all over the country through their collection centres and the tests are carried out in their central labs. Naturally one is apprehensive about their modus operandi - collection, storage and transport.
What can be done?
Investigations are important and an integral part of management of a patient. These will continue to play an important role but surely one has to look into different aspects of this and all-out efforts should be made to make it more patient friendly.
Kak, Khanna and Suri are not alone to feel that marketing forces are calling the shots in all fields of patient management and investigations are no exception.
High-tech radiological imaging can be beneficial but must be used very sparingly and only when absolutely necessary because it exposes the body to dangerous ionizing radiation - radiation that is proven to cause cancer. MRI and ultrasound examination can be substituted for an investigation that gives ionizing radiation to the patient.
The writer, a former Senior Prof. & Head of Surgery, PGI, Chandigarh, is a former President, Association of Surgeons of India


Excess can be bad
Unnecessary investigations are directionless and can cause major disadvantages; and radiological ones are the worst in this respect.
The rapid growth of CT scans, which provide extremely detailed pictures of the body, has led to big increases in the average total radiation exposure. Dr Mercola feels that Americans are now exposed to seven times more radiation from diagnostic scans than they were in 1980 - a risk for everyone but greater for children. "About one-third of all CT scans that are done right now are medically unnecessary … Virtually anyone who presents in the emergency room with pain in the belly or a chronic headache will automatically get a CT scan. Is that justified ?"
David Brenner of Columbia University in an article in New England Journal of Medicine estimated that the overuse of diagnostic CT scans may cause up to 3 million excess cancers over the next 20 to 30 years.
These are not free bytes and can be very costly - PET CT Scan in the private sector costs Rs 25000.
Majority of the investigations are invasive and are associated with complications, even deaths are known to have occurred.
Prof. Sudha Suri, a former head of the radiology department of the PGI, says that the cumulative dose of radiological investigations may be harmful.
A CT scan of the chest delivers 100 times the radiation of a conventional chest X-ray - a fact not known to majority of doctors who prescribe or perform this investigation.
The labs get burdened and the quality goes down. Labs are known to write down fake reports without even undertaking the tests.
WHAT NEEDS TO BE DONE
There is an urgent need for a regulatory body which should be empowered with:
Sanctioning the establishment of a lab, however small or big it may be. Anybody with a bag full of money should not be allowed to start a laboratory.
The labs should be graded and should be authorised only to undertake sanctioned investigations.
Labs should be periodically inspected, facilities evaluated, quality assessed and then only recertification sanctioned.
It may be appropriate to fix the rates for investigations so that the patients are not taken for a ride.
Auditing of case files in hospitals and nursing homes is another need of the modern-day patient care. This would surely decrease the number of unnecessary investigations.
Points to ponder
Advising investigations without clinical examination is like going on a tour without having any information about either the route or the destination.
Specialists employed in private hospitals are coaxed to raise the hospital revenues; and prescribing unnecessary and costly investigations is an easy way to achieve this.
We should constantly remember that medical laboratories are concerned with human lives and errors will only bring misery on all fields. We should be able to minimise them.