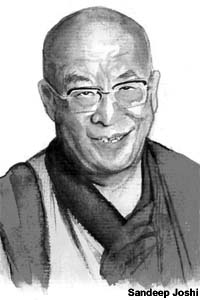 Arguably, Dalai Lama is the world's most well known monk. Although he has lived in exile for over half a century, his hold over Tibetans, in and out of Tibet, remains undiminished. Most Tibetan boys are still named Tenzin after him. Every Tibetan house and establishment displays the Lama with the benevolent smile. Even non-Tibetans claim his picture brings them luck though the uncharitable claim that they do so merely to attract the Lama's followers in Mcleodganj.
He has had a calming influence on his followers and the ever-increasing band of converts to Tibetan Buddhism. The septuagenarian Lama is at ease with his celebrity followers, including stars like Richard Gere and Pierce Brosnan, and in the presence of lesser mortals.
His enviable fan following in Hollywood include Harrison Ford, Goldie Hawn, Melissa Mathison, Barbara Streisand, Todd Oldham, Steven Seagal, Oliver Stone, Sharon Stone and Meg Ryan. Some of them including Gere extend financial support to many projects for the exiled Tibetans and for improving the living conditions in Tibetan settlements spread across India and Nepal.
However, while he finds easy acceptance as a spiritual leader, the political hat that he wears makes people uncomfortable.
The heads of state and governments all over the world have received him warmly, indicating tacit support for his cause. But they have stopped short of recognising the Tibetan government-in-exile headed by the benign Dalai Lama.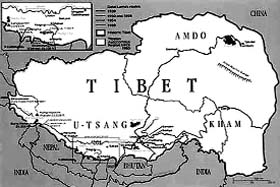 His singular achievement has been to lead his flock in exile and sustain a movement from an alien land. He kept hope alive for the lakhs of Tibetan refugees settled across the world, who believe they can one day return to a "Free Tibet." He is pragmatic enough to realise that China, an emerging super power, is unlikely to give up its claims to Tibet as an 'integral part'.
Accordingly, he has publicly stated his willingness to accept an 'autonomous' Tibet within China. But Beijing remains suspicious of the Dalai Lama and blames him for pro-freedom and democracy demonstrations held in Tibet in 2008 and ahead of the Beijing Olympic Games. Even nine rounds of discussions between emissaries of the Dalai Lama and Chinese representatives have not been able to break the ice.
It was as a young 24-year-old spiritual and temporal leader, driven out of his homeland that he arrived in Dharamsala along with his close family, associates and thousands of Tibetans who chose to leave the Chinese occupied Tibet. Ever since he has been residing at Mcleodganj in a house named Heavenly Abode which is very modest compared to the imposing Potala Palace where he lived while in Lhasa.
Most of the time he is travelling abroad but when he is home, he spends maximum time meditating. His childhood fascination for gadgets and technology still remains intact. His close associates say he would often relax by repairing watches or clocks and he too has admitted that had he not become a monk, he would have become an engineer. Even as a young boy in Lhasa, he was able to fix an old movie projector on which he enjoyed watching movies with his tutor. The Dalai Lama's gregarious laughter has often been described as his most effective weapon. Despite the suffering and struggle he has faced, he is always seen smiling and is serene with a child like innocence on his face.
It is the promotion of basic human qualities of goodness, compassion, sacrifice and non-violence that had the world sit up and listen to the maroon robed "Living Buddha." A measure of his popularity was the success of his book Art of Happiness which sold more than a million copies and remained on the list of bestsellers for several weeks. It was after he was conferred with the Nobel Peace Prize in 1989 that the Dalai Lama emerged on the global scene in a bigger and forceful way. He even faced criticism from his own people, especially the youth, when he advocated the middle way approach, seeking genuine autonomy for Tibet rather than complete independence.
The National Democratic Party of Tibet, the first political party of Tibetans and the Tibetan Youth Congress even dared to defy his stand as they said they would not settle for anything less than complete freedom. Not willing to give up despite most of his initiatives to resolve the issue of Tibet with China failing to yield desired results, he relentlessly continued to raise the issue on the world stage.
His present move too is viewed by many as an attempt to step back and build up a democratic power base where the Tibetan Prime Minister would have greater acceptability to the Chinese, a move designed to open up yet another channel for dialogue with Beijing.
There is a feeling that without the tag of the "political" head, it would be easier for many countries to welcome him purely as a spiritual leader without the fear of upsetting their diplomatic relations with China.
The issue of the continuation of the institution of the Dalai Lama and his successor still remains to be addressed even as the Chinese would want a replacement of their own choice.
China has been raking up the issue of succession time and again by reiterating that the next Dalai Lama must be reincarnated as per tradition and not chosen by the 14th Dalai Lama. As such the fear of China taking full advantage of the vacuum created by his death would be weighing heavy on his mind.
The timing of his retirement from politics too comes at a crucial juncture when the exiled Tibetans are preparing to choose a new Prime Minister who would step into the shoes of Samdhong Rinpoche. The Dalai Lama has written three dozen books, including his autobiography. Many movies including Seven Years in Tibet and Kunzun have definitely helped attract attention towards the Tibetan cause.