Issues involved in Somali piracy
Avoidable media frenzy in India
by G. Parthasarathy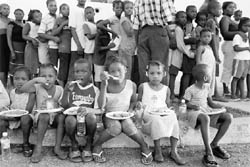 On December 8, 1989, Rubaiya Sayeed, the daughter of Mr Mufti Mohammed Sayeed, who had become India's Home Minister less than a week earlier, was kidnapped by members of the separatist Jammu and Kashmir Liberation Front (JKLF).
Amidst a frenzy of media attention, Prime Minister V.P. Singh buckled and sent two of his ministers, Mr Inder Kumar Gujral and Mr Arif Mohammed Khan, to Srinagar. Despite strong warnings from Chief Minister Farooque Abdullah and indications that Rubaiya Saeed would not be harmed, the government meekly caved in to the demands of the kidnappers, releasing detained terrorists. The entire Valley erupted with calls for "Azadi". India continues to pay a heavy price for this act of abject surrender.
On December 31, 1999, the last day of the twentieth century, India released three arrested terrorists, Maulana Masood Azhar, Omar Saeed Sheikh and Mushtaq Zargar to secure the release of passengers of the hijacked IC 814 in Kandahar. Maulana Masood Azhar returned to a hero's welcome in Pakistan and founded the Jaish-e-Mohammed. He masterminded and executed the attack on our Parliament on December 13, 2001. Omar Saeed Sheikh remitted $ 100,000 through a bank in Dubai to the mastermind of the 9/11 terrorist attacks, Mohammed Atta. He was thereafter involved in the execution of American journalist Daniel Pearl.
Mushtaq Zargar, a psychopath, runs the Al-Umar Mujahideen from Muzaffarabad. During negotiations with the hijackers of IC 814, India was often urged to meet the demands of the hijackers, citing the precedent set by the Rubaiya Sayeed kidnapping. An important factor pressuring the government to yield to the demands of the hijackers was the irresponsible coverage by some of our television channels, focusing attention on the demonstrations organised by emotional relatives of the passengers.
In recent days sections of the audio-visual media have sought to whip up public hysteria by demanding direct negotiations with Somali pirates and even "flexibility" and readiness to pay ransom to them, who were threatening to kill four Indian sailors, working in an Egyptian ship and held captive. Relatives of those held by the pirates were mobilised. They asserted that if government leaders could make billions through scams like the 2G spectrum scam, they should have no hesitation in paying a few millions as ransom to the pirates. The media, of course, had no time or inclination to study the complexities of the issues involved, or the accepted international practice that governments will not negotiate directly with pirates. These negotiations are invariably between ship owners and pirates, with governments playing a discreet role behind the scenes.
Responding to Indian media frenzy, Egypt's envoy in New Delhi Khaled el-Bakly bluntly stated: "Egypt is doing all it can. I am on the phone every day, talking to Cairo. But please understand it is prohibited under international law to negotiate with pirates. All that the Egyptian government can do is to persuade the owner of the vessel to negotiate with the pirates." Sadly, there appears to be very little appreciation and even less understanding in India about the international challenges that Somali piracy poses. There are navies of 21 countries ranging from those of the US and its NATO allies to Russia, China, India, Japan, Pakistan, Singapore, Malaysia and Saudi Arabia actively collaborating, to deal with Somali piracy. The UN has been actively involved, with Security Council Resolution 1838 of October 5, 2008, authorising ships to pursue pirate vessels into Somali territorial waters.
India was among the first to deploy naval vessels to deal with piracy on November 23, 2008. Moreover, pirate vessels coming close to our shores have been challenged and attacked, with pirates killed or taken prisoner. The efficacy of the policy of not negotiating with pirates directly has been demonstrated. While pirates continue holding 53 Indian sailors captive, they released 124 sailors since 2008 without our compromising vital national interests or international obligations.
Even the CIA appears persuaded that dealing with Somali pirates is not an easy affair. Pirates recently killed four American nationals when their demands were not met. Apart from the fact the writ of the Somali government does not even extend across its capital Mogadishu, studies by the IMO, the WFP and the UN show that there are several other factors that result in poverty-stricken Somalis finding piracy lucrative and rewarding. The livelihood and catch of Somali fishermen has been destroyed by uncontrolled fishing by foreign trawlers and by dumping of toxic waste across the Somali coast. Moreover, piracy has led to a new class of wealthy people, wielding power and patronage across Somalia.
As of December 11, 2010, it has been estimated that Somali pirates use 35 captured ships for their activities and hold 650 sailors hostages. The time has, perhaps, come for intelligence agencies across the world to come together to work out strategies to covertly eliminate pirates and their patrons in Somalia even while undertaking measures to see that Somali fishermen are not deprived of their traditional livelihood.
Apart from the media frenzy on being "flexible" with Somali pirates, there has been recent carping on why not enough has been done to evacuate India nationals from the troubled countries like Egypt and Libya. Complaints from well-heeled Indian tourists holidaying in Egypt about having to pay some excess fare for being repatriated to India from Cairo in specially chartered aircraft received sympathetic media coverage.
While one can understand the Indian taxpayer footing the bill for abandoned workers stranded in the Gulf, it is ridiculous to expect the Indian taxpayer to pay for repatriation of tourists or professionals who seek employment abroad. While India completed repatriation of all its nationals wishing to come home from Libya on March 12, most Chinese nationals evacuated from Libya are still in makeshift transit camps in Libya's neighbourhood. One hopes that norms will be evolved for positioning armed guards in Indian maritime vessels to ward off pirate attacks. Legislation should also be enacted to give the Navy powers to seek out, capture and kill pirates in international waters.
One of the major reasons why the relatives of the passengers of IC 814 took to the streets in New Delhi was the less-than-sensitive handling of them by the Ministry of Civil Aviation. Similarly, the relatives of sailors of pirated ships have been forced to move from pillar to post because the Ministry of Shipping has no guidelines or machinery to sensitively handle the distraught relatives. Norms and procedures should be devised to ensure that this is not repeated in future.n