Snow hits rescue work in Japan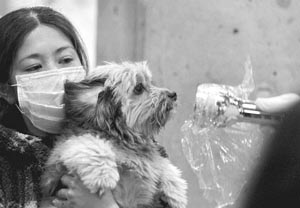 A woman holds her dog as they are scanned for radiation at a scanning centre near Fukushima nuclear plant on Wednesday. — AP/PTI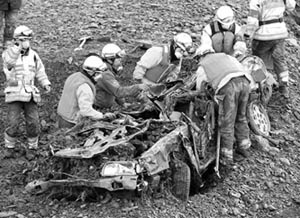 Rescue workers search for bodies after digging a car out of debris in Miyagi prefecture in northern Japan on Wednesday. — Reuters

Sendai (Japan), March 16
Heavy snow blanketed Japan's devastated northeast on Wednesday, hindering rescue work and adding to the woes of the few, mainly elderly, residents who remained in the area worst hit by last week's massive earthquake and tsunami.
In Sendai, once a city but now a waterlogged wasteland, firefighters and relief teams sifted through mounds of rubble, hoping to find any signs of life.
But, like in most other towns, rescuers just pulled out body after body, which they wrapped in brightly coloured blankets and lined up neatly against the grey, grim landscape.
"The strong smell of decaying bodies and the dirty seawater make search extremely difficult," said Yin Guanghui, a member of a Chinese rescue team working in the battered town of Ofunato. "Powerful waves in the tsunami would repeatedly hit houses in the area. Anyone trapped under the debris would drown in no time, without any chance to survive."
Japanese media said at least two persons were pulled out alive from the rubble, more than 72 hours after the earthquake and tsunami struck. But rescue officials said the snow weakened what little chance they had of finding any more survivors.
"Snow has just come down in a blanket. Visibility is just 40 metres," said Patrick Fuller of the International Red Cross Federation from what remained of Otsuchi, a fishing hamlet.
"People are still working, the army is out here. But the fire service has taken off because they are worried they won't get back to their base because of the snow."
Officials estimate Friday's earthquake and tsunami have killed at least 10,000 persons, with thousands missing. Those who did survive lost everything they owned and now face shortages of food and water, no electricity or heating and frequent aftershocks - some as strong as a magnitude - that have rattled the country.
Meanwhile, the meteorology agency said temperatures could drop as low as -2°C in Sendai on Wednesday.
Broadcaster NHK offered tips on how to stay warm - wrap your trunk in newspaper and cling film - and how to boil water using empty food cans and candles.
Rescuers said their main concern was for the elderly, who make up the majority of the scores of people packed into shelters. "They are having a very tough time," said Fuller. "They need regular medication and proper care. A lot of problems, though, are psychological, people are so stressed out. They are getting three meals a day, but probably more food needs to come." In addition to their physical well-being, many elderly people at shelters were traumatised by what they had been through, and just sat huddled on blankets, waiting, but not sure for what.
"Right after the earthquake, I was told to evacuate as soon as possible. I couldn't bring anything, but myself," said silver-haired Kiyoko Abe at a shelter in Ishimomaki, Miyagi prefecture.
Her husband sat smiling beside her, occasionally wiping away tears. — Reuters
What happened at FUKUSHIMA
The tsunami following Friday's earthquake damaged the plant's capabilities to pump the reactors with water and submerge nuclear fuel rods to prevent them from overheating.
The operators have tried to cool the reactors by releasing pressure and pumping in sea water but with limited success, leaving some of the fuel rods fully or partially exposed.
The exposed nuclear fuel rods have reacted with steam and produced hydrogen, a combustible gas, which accumulated in the buildings that house the reactors and led to explosions at the No.1 and No.3 reactors.
Japan asked the United States for more equipment to help cool the reactors after a dangerous drop in coolant levels that exposed fuel rods in the No. 2 reactor, where another blast took place. A fall in coolant levels indicates that the reactor may be in danger of overheating with nuclear fuel inside the core pressure vessel melting.