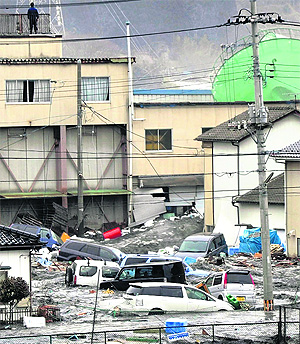 Streets are flooded after tsunami and earthquake in Kesennuma city, Miyagi Perfecture, on Friday. — Reuters

"We have about four hours to clear the shorelines," said John Cummings of the Honolulu Department of Emergency Management. "This looks like this will be a very serious event." US President Barack Obama said he was monitoring the tsunami threat to his home state of Hawaii and the US West Coast after expressing condolences to those killed in the earthquake.
New Zealand's civil defence issued a tsunami marine warning, adding that no threat to land was expected when the tsunami arrives at around 6:23 am (1723 GMT). "Historical events and pre-calculated tsunami models indicate that the largest effects (less than one meter wave height at the coastline) is expected along the coasts of the central and northern North Island," it said. However, Australia said it would dodge the effects of the Japanese quake. "We are confident that at this magnitude there's no risk to Australia," Chris Ryan, co-director of the joint Australian Tsunami Warning Centre, told AFP, adding that no local tsunami warning had been declared.
According to the Pacific Tsunami Warning Centre, the effects of the massive Japanese quake are expected to hit areas of Indonesia, Papua New Guinea, Johnston and the Solomon Islands in the coming hours. Indonesia warned people living in its eastern areas -- including Papua, Maluku and North Sulawesi -- to be on guard for tsunamis. — AFP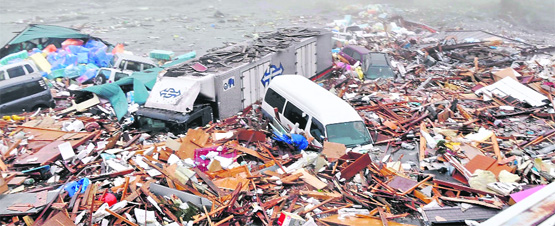 Houses and cars being swept into the sea in Kesennuma city on Friday. — Reuters


(Top) Houses lie flattened after a powerful earthquake in Iwaki, Fukushima Prefecture. A raging fire is seen in the backdrop. — Reuters
(Right) A Japanese traveller wipes tears as she talks over the telephone at an airport in west of Seoul on Friday.

The Aftershocks

Quake triggers tsunami up to 10 m (30 feet).
3,000 residents living near a N-plant in Fukushima told to leave the area.
A ship carrying 100 persons swept away. Passenger train missing.
First signs of tsunami begin to appear on shores of Hawaii.
Power supply to four million homes in and around Tokyo cut.
Several fires reported in Tokyo. Major fire at Chiba oil refinery.
Sendai airport in the north flooded. All Japanese ports closed and discharging operations halted, shippers report.


People take shelter as a ceiling collapses in a bookstore in Sendai, northeastern Japan. — Reuters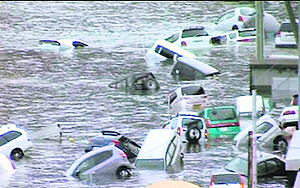 Vehicles float in tsunami water.