In 4 yrs, state sees massive increase in RTI queries
Tribune News Service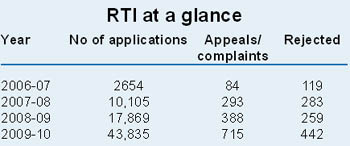 Shimla, March 11
Not only does the 17-time increase in applications received under the Right to Information (RTI) Act within a short span of four years reflect the awareness among people about it, but the corresponding decline in complaints also indicates the high-level of satisfaction.
The outgoing chief information commissioner PS Rana said the people of the hill state had effectively used the RTI Act to seek information as the number of applications rose from 2,654 in 2006 to 43, 835 in 2009-10.
"The 17-time increase proves that the level of awareness, too, has improved considerably and the reduction in complaints and appeals proves that they are satisfied with the information provided," he said.
The HP State Information Commission was constituted on February 4, 2006, and it started functioning within a month's time. The fact that the appeals and complaints have also reduced to a mere 1.6 per cent in 2009 from 3.2 per cent proves that public information officers (PIO) are responding well to the applications.
Keeping in mind the provision of the Act where a penalty at the rate of Rs 250 per day can be imposed on an officer for not furnishing information because of malafide intentions, the commission has penalised the erring officials. In 2008-09, a sum of Rs 25,000 was imposed as penalty on one officer in a single case, a sum of Rs 37,250 in nine cases in 2009-10 and Rs 17,000 in two cases the next year.
It is only in about eight cases where people have approached the court against the directives of the commission, which include the ones pertaining to a former judge, the HP Public Service Commission and the office of the Lokayukta. Over Rs 27 lakh has been collected in four years as fee for providing information.
Another aspect of the RTI Act is the reduction in the number of rejections at the level of protection officers, which indicates that they are now more conversant in dealing with the RTI applications. "Out of a total of 1,318 complaints received by the commission since its inception, 1,299 have already been disposed and a mere 119 are pending," said Rana.
Similarly, out of a total of 893 appeals received during the last four years, 876 had been decided and only 108 were pending. "Overall, the people have made good use of the Act and if at all there is any dissatisfaction at any level, it is mainly among those who mistook the commission to be a grievance redressal forum," he opined.