| | | |
| --- | --- | --- |
| | ARTICLE | |
Unending stench of corruption
Besmirched reputation of UPA-II
by Inder Malhotra
OVER the last six months or so, a cascade of scams and scandals — ranging from the sale of 2G Spectrum to the daylight robbery in the Commonwealth Games to the Adarsh building racket in Mumbai and the burning of a district official by oil mafia in another part of Maharashtra — has not just overshadowed all other issues except high prices. It has also generated mounting anger within the country and has badly besmirched Rising India's image abroad. Rare is a prestigious publication overseas that hasn't underscored that corruption, though a part of India's life from ancient times has never before been so alarmingly high as now.
The latest issue of The Economist, that has written on the subject in recent weeks more than once, has deemed it necessary this week to devote not one but two articles to the subject. The heading of one is "A Rotten State", the sub-heading of the other: "Congress drags its feet over tackling graft. It may pay a heavy price". Evidently, no one seems impressed the Congress spokespersons' almost daily (or should one say, in view of TV talk shows, nightly?) claim that their party has taken firm action against corruption, unlike other political parties when they were in power.
For, the action in the 2G Spectrum mega scam came much too late and with obvious reluctance. It was in 2007 that A. Raja, then minister for telecommunications, perpetrated the spectacular loot. All concerned knew it. Yet, after the May 2009 general election, he was re-appointed to his old post ostensibly because of "compulsions of coalition politics". The Radia tapes give a flavour of how this was done. Only after the damning report by the Comptroller and Auditor-General was he asked to resign. It also says something about the Congress' crusade against corruption that the ruling party resisted the united Opposition's demand for a Joint Parliamentary Committee probe for months and surrendered only after an entire session of Parliament had gone waste. Of late, the pursuit of the suspects in the Spectrum scandal has indeed been impressive. But this has nothing to do the Congress or the UPA of which it is the core. Mr Raja is in jail and the
The Central Bureau of Investigation (CBI) has questioned the wife and daughter of the Tamil Nadu Chief Minister and patriarch of the Dravid Munnetra Kazhagam, M. Karunanidhi. It is because the Supreme Court is directly supervising the CBI's investigations.
Nothing underscores this more vividly than the case of Hasan Ali Khan, the Pune-based stud farm owner alleged to be the country's biggest tax evader as well as the biggest hoarder of black money in secret bank accounts in tax havens overseas. The shocking handling of his case demonstrates what happens when the higher judiciary does not monitor the functioning of the government's investigating and enforcement agencies. Normally, there should be no room for judicial interference in this respect. But, alas, the functioning of these agencies ceased to be normal decades ago.
Once again it was way back in 2007 when it was found that Mr Khan had amassed $8 billion in Swiss banks and he could be involved in gunrunning and even financing terrorism. Despite such grave allegations, nothing whatever happened to him for more than three years while he strutted around the country with impunity.
On one occasion, when the people's demand for his arrest became too persistent, the police reported that he could not be traced though anyone could have seen him at Pune Race Course. And so things might have gone on indefinitely had these stark facts not driven the Supreme Court to asking the government's law officers: "What the hell is going on in this country"? The next question the Supreme Court Judges asked was why hadn't there been "custodial interrogation" of the man.
No wonder, soon afterwards and barely 24 hours before the Union Government was to appear again in the Supreme Court, the Enforcement Directorate took Mr Khan into custody for interrogation. But the fiasco that followed could not have been worse or more revealing. The ED did ask for Mr Khan's custody for 14 days but, despite being given three days to furnish evidence to back up its request, offered material so flimsy that Mumbai's Chief Metropolitan Magistrate had no option but to release Mr Khan on bail. Under the circumstances, is it any surprise that most people believe that the ED botched the case not on its own but under instruction "from above", a charming euphemism for its political masters?
This focuses attention on what is the heart of the matter. Bribery and black money, especially when stashed in tax havens of which there are no fewer than 77, are obviously the two sides of the same cursed coin. They are also mutually reinforcing. However, the perception in the country is that the powers that be are even more indulgent to the crooks plundering the country and stashing black money abroad than to the other law-breakers including those with the gift of the grab. The motivation for this is said to be that hoarders of black money in foreign banks often act also as front men for high profile political leaders.
That should explain the widespread skepticism about the government's repeated plea that its commitment to the "confidentiality clause" in the Double Taxation Avoidance Agreements (DTAAs) with the countries concerned prevents it from disclosing the names of even those holders of secret accounts who are caught in the act. Even if this is allowed to pass, people ask, why hasn't the government yet ratified the UN Convention on Corruption and Black Money that it had signed in 2005? Timely ratification would have made it easier to compel foreign banks to come clean. In any case, in a country where top-secret military files are sometimes found on the roadside, the zeal to protect the anonymity of criminals is rather touching.
Nor should it be forgotten that the big blow that the Hasan Ali Khan case has delivered to the UPA government's already dwindling credibility has come in the wake of the Supreme Court's mortifying verdict quashing the indefensible appointment of Mr P. J. Thomas as Central Vigilance Commissioner. The Prime Minister has accepted the responsibility for this "error of judgement". But that hasn't persuaded the BJP, despite differences within its leadership, to close the issue. Its task is facilitated by the blame game that is going on. And as Mr Thomas has decided to file a revision petition in the Supreme Court, it has given the sordid episode a fresh lease of life.

| | | |
| --- | --- | --- |
| | MIDDLE | |
Torture chair
by Tushima Rattan
Last Monday morning found me miserable. I had to decide — writhe in pain or go the Tom Sawyer way and allow the doc to pull out my tooth. Probably no one likes the idea of sitting on a dentist's chair. This fear is so strong most of the time that it could be defined surely as a phobia. I have never experienced more irrational fear than that connected to visiting a dentist. Ogden Nash once rightly said, "Some tortures are physical, some are mental, but the one that is both is dental."
After two-three visits to him, I realised that I do not fear my dentist (a handsome man) as a person. I quiver when I think of sitting in that horrendous chair and seeing the torture tools — squeezers, dentures, forceps, spray guns, syringes, pluckers, cotton swabs and other equipment. I shudder to think that someone would drill my teeth. The idea of someone doing something with my teeth scares the devil out of me.
"The filling for the upper right tooth has come off," Mr Dentist had told me on my last visit. I know sooner or later I need to get rid of this tooth. "If you continue with this new filling, it will fall off again. Better extract now," said Mr Dentist.
My worst nightmare became a reality. I looked around and found walls covered with colourful charts that described various kinds of teeth — incisors used for biting the food, canines are strong corner teeth, pre-molars used for chewing, molars for final grinding and lastly wisdom teeth are the last to erupt in the mouth. This proves that more knowledge can sometimes become a dangerous thing.
The "chair of death" looks like a comfortable lounge chair, though there is no comfort once someone sits in it. A glass of water is always kept within reach in case your mouth runs dry out of reverence. Then there is a small washbasin in which you can spit, in all likelihood your blood, a machine with cables dangling, a mirror to see how ashen your face looks, while your teeth are being drilled, and you need a handkerchief to wipe your inevitable tears.
He injected anaesthetic and slit my gum open with a scalpel. He then got ready to take out my tooth, drilling and twisting it with some kind of lever. He stitched up the gum and it was over in about 20 minutes. My jaw got swelled and my gum leaked blood for about four days. I would call this as nuisance at its best.
Yesterday while having my favourite chocolate I recalled two things — one, the advice of my doc to brush at least twice a day regularly and two, a saying: "You don't have to brush your teeth, just the ones you want to keep."

| | | |
| --- | --- | --- |
| | OPED THE ARTS | |
Creating cultural capital
Museums ought not be storing spaces of the fossilized. They can be dynamic and modern. The world-over modern museums are transforming themselves and the lives of their diverse audiences in an ever-evolving dance of contemporary culture. Is there anything to engage 70 per cent young population of India in our museums?
George Jacob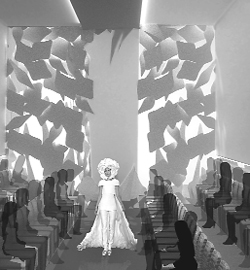 Inside a futuristic feather-like building of fashion museum — Omotesando St., Tokyo
Documenting history so that we do not repeat it — Holocaust Museum, Israel
Where is the Indian museum of the eternally evocative sari- the ultimate unstitched fashion statement of sheer functionality worn by millions in mind boggling variants? Where does one go as a tourist or a local resident to learn about Indian cuisine and spices that impacted culinary traditions around the world? Where is the living museum of Indian dance and theatre? Literature and poetry? Hall of Fame for our sportsmen and scientists? Where is our memorial museum chronicling the lives of heroes who lost their lives in Kargil and Siachin, protecting national pride? From those who died in the Bhopal Gas tragedy to the bizarre Bollywood juggernaut that reaches millions, there are countless stories awaiting a spatial, experiential narrative that dispels the conventional notion of museums and their relevance to our present day lives- from the celebratory to the serious.
While there are some new modern museums in the making in India, such as the KMoMA (Kolkotta Museum of Modern Art) and the Indian Music Experience (a la Experience Music Project in Seattle) that broke-ground last month in Bangalore, these are merely a scratch on the surface of viable opportunities and stories waiting to be shared.
Modern museums are evolving, transforming themselves and the lives of their diverse audiences in an ever-evolving dance of contemporary culture. They are seeking new definitions, new approaches, new meanings and new opportunities to enhance learning, appreciation and reflection to bring about sustainable change. The spectrum of projects, industry intersect, living culture and mixed use of story-telling and exhibit experiences offer a glimpse into the shape of things to come in the decades ahead. As museums continue to grow in myriad ways- adapting to the changing needs of experiential learning and collective memory, vast opportunities open for contemporary museums in a country like India. What was traditionally within the domain of curatorial academe is increasingly being influenced by those considered "outside" the arteries of museology per se, shaped by the vibrancy of our times. Many reputable museums around the world such as the Royal Ontario Museum have established institutes of Contemporary Culture in an attempt to explore their own relevance and tap into the changing demographics and learning methods of their diverse audience needs.


Museums and viewseums
The dapper doyen of urban chic, Bernard Arnault, who runs the $39 billion empire of Louis Vuitton Moet Hennessy recently extended his brand of timeless modernity commissioning architect Frank Gehry, to float a cloud-like museum experience designed to inspire dreams. Arnault employs 76,000 creative ambassadors worldwide! Meanwhile, his rival Francois Pinault who drives the Gucci and Yves Saint Laurent flagships of fashion, is commissioning a $195 million contemporary museum at Palazzo Grassi in Venice to house his modern art collection.
A city limping back to life after the devastating hurricane Katrina flattened New Orleans, saw its sagging spirits soar when the first public attraction opened its doors in 2008- a museum dedicated to Insects. With exhibits explaining the delicate balance between man and insects, biodiversity within insects of New Orleans to a popular café serving edible insects, the museum is extending education beyond the blackboard.
From the Cologne Chocolate Museum that celebrates the palette, the Mercedes-Benz Museum that celebrates engineering excellence, the Newseum focused on the production, broadcast and ethics of news media, the International Spy Museum that explores the clandestine world of espionage, Museum of the Mob in Las Vegas that exposes the underbelly of the mafia and organized crime behind the greatest gambling destination in the world to The Museum of Comic Strips in Belgium , that fascinates the young and old with illustrated enlarged drawings and 3-D recreations of Herge's comic strip characters.
Museums of NEGLECT
India does not have a comprehensive policy on museums.
The National Museum called 'The Pride of India', has been without a professionally qualified director for the last 17 years, with several IAS officers heading it intermittently. For the last three years, it has had none. The museum exhibits only 8 per cent of its collection, other museums too have a dismal record.
Khalsa Heritage Centre- India's largest contemporary museum in the making at Anandpur Sahib on a 100 acre complex worth Rs 365 crore is without a qualified director.
The cultural landscape of 21st century India provides significant investment opportunities and new projects that could have tremendous public interest and support. Untapped subject fields of fashion, design, music, cinema, health awareness and disease prevention, culinary arts, spice trade, the Bollywood phenomenon, partition, information technology and global commerce, et al, can all be transformed into rich museum exhibit experiences with travelling avatars in circulation at international venues. Examples of such initiatives with investment opportunities, urban planning, community revitalization and econometrics of success abound in various parts of the globe. These institutions have the power to influence trends, shape policy and engage visitors in a constructive dialogue while interacting with real-time variable parameters.
Globalization is beginning to affect cross-cultural dialogue at levels and their impact on the future of museums is yet to be fully discerned. The catalytic coordination of professional resources and implementation dynamics is expanding possibilities of reach and outreach resulting in remarkable optimization of financial and intellectual resources. Intercultural dialogue is changing the way architects and museum designers are approaching the visual manifestation of modern museums with increasing emphasis on the subtle aesthetic laced with fresh thinking that resonates with contemporary society.
Museum designers from different continents are cross-pollinating their creative rigours on to the creation of national museums which have remained obtuse to their own cultural backgrounds. Not only has the last decade seen an increased blurring of the local vernacular and national identities, it has experienced an unprecedented fluidity of resources that has re-shaped the manifestation of culture and heritage. From conventional leanings of curatorial practices to the frayed edges of neo-economic colonialism, museums face a plethora of challenges as they seek relevance while engaging diverse audiences. The seamless integration of communication between museum clients, architects, designers, curators, museum educators, fund-raisers and potential donors, is already generating a transformational impact in the ways museums are being conceived, funded and built.
Nouveau museums, art galleries and similar destinations of non-formal learning, experimentation and visual repositories of lifestyle, are vehicles of economic regeneration and inspiration in civil societies. Often leisure destinations with interesting contemporary twists attracts not only tourists, but other investment in allied sectors and industry keen on offering the quality of life that the ambience offers. Apart from generating direct revenues, employment, e-commerce, tourism and restaurant investments, real estate, retail and rentals, museums serve as cultural ambassadors for political, strategic and a range of community benefits. A working formula that offers a combination of tax incentives and targeted philanthropic edge at regional and national levels, can aid India harness a significant portion of its national taxable income towards a higher societal purpose. Imagine what a fraction of the current Indian GDP of $1.236 trillion can unleash! Such an investment in the non-profit sector of contemporary museums has the potential for strengthening our social fabric and triggering the need for infrastructural development, offering new destinations for both Indian and foreign tourists looking beyond the ancient bastions of heritage.
Cities with a soul attract creative minds. The timeless haunts become hubs and hot-beds of debate, discussion and ideas. The last few decades are witness to what can happen when scouting venture capitalists start giving credence to the creative innovators of Silicon Valley. The synergy between the patrons and the passionate impacts how form and function rearrange the measures of success. Design drives a significant portion of our cyclical economy. From the latest trends in wrist-watches, mobile phones, clothes, models of automobiles, luggage, eye-ware to whatever else is sold at malls by the millions, are all fundamentally driven by design. Corporate and individual philanthropy coupled with business acumen of the entrepreneurial Indian spirit that has seen the success of many design-driven themed-commercial environments, have the capacity to recognize the potential of modern thematic museums.
With Facebook crossing 200 million users in 2010 and You-Tube logging in 350 million user-hits a month, the rising tide of shared learning is forcing museums to seek a fresh perspective on outreach beyond their walls. India as an emerging tech-power, needs to recognize the enormous potential of riding this tiger in terms of investing in this realm and reinvesting the accrued commercial gains into the establishment of a National Museum Foundation to fuel further transformative growth that continues to sustain and celebrate our culture in unimaginable ways. Such a foundation in public-private partnership can play the role of a facilitator, think-tank and a service provider that aids advocacy and creation of a comprehensive cohesive policy framework for a new generation of museums. Add to this a new generation of museum visitors- the tweens- who wouldn't be caught dead in an already fossilized museum environment. Keeping in step with the changing times is an evolving need that gleans intelligent input and constant feedback from the i-pad laden generation where information spills at the feather touch of an icon beamed on a palm-held device powered by processors that defied imagination just a decade ago.
Understanding the immediate needs of institutional planning, while addressing the larger human needs to learn from our shared and unshared histories, our present continuum and our collective future, will increasingly shape the mission of new museums in times to come. The great Indian meta-narrative awaits museums of contemporary culture, living traditions, events, crafts, and also the curious and the quirky. There is no dearth of content and certainly no shortage of potential visitors.
(India born George Jacob, is a museologist, whose work spans 11 countries.)