Yemen seethes with anger
Emergency imposed after death toll climbs to 52 in a sniper attack on protesters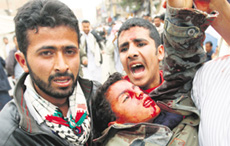 Anti-government protesters carry away a wounded youth in Sanaa on Friday. — AFP

Sanaa, March 19
Yemen seethed with anger today as medics raised the death toll from a sniper attack on protesters to 52 and thousands rallied despite a state of emergency imposed by the autocratic regime.
The slaughter in the capital Sanaa yesterday afternoon was the bloodiest day in weeks of unrest that has shaken the regime of President Ali Abdullah Saleh, a key US ally in the war against Al-Qaida militants on the Arabian Peninsula.
Witnesses said pro-Saleh "thugs" rained bullets from rooftops around a square at Sanaa University, the centre of demonstrations seeking the end of Saleh's 32-year rule.
Many of the victims were shot in the head and more than 120 persons were wounded, medics said, in scenes that shocked the world and drew diplomatic scorn from Western powers and human rights monitors.
The toll climbed overnight as six of the critically wounded succumbed to their injuries, according to medics.
The attack suggests Saleh is fearful that the unprecedented street protests, set off by unrest across the Arab world, could unravel his 32-year grip on power in this volatile, impoverished nation.
The US, which has long relied on Saleh for help fighting terrorism, condemned the violence.
The bloodshed, however, failed to dislodge protesters from a large traffic circle they have dubbed "Taghyir Square" Arabic for "Change." Hours after yesterday's shooting, thousands demanding Saleh's ouster stood their ground, many of them hurling stones at security troops and braving live fire and tear gas.
Saleh declared a 30-day nationwide state of emergency that formally gave his security forces a freer hand to confront demonstrators. The declaration bars citizens from carrying and using weapons.
Elsewhere today, witnesses said police shot and wounded an anti-regime protester in the southern city of Aden as they tried to disperse demonstrators demanding Saleh's resignation.
Three other demonstrators were injured in the clashes in Aden. Thousands of people remained camped at the square despite the ill-defined state of emergency, which Saleh announced late Friday as he offered his "regrets" for the killings.
He blamed unidentified gunmen opposed to a Saudi-backed peace initiative and denied that the police were involved.
The slaughter flew in the face of repeated US appeals for restraint and the respect of human rights in the impoverished country, which is also struggling to contain a secessionist movement and a Shiite rebellion. — AFP