Strike by Safai Karamcharis
Protesters get support from docs
Patiala, March 19
The Doctors Federation of India representatives today stated that threat of epidemic in several towns and cities of Punjab looms large in the wake of the ongoing strike of the safai karamcharis and other employees of the Municipal Councils and some Municipal Corporations of the state.


Car lifters sent to judicial custody
Panchkula, March 19
The police had busted a gang of vehicle lifters and recovered as many as eight vehicles worth over Rs 20 lakh yesterday.
Two held for illegal telecast of World Cup matches
Chandigarh, March 19
After an entire month the city police has finally woken up to the unauthorized telecasts of the ongoing ICC Cricket World Cup matches by local cable operators. With the standoff between multisatellite operators (MSOs), cable operators and the broadcaster the matches are being telecast through various illegal means in the city.
Murder Near Sukhna Lake
Victim brutally assaulted before being done to death: Cops
Chandigarh, March 19
Investigations into the murder of 23-year-old Akashdeep Malhotra have revealed that the victim was brutally assaulted before being done to death by his assailants.
Minor nabbed for theft
Chandigarh, March 19
The police have arrested a 14-year-old boy, a resident of Hallo Majra, on charges of theft.
One booked for cheating
Mohali, March 19
The police has booked the owner of Kalsi car cleaner, Industrial Area, Phase VII, for cheating.


Kabir drubs Rushbeg in qualifying round
Chandigarh, March 19
Kabir Manrai defeated Rushbeg Ahluwalia in the qualifying round of boys (U-12) category during the CLTA-AITA Super Series Tennis Tournament being held at Complex and Lake Sports Complex, here today.
SD College bowls out SGGS team in semis
Chandigarh, March 19
In a one-sided affair, SD College, Sector 32, defeated Sri Guru Gobind Singh Khalsa College (SGGS), Sector 26, in the first semi-final match of the ongoing Inter-College Cricket Championship being organised by the UT sports department at Cricket Stadium, Sector 16, here today.
Varun defeats Gurbinder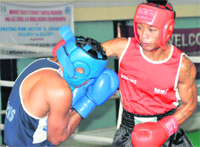 Chandigarh, March 19
Delhi boxer Varun Kumar defeated Gurbinder Singh of Punjab in the super heavy +91-kg category during the semifinal bouts of the ongoing 18th All India AK Mishra Memorial Boxing Championship being held at the Skating Rink, Sector 10, here today.
Boxers in action during a bout in the all India AK Mishra Memorial Boxing Championship being held at Skating Rink, Sector 10, Chandigarh, on Saturday. A Tribune photograph
Bodybuilding championship
Chandigarh, March 19
The Chandigarh Amateur Bodybuilding Association will organise the 22nd Senior Mr. Chandigarh Body Building Championship at Garhwal Bhawan, Sector 29, on March 20.