Water a drain on MC
Payments of UT, Punjab departments pending
Aarti Kapur
Tribune News Service
Chandigarh, March 19
At least 103 government departments of the UT administration and the Punjab government have left the municipal corporation (MC) poorer by a whopping Rs 5.06 crore on account of pending water dues.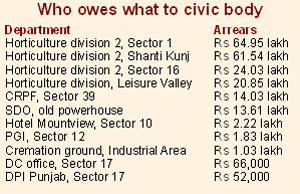 The MC's own horticulture wing has failed to pay Rs 1.70 crore as dues. Another MC department which figures in the list of defaulters is the cremation ground, Industrial Area.

The MC's last resort, of disconnecting water connections, has failed to move the defaulters, that incidentally, include Hotel Mountview, a CITCO-run five-star hotel, and the PGI, the region's premier health institution.

MC officials have expressed their helplessness in recovering the dues as they have no other authority or mechanism, other than disconnecting water connections, to get the dues.

MC records show that bills worth approximately Rs 5.63 crore of 103 government departments are pending for over two years now. Of the list of water tariff defaulters, 11 departments have pending bills worth over Rs 1 lakh each.

Topping the list of defaulters is the UT administration's horticulture department, which has not cleared water bills worth Rs 4 crore, pending since 2002.

For over four years, all divisions of the UT horticulture department are not depositing water tariff with

the corporation and the long-pending amount has now gone up to more than Rs 64 lakh for each division.

While the MC has disconnected water connections to most major green belts, the UT authorities, in order to tackle the situation, have installed fresh tubewells.

The staff of other departments, such as the UT Police Hostel at Sector 29, the CISF at Sector 1, the CTU workshop at Sector 25, the Deputy Commissioner's office at Sector 17, the DPI (Punjab) office at Sector 17 and the Punjab Police Barrack at Sector 39, whose water connections have been disconnected for non-payment, are now fetching water from nearby buildings for routine use.

MC Superintendent Engineer (public health) RK Goyal, expressing helplessness, said the authorities had no power to act against defaulters except disconnecting water meters.

He said the department kept communicating with the defaulting government departments to clear their dues, but none had paid their arrears till now.