WHAT STATE BUDGETS DON'T TELL
A budget is often unduly long, loaded with excessive data. It is supposed to set the state's growth agenda. Going by the latest budgets, Haryana has done well, Himachal Pradesh is improving and there is hope, while Punjab remains a consistent non-performer
Nirmal Sandhu
THE budgets of Punjab, Haryana and Himachal Pradesh have avoided hiking taxes. Jammu and Kashmir has increased the tax on cigarettes and tobacco. Since tax hikes annoy voters, governments now resort to borrowings.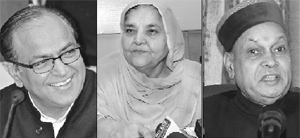 Capt Ajay Singh Yadav, Dr Upinderjit Kaur and Prem Kumar Dhumal,
Punjab leaders have wasted much of the Vidhan Sabha time fighting over the budget figures. Since a budget presents estimates, actual and projected figures do vary and only a professional body like the CAG (Comptroller and Auditor General) can point out irregularities and omissions.
On the 2009-10 budget the CAG report, tabled in the assembly a week before the Punjab budget, says that the budget estimates are not prepared with due care and there is need to review and streamline the system. This is the issue worth taking up.
According to the CAG, the actual revenue receipts were 15% less than those projected in the budget presented by the Akali Dal-BJP government in March, 2009. The actual tax revenue was much lower than the estimates. Manpreet Singh Badal was then the Finance Minister.
If the revenue was inflated, the expenditure was understated. The revenue deficit in the budget was mentioned as Rs 4,234 crore whereas actually it was Rs 5,251 crore. A Finance Minister can plead that he or she can never accurately assess future prospects. So there is no point in quibbling over figures. The broader picture needs to be studied.
Budgets in general are unduly long, badly written and come loaded with unwanted, excessive data and needless information. The Himachal budget, for instance, mentions details of the monkey menace, clerks' promotions and congress grass.
If an economist finds it hard to make sense of a budget, what should one expect from an ordinary MLA? Conveniently, opposition legislators either stage walkouts or boycott the debate. The treasury benches too get involved in issues they are comfortable with.
A budget, like a bikini, hides some of the crucial things. No budget speaks about the cost to the exchequer of a chief minister, a deputy chief minister, a minister, a parliamentary secretary or an MLA. Just ask any finance minister what is the number of jobless in the state/country. How many jobs have been created or lost in the past one year? How many have left agriculture or moved from villages to cities? How many distressed farmers have committed suicide? No budget carries such information. The US jobless rate is watched and discussed worldwide.
Even if the Punjab, Haryana and Himachal budgets fail to take note of unemployment and its consequences, a survey of the Labour Bureau of Chandigarh is revealing. The unemployment rate in Punjab is the highest in the region at 10.5%, which is higher than the national average of 9.4%. It is followed by Haryana (8.7%), Himachal Pradesh (5.9%), Jammu and Kashmir (4.9%), Chandigarh (0.2%) and Delhi (0.8%).
Punjab and Haryana have focussed on education. Himachal cares for its employees. Financially, Haryana has done well, Himachal is making improvements and there is hope, while Punjab is a consistent laggard if compared to a progressive state like Gujarat.
The fiscal deficit (the gap between the state revenue and expenditure) is a key indicator of a state's financial health. Haryana has a fiscal deficit of 2.6% of the GSDP, for Himachal it is 2.70% (reasonable in both cases) and for Punjab it is an outrageous 3.45%. This is despite Punjab raising cash by selling government land and the VAT pushing tax collections and also explains ministerial extravagance.
The Finance Minister has missed a chance to raise revenue by taxing the neo-rich like builders, transporters, hoteliers, mega mall owners and the liquor-mining mafia. In Punjab liquor shops are allotted by a draw of lot and house and plots are auctioned. There is no move to cut government expenditure and extravagance. Punjab politicians' lavish lifestyle, foreign trips and VIP culture are partly responsible for driving crowds of Punjabis to Manpreet Singh Badal's rallies. The rebel Badal is aware of public disgust on this issue.
Dr Upinderjit Kaur, a former economics professor, said in her budget speech in the assembly that "Punjab is now among (the) fastest growing states in the country", and then in the same breath adds, "its growth rate is practically equal to (the) national average". How can that be?
She says the state is "expected to grow at 7.78 per cent" in 2010-11 against the Planning Commission's projection of 5.9 per cent during the 11th Plan period. This is because of the new accounts with 2004-05 as the base year. She also recalled Gujarat's growth at 11.2%, Haryana's 11% and Himachal Pradesh's 9.5% -- all above Punjab's growth rate.
If Punjab is growing so fast, as she claims, why is it that the state's per capita income has slipped to number 8 in the country from the number one position not long ago?
The second most important factor about Punjab's economy is its almost unmanageable debt. A state's debt is seen in the context of its gross state domestic product (GSDP). Punjab's debt-to-GSDP ratio is 30.43% in 2010-11 and it will be slightly higher at 30.43% in the next fiscal year.
Gujarat, for instance, will have a debt of Rs 1.29 lakh crore by the end of 2011-12, a jump of Rs 21,000 crore over the current year. It is much higher than Punjab's Rs 77,585 crore projected for the same period. But Gujarat's debt-to-GSDP ratio is 22 per cent. So it is not a serious problem.
Punjab's debt figure excludes the loans taken by various boards and corporations which would become the government's responsibility in case of a default.None of the three states under discussion has tried to privatise or dispense with loss-making state enterprises. Punjab has 62 boards and corporations, including Punjab Gau Seva Board, Punjab Parvasi Bhalai Board and the Potato Development Board, mostly floated to park idle politicians from the ruling party to check their nuisance, but burdening the exchequer and the taxpayer unnecessarily.
Haryana's debt-to-GSDP ratio in comparison is still less at 18.96% in 2010-11 and it will move to 18.35% in the coming fiscal. Financially, Haryana is the strongest in the north-western region. It has the highest per capita income in the country after Goa. The state, hopes the Finance Minister, Capt Ajay Singh Yadav, will become revenue surplus in the next financial year.
Farmers in Haryana do not get free electricity. The minimum wages and wages paid under the Mahatma Gandhi National Rural Employment Guarantee Act (MNAREGA) are the highest in the country. Prosperity is visible even if unevenly distributed.
By growing at 9 per cent in 2010-11 Himachal Pradesh, a tiny hill state with geographical constraints, has beaten Punjab. It is also ahead of Punjab in education and human development. Chief Minister Prem Kumar Dhumal, who holds the Finance portfolio, underplayed the debt issue in his budget.
Ruling politicians often blame Punjab's poor industrial performance on the tax holiday given to the hill states. Dr Upinderjit Kaur said in her budget speech that "274 industrial units have either shifted or set up their expansion units with an investment of Rs 3,675 crore in the neighbouring states having (the) privilege of fiscal concessions" between 2002 and 2008.
This is unlikely because Himachal has attracted mostly pharmaceutical units. Chief Minister Dhumal had also claimed that industries coming to his states were not from Punjab. Punjab units landing in Uttarakhand is a distant possibility. The FM should put on the government Web site a list of units and the places they have moved to if she wants to be believed.
On the other hand, ASSOCHAM has maintained that if Punjab is getting government and private investment less than half of Haryana it is because of corruption, administrative delays, official apathy, high land prices and locational disadvantage.
Punjab had managed its finances well until 1986-87. Its debt position was at its worst in 1994-95 and has been improving, albeit very slowly. The successive Congress and Akali-BJP governments have been responsible for the fiscal deterioration. As Finance Minister, Manpreet Badal had presented budgets in keeping with the party's policies. When he tried to touch the root of Punjab's troubles – high debt and liberal subsidies – he was expelled from the Cabinet. That shows how deep are so-called political compulsions to carry on with populism.