The literary face of Bhagat Singh
Eighty years of Bhagat Singh's martyrdom, which took place on March 23, 1931, is being commemorated tomorrow. A little-known aspect of the legendary freedom fighter is that he was a voracious reader. He was a regular at the Dwarka Das Library, Lahore, famous for its collection of books on history, political science and social sciences.
Harish Dhillon
BHAGAT Singh is a legend and as it happens to all legends, innumerable stories have been built up around his life and his exploits over the years, some of them historically verifiable but many others which are acrophylic. Amongst this second category, I have two personal favourites.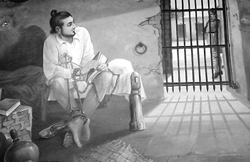 An artist's impression of Bhagat Singh, showing him in jail, with a book in his hands, and another placed near his cot.
One of the strongest influences on Bhagat Singh during his early years was his grandfather, Arjun Singh. Sometimes during his early years, Arjun Singh said something to the boy which was to remain with him throughout his life: "What you learn at school is important because it will help you to get on with your life. But it is what you learn for yourself, from books other than your textbooks, from the lives and experiences of others, that learning will help you to live a life worth living." — or words to that effect. Perhaps this is what motivated him to become an avid reader from his earliest years in school and pick up an early familiarity not only with the lives of all the well-known revolutionaries of the world but also with the history of all the revolutionary movements of the world.
The other story is about an incident that happened shortly before he left to join school in Lahore. One dull morning the teacher took time off from his formal teaching to ask each of the boys what they would like to do with their lives. The boys mentioned the professions that they would like to follow. When Bhagat Singh's turn came he said he did not know what profession he would like to follow. But whatever it was that he decided to do it would have to be for the welfare of his people and for the good of his country. Bhagat Singh was only 12 at the time and if the story is true, he had already set the course for his life. And this course had come from the assimilation of his reading.
His love for reading remained with him all throughout his short life because again and again in accounts of his life by his contemporaries and in references to him in their autobiographies we are told that wherever he went, he carried a veritable travelling library with him.
Chabil Das, who taught him English at National College and was later to become the Principal, had this to say about Bhagat Singh: "I can say with confidence that he enjoyed his studies. He greatly enjoyed reading. Whenever the name of a book was mentioned, he wanted to read it at once. Although Bhagat Singh had read numerous books on history, I still remember the book he liked the best: Cry for Justice. He had marked many portions of this book with a red pencil. This shows how strong was his desire to fight against injustice." (Meri Inquilabi Yatra,1985). This was to be the method that he adopted to all his reading. He would underline the parts that appealed to him and even make notes of what he had read. It was as complete an assimilation of his reading as it was possible for anyone to achieve."
We know for a fact that he was, during his days at the college, perhaps the most frequent visitor at Dwarka Das Library. The library was, at the time famous for its tremendous collection of books on history, political science and social sciences. The library had also become a repository for revolutionary books, journals and magazines.
It is a pity that though contemporary accounts all agree that he was an avid reader and that books were his constant companions, there is no reference to the books that he read. For this we have to wait for his final internment for what has come to be referred to as The Jail Notebook.
K. C. Yadav, one of the editors who prepared these notes for publication, tells us that the notebook was bound in red cloth and was beautiful to look at. It had 404 pages of about 21cm by 16 cm size, tied together with a long thread. The pages must originally have been white in colour, were of a very good quality and texture, and weighed 90 gm. With the passage of time, the pages had turned a beautiful antique cream into colour. Each page was stamped with the page number on the top right-hand corner in black.
An entry on the page one of the notebook tells us that the book was handed over to Bhagat Singh by the jail authorities on September 12, 1929. Barring four couplets in Urdu, all the entries are in English.
The pen used is obviously a very good fountain pen, probably made available to him through the generosity of Chattar Singh. The handwriting is careful and neat and easy to read.
The notebook contains short entries from most of the books that Bhagat Singh read during this time in prison. Obviously, these were points that he was impressed by and felt were worth recording. These quotations confirm what we already know of Bhagat Singh's character.
He had an enquiring mind and always wanted to learn. He devoured books with an insatiable appetite, especially those books that he thought could help to solve the many problems that the country faced.
The listings in his notebook not only reveal an extremely wide and broad range of interests but also his special bent of mind. There are, among others, passages in the notebook from Aristotle, Plato, Descartes, Hobbes, Locke, Rousseau, Trotsky, Bertrand Russell, Karl Marx, Engels, Lajpat Rai, Socrates, Victor Hugo, John Bodin, Thomas Aquinas, Edmund Burke, Thomas Paine, J. S. Mill, Spinoza, Karl Kautsy, Dostoevsky, Nikolai Bukharin, Lenin, Valentine Chirol, and Upton Sinclair. He was also very fond of poetry because the notebook contains extracts from Rabindranath Tagore, Byron, Tennyson, Omar Khayyam, and Arthur Clough.
The notebook consists of four parts, each part devoted to a particular theme. There are blank pages at the end of each part, obviously leaving provision for extracts from future readings in that particular subject. There is a deep poignancy to these blank pages because one cannot help feeling a churning of the heart at the thought of what words would have filled these pages if Bhagat Singh had lived.
We can see from the notes that Bhagat Singh was attempting to understand the struggle that had waged from time to time and the theories and strategies of social evolution that had been propounded over the years in an effort to make the world a better place to live in. He also seems to be attempting to understand in simple terms, the reality, meaning, and purpose of life.
Having read this notebook, it is easy to understand why Bhagat Singh occupies such a unique position amongst all Indian revolutionaries. Because of his firm grounding in all the revolutionary literature that he had read, Bhagat Singh had some clear and firm tenets in the political philosophy which set him apart from other revolutionaries.
He believed that political freedom from the Imperialistic rule of the British would be fruitless if it was not accompanied with economic freedom. India would never be really free if it did not become totally free of the exploitation of man by man. He believed that the struggle for freedom would not have a meaningful if it was limited only to the intellectual middle classes. And that was why his efforts were directed towards making the struggle a struggle at the grassroots of the masses.
His speeches, his writings in journals and the pamphlets that he wrote and distributed at public places were all geared into educating the masses that this struggle was their struggle. He realised early that splinter revolutionary group would never be able to achieve very much on their own and that is why he attempted to bring them all together under one umbrella group when he organised the convention of all revolutionary groups from September 8 to September 9, 1928, at the Ferozshah Kotla grounds.
He understood the need of publicity for all the efforts of the revolutionary forces and he looked for any opportunity that would provide a platform for suitable propaganda. Looked at from this perspective, his trial itself was one big propaganda event for the revolutionaries. His love and his understanding of the importance of reading remained with him till the very end.
It was the day of Bhagat Singh's execution. The friendly warden Chatar Singh, who had been responsible for facilitating the provision of numerous books to his favourite inmate, found himself thrust into the very unwelcome role of being one of the party that would escort the prisoners from their cells to be prepared for the hanging.
He stood outside Bhagat Singhs' cell, his bunch of keys rattling in his trembling hands, as he fumbled to find the right key. Bhagat Singh looked up from his reading and with that same warm smile on his face, turned to his warden and asked: "Will it be possible for you to wait a few minutes? It would be very kind of you to let me finish this chapter, I have only a few pages left."
Charat Singh glanced at the other members of the party and seeing confirmation in their eyes, turned to Bhagat Singh again.
He was too overcome in the face of such overwhelming equanimity to trust himself to speak. He nodded his head in the affirmative. Bhagat Singh went back to his reading while the escort party stood outside the cell door waiting for him to finish.
They waited in silence but they all felt a growing disquiet, a growing sense of discomfort in the face of such supreme courage.
As he had promised, there were only a few pages left and he was indeed done in a few minutes. He turned the corner of the last page down as a marker, closed his book, put it aside and got to his feet.
"Let's go," he said, walking to the cell door, and with his back held straight and a spring in his stride walked bravely to his death.
The writer, a noted educationist, is currently working on a book on Bhagat Singh
It was the day of Bhagat Singh's execution. Bhagat Singh looked up from his reading and with that same warm smile on his face, turned to his warden and asked: "Will it be possible for you to wait a few minutes? It would be very kind of you to let me finish this chapter, I have only a few pages left." The warden nodded his head in the affirmative. Bhagat Singh went back to his reading. As he had promised, there were only a few pages left …