M A I N N E W S

FINALLY, BAIL FOR BINAYAK
Possession of Naxal literature is not sedition, rules SC
R Sedhuraman
Legal Correspondent

New Delhi, April 15
The Supreme Court today granted bail to civil rights activist Dr Binayak Sen, holding that possessing Naxal literature or visiting jailed Maoists did not amount to sedition.

"If Gandhi's books were found in my house, would that make me a Gandhian," Justice CK Prasad asked senior counsel UU Lalit who, appearing for the Chhattisgarh government, opposed Sen's plea for bail.

Justice HS Bedi, who headed the Bench, clarified that the state could not slap sedition charges on Sen unless there was material to show that he was actively preaching or propagating Maoist ideals.

The Bench made the remarks in connection with the state government's contention that Sen had visited his co-accused Piyush Guha 30 times in a jail and pamphlets and documents relating to Maoist activities were recovered from his possession.

The apex court said none of this amounted to seditious activities or waging a war against the state. Being a sympathiser did not make him guilty of sedition, the Bench felt.

Lalit said Sen exchanged documents with Guha and other jailed Maoists. But the Bench was not convinced. "Visitors are screened and searched by the jail staff. Jailors are there to oversee all these things. So, the question of passing letters or documents doesn't arise."

In December 2010, the trial court had sentenced Sen to life imprisonment after convicting him for sedition and having links with Naxalites. He was convicted along with Naxal ideologue Narayan Sanyal and Kolkata businessman Piyush Guha.

Sixtyone-year-old Sen, a child specialist who had studied medicine at the prestigious Christian Medical College (CMC) in Vellore, Tamil Nadu, has worked for 25 years in the tribal and Naxal-infested belt of Chhattisgarh.

Sen, who is the vice-president of the People's Union for Civil Liberties (PUCL), had approached the SC challenging the Chhattisgarh High Court's refusal to grant him bail.

His wife, Ilena, told reporters that the SC ruling had helped her breathe better. "You can have your sympathies, but that doesn't make you seditious," she remarked, refusing to make further comments. The matter was still sub judice and the legal process would continue to plague her family for some more time, she pointed out.

Law Minister M Veerappa Moily said it was a matter of concern. Without explaining, he said he would consult Home Minister P Chidambaram and refer the matter to the Law Commission, seeking its views. He, however, acknowledged that the sedition law was a colonial legacy as Balgangadhar Tilak and other freedom fighters had faced this charge. Obviously, sedition had undergone

a perceptional change after Independence, he agreed. Chidambaram said he was happy to know that Sen had got bail. "I have always believed that if one is not satisfied with a lower court order, one can get a reprieve by approaching a higher court," he said. Anasuya Sen, Sen's ailing mother, said her confidence in the country's judicial system had been restored after the SC ruling. She said she was demoralised after the HC's refusal. "I thought I may not be able to meet my son," but that had now been belied on a day when Bengalis were celebrating their New Year.

If Gandhi's books were found in my house, would that make me a Gandhian? — Justice CK Prasad

I have always believed that if one is not satisfied with a lower court order, one can get reprieve by approaching a higher court — P Chidambaram, Home Minister

I was holding my breath till the honourable court delivered its judgment and granted bail to my husband — Illina Sen, wife

TRIAL OF A CIVIL RIGHTS ACTIVIST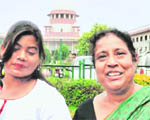 May 14, 2007: Binayak Sen, a paediatrician, public health specialist and social activist, arrested in Bilaspur, Chhattisgarh, for carrying messages between Piyush Guha, a businessman, and Narayan Sanyal, a Maoist ideologue.
May 30, 2008: Trial begins in Raipur.
May 4, 2009: The SC issues notice to the Chhattisgarh Govt questioning Sen's detention.
May 25: Sen released on bail by the SC.
Nov 23-26: Trial resumes in Raipur sessions court.
Dec 24, 2010: The Raipur Sessions Court finds Sen, Sanyal and Guha guilty of sedition and conspiracy and sentences all three to life imprisonment.
Feb 10, 2011: The HC rejects Sen's bail application.
April 15: The apex court grants bail to Binayak Sen.